The third quarter of 2019 saw continued sales growth of both electric floor heating cable and the uncoupling membranes they're often paired with. While TempZone Floor Heating Cable sales make up nearly a fourth of all floor heating sales, the TempZone Flex Roll is still the most popular floor heating element by sales volume.
As predicted in our Q2 2019 industry report, there was a sizable uptick in snow melting system sales (for heated driveways and other outdoor applications) in the third quarter that appears to be in response to the particularly bad 2018-2019 winter. In fact, snow melting material sales in the first three quarters of 2019 have already surpassed total snow melting sales for all of 2018. Due to accelerated sales pace and the early November Arctic Blast weather event in Q4, we expect 2019 to close out as the strongest year for snow melting sales volume since the product line was introduced in 2006.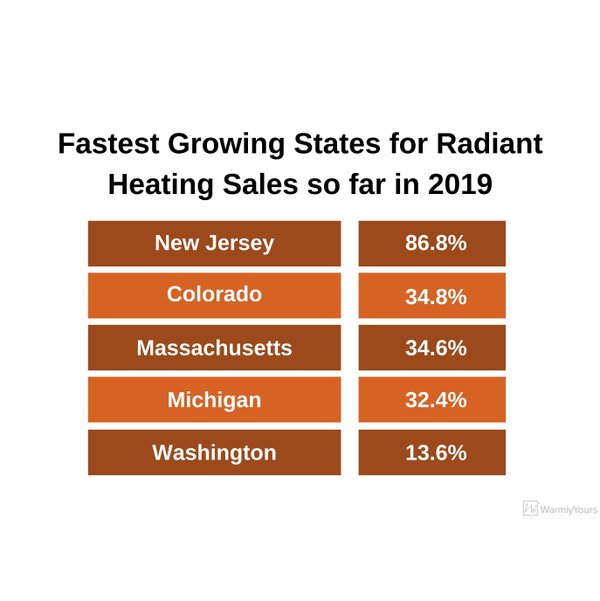 Nationally, Q3 2019 saw some fluctuation in housing market due to high prices and lack of available inventory but low mortgage rates. This has understandably had a dampening impact on remodeling activity.
In this report, we'll take a closer look at the causes and impacts of these developments along with analyzing the performance of radiant heating product sales within the larger context of the remodeling and housing markets.
Third Quarter Sales Buoyed by Growth for Floor Heating Cable & Uncoupling Membranes
TempZone Floor Heating Cable has continued to establish itself as the fastest growing floor heating element since the 3.7-watt iteration was launched in the fourth quarter of 2015. In fact, so far this year, TempZone Floor Heating Cable has grown 25.5% (compared to prior-year-period) to constitute 24% of all floor heating product sales. While it may not be the number 1 selling floor heating system (a position held perennially by TempZone Flex Rolls—up 8.7% in the same time period), TempZone Floor Heating Cable provided the largest increase in sales volume. It is interesting to note that cable's growth rate actually slowed somewhat in the third quarter (up 18.5%), it still contributed the most significant sales volume variation to push total floor heating sales into the black.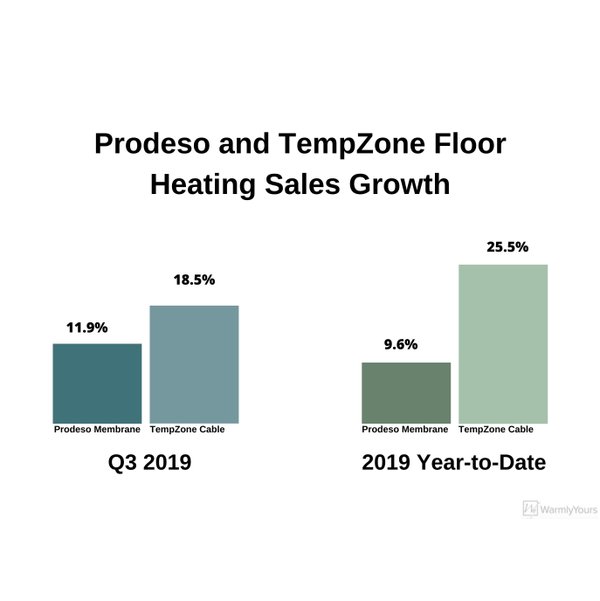 Uncoupling membranes, the Prodeso Cable Installation Membrane, have also shown a positive correlation with the growth of floor heating cable, as they are often paired together for installations under tile, marble, or stone floors. This combination has proven popular with both homeowners and professionals alike because it allows for the incorporation of radiant heating while combining shorter installation times with long lasting benefits for relatively fragile floor coverings like tile. So far this year, sales of the Prodeso membrane have increased 9.6% (which has been in large part driven by an increase of 11.9% in Q3 2019 alone). This has led to Prodeso making up 62% of all underlayment sales so far in 2019 (up from 55% a year prior).
Julia Billen, owner and president of WarmlyYours, said she expects to see continued growth for the combination of floor heating cable and uncoupling membranes.
"It's very clear that the combination of floor heating and uncoupling membranes is here to stay. The professionals we work with appreciate the familiarity and the reduced installation time. While homeowners love the fact that their new heated tile floor is not just comfortable but also protected from crack issues," said Billen. "Floor heating rolls and mats will always be viable options but I wouldn't be surprised if the combination of cable and uncoupling membrane becomes the number one heating system for tile bathrooms in the next 5 years." 
Other floor heating products that saw growth in Q3 2019 were TempZone Flex Rolls (up 1%), Environ Flex Rolls (up 7.1%), and Slab Heating Cables and Mats (up 57.6%).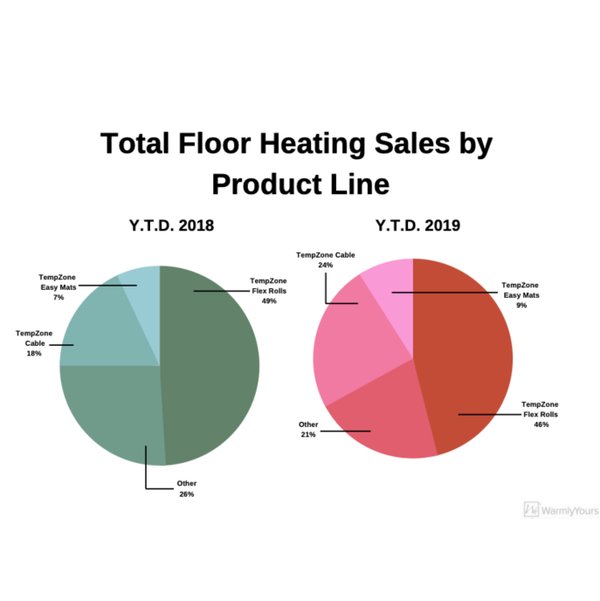 In addition to floor heating, third quarter growth was also as the result of increased sales for both our Other Product and Outdoor Heating product lines. The Other Products category was up 13.7% in Q3 2019 and consists of mirror defoggers, countertop heaters, and shower kits (a new product for 2019). Most of the third quarter growth for this product line is due to a 37.9% increase in countertop heater sales but also because of the introduction of the shower kits which made up 12% of all Other Product sales.
Outdoor Heating, which is made up of snow melting, roof and gutter deicing, and pipe freeze protection systems, grew an impressive 80.8% in the third quarter of 2019. Snow melting contributed the largest increase in sales volume and saw increases in every single heating element:
·   Snow Melting Cable 120V: 288.8%
·      Snow Melting Cable 208V: 88%
·      Snow Melting Cable 240V: 96.3%
·      Snow Melting Cable 277V: 23.7%
·      Snow Melting Mat 120V: 186.8%
·      Snow Melting Mat 240V: 45.3%
This is the first time that every single snow melting heating element has shown year-over-year growth and part of that can be attributed to demand slightly outpacing supply due to the particularly bad 2018-2019 (which could mean that some customers selected snow melting systems based on availability instead of purely on preference).
Interestingly, several of the top states for radiant heating sales growth (New Jersey, Colorado, Massachusetts, and Michigan) were also locations that had particularly rough winters.  While this doesn't explain all of the growth in these areas, it does account for a significant portion as snow melting sales represented 30% of all WarmlyYours sales in Q3 2019.
Julia Billen said that snow melting presents a unique challenge to market for WarmlyYours as the prime installation period (late spring to late fall) doesn't line up with peak consumer interest in the winter.
"Everyone would love a heated driveway when it's January and you're on your sixth straight day of snowfall. The challenge has always been staying top-of-mind for professionals and homeowners when they're considering a new driveway project in the summer," said Billen. "Luckily, I think that last winter made sure there were a lot of people thinking long and hard all year about installing a snow melting system." 
In the third quarter, pipe freeze protection also saw significant growth (up 45.3%). This is a product line that is almost entirely purchased by trade professionals and is often used to keep water pipes located on perimeter or poorly insulated walls from freezing.
Shifts in Customer Channels in Q3 2019
WarmlyYours sells both directly and through authorized third-party dealers and the company saw some interesting third quarter developments in customer channels. For example, the Trade channel (composed of various installers and other in-field professionals) saw a rapid acceleration, as Q3 2019 sales were up 7.6% when compared to last year. This growth rate is consistent with the increases in both cable/uncoupling membrane and snow melting sales, as these are both product types that are hugely popular with trade professionals.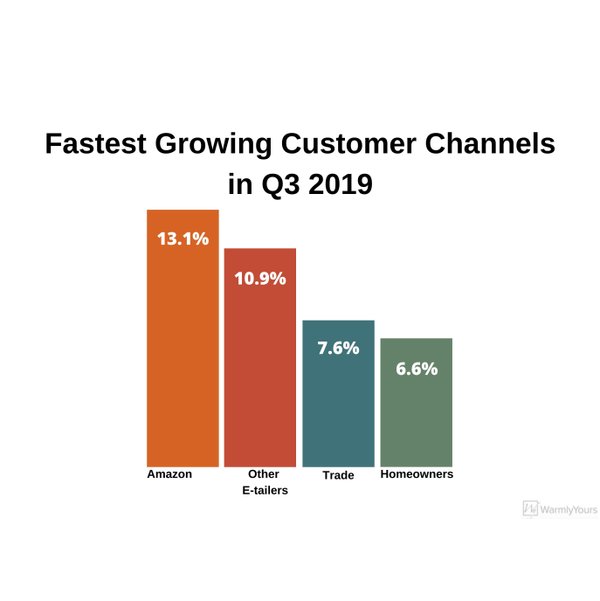 Additionally, we saw third quarter growth with homeowners as well which was up 6.6% from prior-year-period. A part of this increase can be attributed to related upticks in online search volume for relevant queries relating to floor heating. According to Google Analytics, in Q3 2019 (compared to Q3 2018) there was a huge increase of 247.3% for impressions relating to the query "radiant floor heating" and a 107.3% increase for "underfloor heating." In addition to these broad keyword phrases, there were also several increases for more specialized keywords like "heated bathroom floor" (up 316.4%) and "heated tile floor" (up 287.1%). Again, these trends also share a positive correlation with the increase in sales for uncoupling membranes and floor heating cable, which are often used in bathrooms and heated tile installations.
The largest volume increase and fastest growing distribution channel was Amazon which was up 13.1% in the third quarter. This increase was due in large part to continued growth for both floor heating and snow melting systems, up 186.1% and 459.1% respectively. While it's difficult to track end-user data from Amazon, anecdotally (based on customer service calls) it does appear that a substantial number of our Amazon customers are also trade professionals.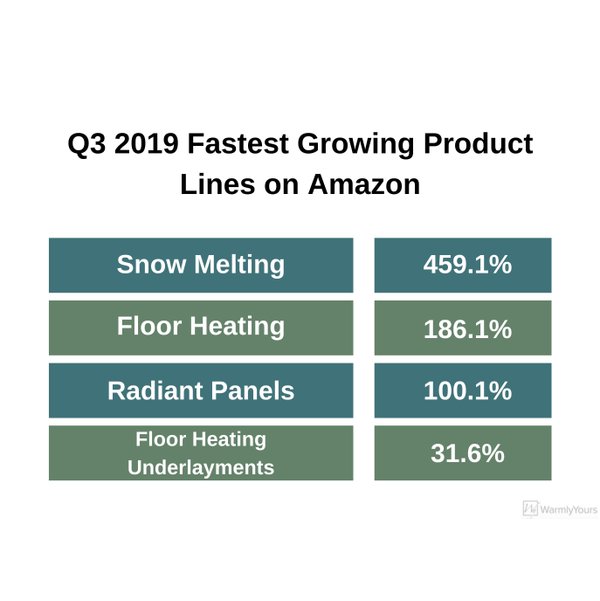 Remodeling Expectations Remain Cautious Despite Improving Housing Market
For many concurrent quarters, national home sale activity has been stifled due to a generalized tightening of supply of available inventory. However, that does seem to be improving somewhat. According to the National Association of Realtors (NAR), existing home sales in September 2019 were up 3.9% from the previous year. However, they were down 2.2% from a seasonally adjusted August 2019. 
On the other hand, according to NAR, the median price of homes in September compared to the previous year was up 5.9% while supply of available homes was down 2.7%. According to Lawrence Yun, the chief economist for NAR, these metrics continue to indicate a need for more home construction projects.
"We must continue to beat the drum for more inventory," said Yun. "Home prices are rising too rapidly because of the housing shortage, and this lack of inventory is preventing home sales growth potential."
Interestingly, pending home sales (measured by contract signings) were up in September from both the previous month (by 1.5%) and the previous year (up 3.9%). Yun attributed the increase in pending sales to lower national mortgage rates.
"Even though home prices are rising faster than income, national buying power has increased by 6% because of better interest rates," he said. "Furthermore, we've seen increased foot traffic as more buyers are evidently eager searching to become homeowners."
It is important to realize that this increase in pending sales does not mean a trend reversal as it still remains to be seen how sustainable the trend is.
According to the Leading Indicator of Remodeling Activity report, an assessment of national remodeling expenditures that is released quarterly by the Joint Center for Housing Studies of Harvard University, this uncertainty has had an impact on projected renovation sales in the US.
"Continued weakness in existing home sales and new construction will lead to sluggish remodeling activity next year," said Chris Herbert, the managing director of the Joint Center for Housing Studies. "Slowdowns in other key indicators of improvement spending—project permitting, sales of building materials, and home prices—also suggest the remodeling market may be reaching a turning point."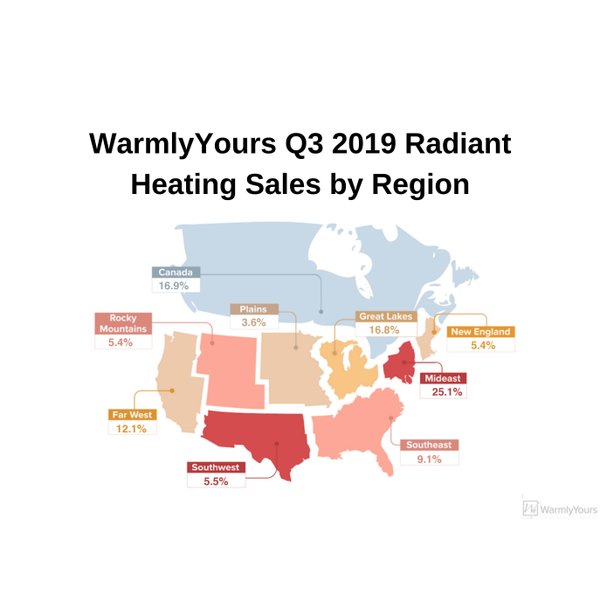 The most recent LIRA projects that remodeling expenditures will reach a small decline of 0.3% by Q3 2020. However, not all of the news is bad (due again to the low national mortgage rates).
"At $325 billion, owner improvement and repair spending in the coming year is expected to essentially remain flat compared to market spending of $326 billion over the past four quarters," said Abbe Will, associate project director in the Remodeling Futures Program at the Center. "However, today's low mortgage interest rates may help counter some of these headwinds, which could buoy home improvement expenditure over the coming year."
Sources:
      Relevant internal WarmlyYours sales data
      Google Analytics
      https://www.nar.realtor/newsroom/existing-home-sales-decrease-2-2-in-september
      https://www.nar.realtor/newsroom/pending-home-sales-rise-1-5-in-september
---
Tell us About your Project
Our team of Radiant Experts is ready to help! Just tell us a little about yourself and your project to get started.
---
Did you find this post helpful?
Let us know by giving it some applause.
---
---