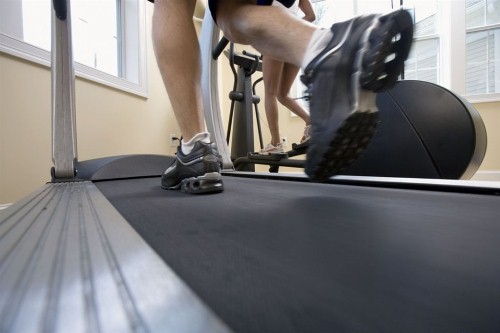 Joining a local gym isn't for everyone. There's noise, crowds, wait times for machines and televisions constantly tuned to the least interesting cable stations. It can be an exhausting experience way before you even put in your treadmill time.
We go to the gym to gain confidence, to stay healthy, to test ourselves and prove ourselves - but these aren't inherently social activities. The fact of the matter is that sometimes a gym should be just a room or two away. Whether you're a recent empty nester with a newly vacated bedroom to fill or you've been planning to convert the garage for ages with a weight bench, punching bag and rowing machine, a home gym might be exactly what you're looking for and what your home needs.
As you begin installing your home gym, you'll want to keep a few essential tips in mind. Consider some of the following advice along the way.
1. The right space. Not just any room will do. You need the ideal amount of space to fit all of your equipment, but also to fit it safely. Remember that gym equipment is heavy and occasionally unwieldy. You'll also want to take into account how your home gym fits into the rest of the house. Since equipment can make a lot of noise - not to mention the music and televisions turned up to be heard over that noise - don't set up camp too close to any bedrooms.
2. The right lighting. While some prefer their gyms without windows, make sure yours is bright and well-lit. Just like exercise, a little sunlight is good for the endorphins and will give you an extra boost of energy for a morning treadmill jog.
3. The right equipment. You'll want to start assembling the proper machines once you've established your room. If space is an issue, be sure to invest in a folding treadmill or a versatile bench for free weights. Keep your home gym organized and free of clutter, and take care of your equipment as well. Well maintained, it will last for ages.
4. The right entertainment. Even the biggest exercise enthusiast and gym rat sometimes needs some distraction from the activity itself. You don't always feel like putting in a morning run or afternoon stationary bike ride. For those moments, having a great HDTV for your gym can make all the difference. You won't be able to kick back and watch your favorite shows, but a few sitcoms can make those several miles go by a lot more quickly. And if you're the type inseparable from your iPod as you lift or put in your elliptical time, why not set up surround sound speakers? This is your gym after all, so no need for earbuds.
5. The right comfort. Rain or shine, summer or winter, you want your gym to be a comfortable place. When you're sweating and pushing your body to its various physical limits, it's essential that the climate is just right. For this reason you'll want an effective air conditioning unit for the dog days of summer. But just as important are winter heating options. Radiant heat might be a good choice for home gym owners and designers. A radiant floor heating system will keep your gym warm to your controlled specifications without flushing it with gusts of hot air the way central heating does. It's also eco-friendly - so you're keeping both yourself and the planet healthy and happy.