Last winter was so brutal that some people probably still get a chill when they think about it.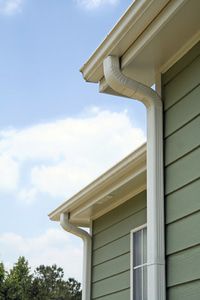 With the record low temperatures and snowfall, it was a vivid example of how dangerous winter can get. Winter temperatures in northern states, such as Wisconsin and North Dakota, average below 20°F, and much of the Midwest stays in the 30s throughout the winter season. Snow, ice and below-freezing temperatures aren't only dangerous for you, but they can also be damaging to your home. As far away as winter seems at the moment, now is the ideal time to plan ahead and prepare your house before winter's icy wrath returns to your neighborhood. Completing the following four projects this summer will protect you during the winter, and also save you time, effort, and money next spring.
1. Patch the Pavement and Prevent Future Damage
Water from melting ice or snow trickles into the cracks in your sidewalk. When the water freezes, it expands and widens the crack. As this process repeats multiple times throughout the season, even the smallest cracks can become bothersome potholes by winter's end. If you patch these spots up before the snow starts to fall, you can reduce the damage you will have to deal with come spring. Check out these tips from Ace Hardware about how to repair the gaps in your pavement.
You can also install snow melting mat systems from WarmlyYours Radiant Heating to prevent water from freezing in the cracks on your sidewalk or driveway. The system is installed under concrete, asphalt or mortar beneath pavers and uses electric cables to heat the driveway or walkway. WarmlyYours snow melting systems are available in easy-to-install rolls or loose cable to allow for maximum flexibility for steps and unique sidewalk or driveway configurations. Whichever option you choose, the snow melting system will keep your sidewalks or driveway clear and dry all winter long, and help to eliminate moisture that can pool in gaps in the surface and cause damage during the freeze-thaw cycle.
2. Prep the Garage for Winter Duty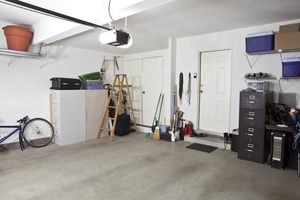 Clean the garage now to make sure there's plenty of room to park your vehicles indoors when the snow begins to fall. Now is the perfect time to reorganize. Get rid of extra items you no longer need by holding a garage sale or donating them to your favorite charity. Go through your garage and be sure you have all the winter tools you need. You don't want to be digging for the ice scraper on a freezing morning and be standing in the parking lot of the mall using CD covers or other random objects to scrape snow. Make sure that these items—including a shovel, snow blower, rock salt and more—are easy to find. Of course, if you've installed the snow melting systems in your driveway or sidewalks, you can enjoy both peace of mind and extra garage space, knowing you won't need to use these tools to clear the outdoor surfaces around your home.
3. Prevent Ice Dams with Roof and Gutter Care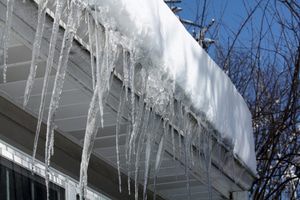 Icicles—while picturesque—are a signal that ice dams may have formed, causing costly damage to your home. Ice dams build up near the edge of the roof and prevent melting snow and ice from draining off properly. Between the subfreezing temperatures outside and warmth from inside your home, water pooled on the roof can freeze and thaw, seeping into the roofing materials and inside your home, and can lead to damage to the roof or other problems like mold and mildew.
There are a number of ways you can protect your home from ice dams and the damage they cause, Start by increasing the ventilation in the attic. Add insulation to the attic, so that the heat of your home doesn't rise any further. Keeping that heat inside your home, gives you the added bonus of conserving energy.
Installing a WarmlyYours roof and gutter deicing system can prevent ice dams and the resulting damage, by melting a pathway to safely channel water off your roof.
To further protect your roof, pay attention to your gutters. Clean out your gutters. Removing leaves, sticks, and other debris allows melting snow and ice to flow freely. Consider installing gutter guards to prevent debris from entering the gutter in the future, keeping gutters clear and saving you the time and effort of cleaning out debris on a regular basis.
4. Make Your Home More Radiant--Replace Outdoor Lighting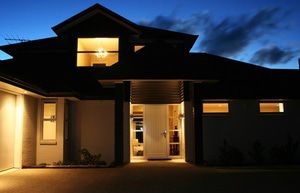 Be sure that your outdoor lighting fixtures have two bulbs. That way, you'll still be able to see at night when one bulb burns out. Replace any light bulbs that have already gone out. Patches of ice can be difficult to see, especially since the sun sets so much earlier in the winter. See and avoid potential hazards by illuminating the outside areas of your home including your sidewalk, front and back porch, and garage. Effective lighting also adds security, as well-lit areas tend to deter would-be intruders.
It's easy to just want to soak in summer and ignore the fact that another winter will roll around again. Making the time to plan ahead can make for a safer, easier winter when it does, inevitably, arrive. Taking on these home improvement projects now allows you to get out and enjoy the beautiful weather while it lasts and stay warm and cozy indoors when old man winter returns.
How do you prepare your home for winter? Share your favorite winterizing tips with us on the WarmlyYours Facebook page or tweet us at @WarmlyYours.
---