For a video summary of this report's findings, click here.
2019 was a year full of fascinating developments for WarmlyYours, chief among which was a significant change in the sales volume contributions within our product portfolio. This fluctuation was in response to external market forces (like the record setting winter of 2018-2019) and changes in consumer buying patterns.

All of this was set against a national housing market that continues to display volatility due to pricing/supply issues and a similarly affected remodeling market. While the housing market's supply woes are not expected to be ameliorated immediately, some national metrics do indicate improved sales levels in many markets. Additionally, projections for the remodeling market are no longer expecting sustained decreases in homeowner expenditures but are instead expecting a mild uptick by the end of 2020.
Despite these market factors, WarmlyYours was able to post positive sales growth in the fourth quarter and over the entire year of 2019.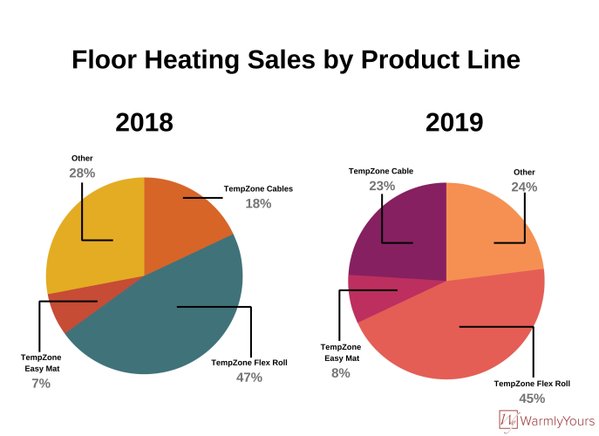 In this report, we'll take a closer look at the performance of radiant heating product sales and analyze the impact that the national housing and remodeling markets are expected to have on future sales.
WarmlyYours Fourth Quarter and 2019 Sales Performance
In the last quarter of the fiscal year, WarmlyYours saw consolidated sales grow 9%, compared to prior-year-period. This last push helped propel sales for all of 2019 into positive growth as consolidated sales were up 1.6%. The fourth quarter increase was driven by 8.1% growth in the US and 14.8% sales growth in Canada.
A lot of this was from a 5% uptick in floor heating sales. However, sales of electric snow melting systems contributed the largest volume increase by posting an impressive growth of 74.4% in Q4 2019. This year was unique because the fourth quarter was by far and away the largest for snow melting sales (historically, Q3 is the strongest quarter for snow melting sales volume). Between Q3 and Q4 of 2019, WarmlyYours saw snow melting sales increase by 20.7%.
Interestingly, this has driven snow melting to constitute a much more significant proportion of WarmlyYours total sales in 2019 than in 2018. Snow melting now accounts for 23% of all sales in 2019, whereas it only made up 14% in 2018.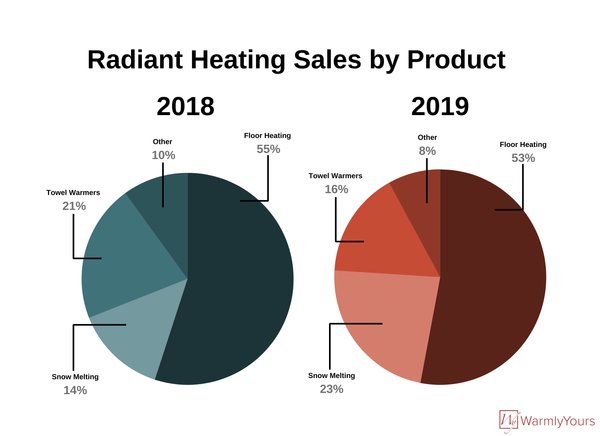 The growth for snow melting was nearly across the board for all voltages of cables and mats (excluding 208-volt cables, which were down 38% in Q4 2019). The largest volume increase came from 240-volt cables. The main driving factors for this increase in snow melting systems appear to have been increased public awareness of driveway heating and a particularly bad winter that occurred between the end of 2018 and the beginning of 2019.
There were several floor heating products which helped drive fourth quarter and 2019 sales growth.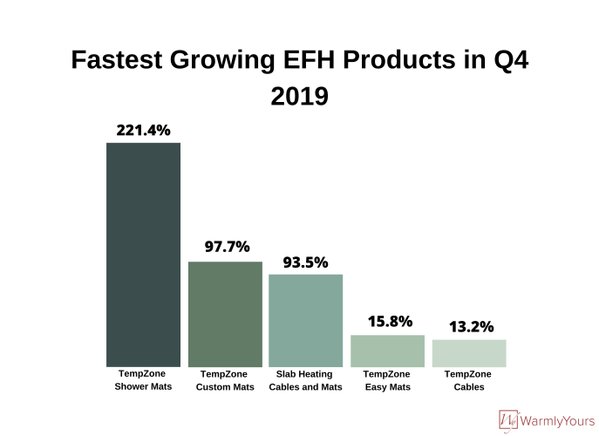 TempZone Shower Mats were the fastest growing product with 221.4% growth but the largest volume increase came from TempZone Cables and TempZone Easy Mats, up 13.2% and 15.8%, respectively.
The TempZone Cable has been a popular option with trade professionals for several years because it can be paired with an uncoupling membrane for fast installations. It's also been popular with homeowners because of the long lasting benefits that this combination can extend to relatively fragile floor coverings like tile.
In 2019, TempZone Cable sales were up 22% from the previous year, which moved the cable from 18% to 23% of all floor heating sales. Sales of the Prodeso Cable Installation Membrane, a popular uncoupling membrane that is often installed with the heating cable, were actually down approximately 6% in the fourth quarter. However, this reduction was almost entirely attributable to a momentary lapse in supply for a few weeks. Correspondingly, we expect to see Q1 2020 sales of the membrane rebound strongly.
TempZone Easy Mats not only grew in the fourth quarter but throughout all of 2019, posting a year-over-year growth rate of 10.3%. The TempZone Easy Mat now makes up 8% of all floor heating sales. There are several reasons for this swift increase. 
In 2019, 87.2% of the floors heated involved tile, marble, or stone. These floor coverings are most commonly paired with our TempZone heating systems, which are embedded in thinset or self-leveling cement underneath. The TempZone Easy Mat also lends itself to easier installation for DIYers or flooring professionals that don't specialize in radiant heating, as they're simply adhered to the subfloor before embedding.
Additionally, about 61.7% of all radiant heating projects were in bathrooms. The TempZone Easy Mat is often used in a bathroom because of the predictable foot traffic. Using the mats to "spot heat" the areas where warmth is most needed helps save on both product costs and operation costs without having to sacrifice performance or comfort. For the vast majority of bathrooms, 1 or 2 TempZone Easy Mats should be more than adequate to deliver effective floor heating for the most utilized portions of the floor.
Julia Billen, owner and president of WarmlyYours, also had some thoughts relating to increased popularity of the TempZone Easy Mat.
"One thing that has made the TempZone Easy Mat so popular is that it can be 'paired' with common bathroom fixtures to ensure that radiant heat is delivered where it's needed most. For example, we have a perfect mat to pair with a double vanity, so that two people can get ready in the morning at the same time while enjoying warmth and comfort. If you want to keep the area outside of your shower warm, we have a mat for that too," said Billen. "And the great thing is, by using Easy Mats, you can literally pick the new "hot spot" in your kitchen or living room for your family to hang out—because it's going to be the warmest and most comfortable spot in your entire home!"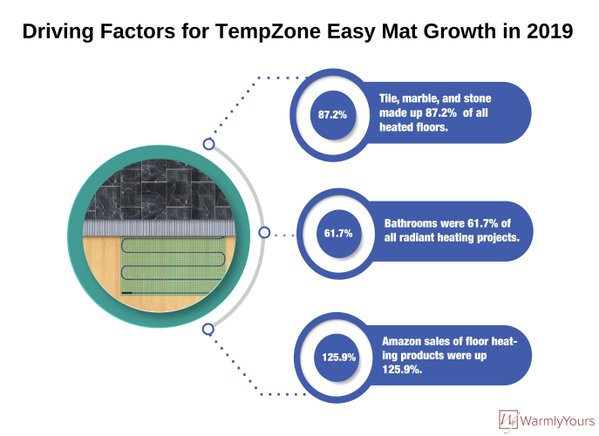 Another driving factor for TempZone Easy Mats was the fact that WarmlyYours Amazon sales of floor heating products were up 125.9% for the year (an almost identical increase to its Q4 2019 uptick of 125.8%). The TempZone Easy Mat has proven to be an extremely popular option for ecommerce when it's paired with a thermostat as a floor heating kit. We fully expect this trend to continue into 2020 as even more homeowners and professionals turn to Amazon and other ecommerce channels for their home improvement shopping.
Snow melting sales via Amazon also had a strong Q4 (up nearly 268%) and a strong 2019 as a whole (up nearly 254%).
Total WarmlyYours Amazon sales grew 6.2% ended up constituting 17% of all WarmlyYours sales in 2019. In the same time period, sales via the "trade" channel (including a variety of different professionals from paving contractors to electricians to flooring installers) were up 5.9% and made up 39% of all WarmlyYours sales.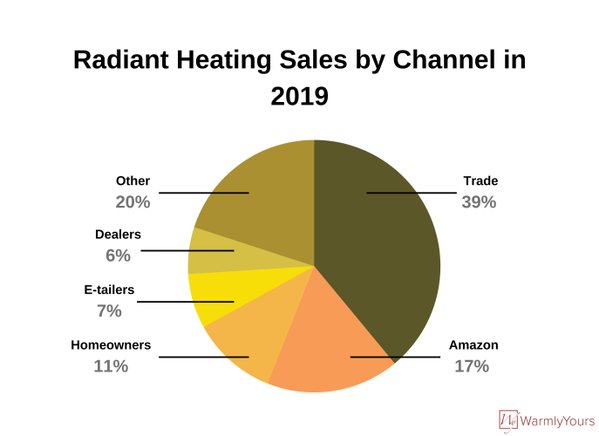 We do expect to see continued sales growth in both of these channels in 2020.
The Impact of the Housing and Remodeling Markets on Radiant Heating Sales
The national housing market has been impacted by a lack of supply for several quarters. As national wages increase and unemployment decreases, the demand for housing has caused prices to outpace the ability of many potential homebuyers to purchase properties.
Pending home sales, according to the National Association of Realtors (NAR), were down in December of 2019. NAR, who measures pending home sales with contract signings, said that pending home sales fell 4.9% between November and December 2019. However, pending home sales were up 4.6% over December 2018. Lawrence Yun, the chief economist for NAR, said that while there are some indications that the housing market is expected to improve, the lack of available inventory will continue to be a mitigating factor.  
"Due to the shortage of affordable homes, home sales growth will only rise by around 3%," said Yun. "Still, national median home price growth is in no danger of falling due to inventory shortages and will rise by 4%. The new home construction market also looks brighter, with housing starts and new home sales set to rise 6% and 10%, respectively."
Sales of existing homes were actually up in December 2019—3.6% from the previous month and 10.8% from the previous year. However, when comparing all of 2019 to 2018, home sales were essentially flat, said Yun.
"I view 2019 as a neutral year for housing in terms of sales," Yun said. "Home sellers are positioned well, but prospective buyers aren't as fortunate. Low inventory remains a problem, with first-time buyers affected the most."
It does appear that builders have been incentivized by the lack of available housing units as homebuilding activity has reached a 13-year high, at least according to CNBC. This is supported by the findings of U.S. Census Bureau, which said that housing starts in December 2019 were up 16.9% from the previous month and 40.8% from the previous year. Housing completions during the same time frame were up 5.1% from the previous month and 19.6% above the previous year.
While these indicators do seem to point to an invigorated housing market, the remodeling market will likely continue to be throttled. The Leading Indicator of Remodeling Activity, a quarterly assessment of homeowner expenditures on remodeling that is released by the Joint Center for Housing Studies of Harvard University, projects that remodeling expenditures will increase by only 1.5% in 2020, compared to 5-7% increases in previous years. The experts at the center point to several causes for this.
"While homebuilding and sales activity are now firming, softness from earlier last year will continue to pull on remodeling spending growth in 2020," said Chris Herbert, managing director of the Joint Center for Housing Studies. "However, the slowdown should begin to moderate by year-end as today's healthier housing market indicators will ultimately lead to more home renovation and repair."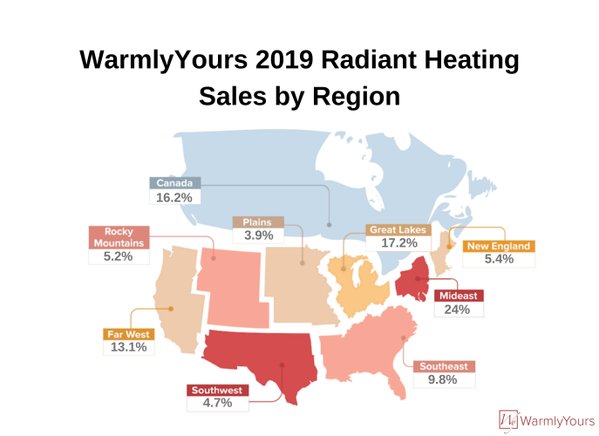 Despite this, the entirety of remodeling expenditures is still expected to be significant.
"A 2020 growth projection of less than 2 percent is certainly lackluster for the remodeling market, especially given historical average annual growth of about 5 percent," says Abbe Will, associate project director in the Remodeling Futures Program at the Center. "Even so, homeowner improvement and repair expenditures are still set to expand this year to over $330 billion."
Despite these lukewarm projections, WarmlyYours fully expects to see continued growth for radiant heating sales in 2020. We're projecting to see the following:
Snow melting sales will remain flat throughout the entire year. This will largely be due to comparing sales growth to a record setting 2019. Sales volume in 2020 should be very comparable to 2019.
A large increase in floor heating sales, particularly of TempZone Easy Mats, via direct and ecommerce sales channels. This will largely be due to new available sizes and the continued popularity of floor heating kits.
An increase in towel warmer sales growth. 2019 was a relatively down year (again, compared to a spectacular year previously) so we fully expect to see this product line stabilize and put for solid growth in 2020.
An increase in floor heating controls as we're on-boarding a brand new line of floor heating thermostats featuring real Swarovski crystals. This product line is expected to be popular with both interior designers and
Sources:

Relevant WarmlyYours internal sales data
Google Ads and Google Analytics
https://www.nar.realtor/newsroom/existing-home-sales-climb-3-6-in-december
https://www.nar.realtor/newsroom/pending-home-sales-skid-4-9-in-december
---
Tell us About your Project
Our team of Radiant Experts is ready to help! Just tell us a little about yourself and your project to get started.
---
Did you find this post helpful?
Let us know by giving it some applause.
---
---