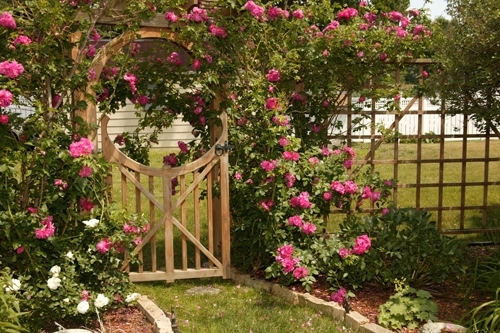 Side yards are often the stepchildren of outdoor living spaces. While patios and decks have beautiful furniture sets, and luscious landscaping adds to the curb appeal in front of homes, side yards are offer the repository for recycling bins and trash cans. But these smaller spaces may be transformed with attractive walkways or a hidden place to relax  on a chaise lounge.
Instead of leaving the side yard as a ho-hum, narrow strip of lawn, it should be seen as the piece that will tie together the front and back of the home. Better Homes and Gardens magazine suggested leaving a partial view from the front to back because it gives the illusion that the yard is larger. But to provide some privacy, a gate or arbor can be installed that leads visitors through to the backyard.
The space may also have a paved walkway that leads to the backyard and a side entrance into the home. When that's the case, those who live in colder regions can install outdoor heating under many building materials that are available for outdoor paths. Radiant heat for walkways is a boon to homeowners who don't want the bother of shoveling snow and ice in winter. The system can be tied into driveway heating as well.
A Choice of Greenery
According to DIY Network, the foliage in side yards sometimes becomes significantly overgrown when homeowners turn their attention elsewhere. But the greenery can be a plus if it's cut back to a neat border that doesn't obscure the space.
If bushes and hedges are preventing homeowners from having an additional open area for a patio nook, it's better to clear away the greens and add smaller plantings in a raised bed or behind a small retaining wall. A deep layer of pea gravel can set this area apart with a small water feature as a focal point.
By adding a couple of supports to the side of a home, a few hanging plants can bring a garden atmosphere to a small side yard. Houzz.com touted them as a "welcoming classic" for anyone who wants to set a warm tone for their outside areas.
The side yard should also be considered part of a home's curb appeal as it may be at least partially visible from the road. For foliage around the home that will have year-round appeal, a mix of perennials, evergreens, deciduous and annual plants will produce color on the property in every season.