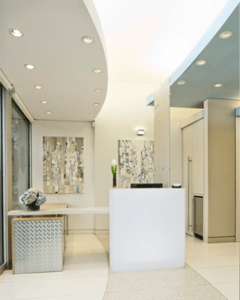 Imagine an office that is patient-centered, cosmetically oriented, and welcoming.
Considering the common fear in society, a dentist office is most likely the last place that would come to mind, but at Lincoln Park Smiles, all fear is eased by comfort and hospitality.
Located in Chicago, Illinois, Lincoln Park Smiles is a state-of-the-art facility that provides amiable atmosphere and helps you create your perfect smile. With 24-hour emergency service, Lincoln Park Smiles is dedicated to ensure that their patients have a healthy and welcoming experience.
Unfortunately, Chicago's winter climate can be threatening and dangerous outside Lincoln Park Smiles, making it difficult to ensure safety and comfort for their customers. With the accumulation of snow and ice on the walkway outside the building, it becomes risky for those entering or leaving the office. This in mind, Dr. Jack Manikowski of Lincoln Park Smiles, had WarmlyYours team with JM Industries to install WarmlyYours snow melting system.
With the help of Mark Boyer from JM Industries, WarmlyYours Snow Melting Cable System was placed under the outdoor tile landing and steps, in order to eliminate snow and ice. Designed to install directly in concrete, asphalt, or in mortar beneath pavers, our snow melting system ensures that the walkway and steps of Lincoln Park Smiles are completely clear of snow and ice to guarantee safety.
After installing the snow melting system, Mark shares his experience working with WarmlyYours, "Installing WarmlyYours products are always a dream! It is always easy to install and the customer support at WarmlyYours is fantastic. Chad Braker is very helpful and great to work with. All in all, WarmlyYours is just awesome!"
With Mark's easy-going attitude and hard working hands, the installation of the snow melting system was a breeze. Even with a mistake here or there, any problems were addressed and fixed immediately. Not only did WarmlyYours and JM industries share an easy and enjoyable experience with this project, but also Lincoln Park Smiles now has the assurance of customer safety and warmth all winter long.
Like this post? Subscribe for regular updates
Make sure you don't miss out on the latest news in radiant heating by subscribing to our blog. We'll send you an email with links to the newest posts from WarmlyYours.
We won't share your information and you can unsubscribe at any time with a single click.
---
Did you find this post helpful?
Let us know by giving it some applause.
---
---