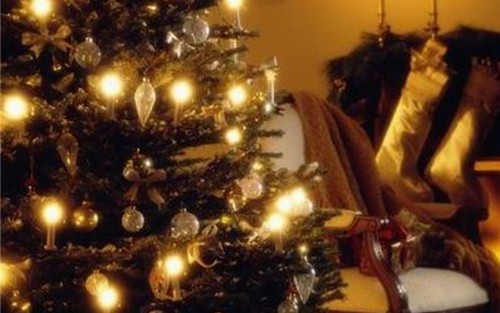 Stockings, Yule logs, plenty of lights, a lush green wreath with a bright red bow, carols on the radio, the smell of gingerbread baking - all of these are signs of Christmas. As is the ubiquitous and ever-important Christmas tree. That is, so long as you can fit one. Face it, not every home is meant to house a giant evergreen for most of December, and plenty of folks that can fit one (or two or three) in their homes just don't want to handle the trouble of lugging one home and through the front door. While the handy old fake tree that you unfold and put out each year is a decent standby, why not consider a few clever Christmas tree alternatives?
Get cozy with a mug of peppermint hot chocolate, grab a cookie, wrap yourself in your favorite sweater, set the radiant heat flooring to the perfect degree and get creative with these suggestions.
The tree-free ornament tree
Got a lot of ornaments saved up over the years? ApartmentTherapy.com has a great suggestion for holiday rebels in the form of a tree crafted solely of ornaments. Table, tack and pin your favorites to the wall in the two-dimensional shape of a classic Christmas tree. Ornaments too heavy? Trace a few silhouetted shapes out of colorful craft paper or cardboard!
The tree-free lighted tree
Following on ApartmentTherapy.com's example, why not simply string up your traditional white Christmas lights? Arrange them in waves that mimic the look of a Christmas tree - narrow at the top, wider at the bottom - then, when it's night, hit the lights for a gorgeous tree alternative.
Christmas tree wall decal
Wall decals are all the rage, in and out of holiday season. You can get silhouettes and images of everything from a giant, fire engine red giraffe for your bathroom to a dainty blue tea set silhouette for your kitchen wall. Go a Christmassy route with a strictly 2-D tree this holiday.
These are only a few of a whole host of ideas. The source features a number of photos for inspiration, including homes that stacked drums in a tree shape then lit them with lights, or another homeowner who assembled a colorful mass of Post-it notes on a mirror in that familiar coniferous shape. Why not give any or several of these a spin in your own home?