When Kory Nelson, owner and founder of Nelson Design and Engineering, Portland, Ore., began remodeling and flipping single-family homes more than a decade ago, he was looking for something to set his work apart — the "wow" factor.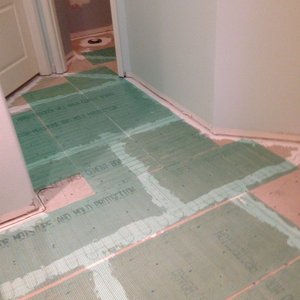 When he heard about electric floor heating from  WarmlyYours Radiant Heating, he was instantly intrigued. However, Nelson was committed to maintaining a perfect reputation among his clients and that required being 100 percent confident about every product he recommended, so instead of trying the first installation in a client's home, he chose to install it in his own home. This way, he could experience the installation and how the product worked firsthand.
"The first installation I did of a WarmlyYours floor was in my own home because I wasn't going to use my customers as a guinea pig," Nelson says. "I can't afford to lose referrals through a bad experience — referrals are the life of my business."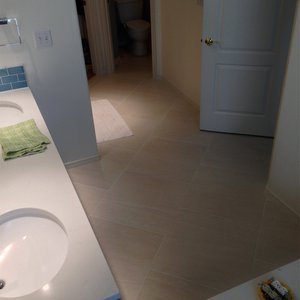 When he installed the first floor in his master bathroom, he was immediately impressed and began planning to add it to all of his homes as that statement piece he was looking for to set him apart.
"I have been using WarmlyYours radiant floors to set my work apart in the single-family resale home market for almost a decade now," Nelson shares. "I know that when potential buyers are looking at many homes, I need something extra to make my product stand out, and the radiant floors help do that."
Since the first trial run, Nelson has installed hundreds of floors over the years. "My customers — and myself — continue to give rave reviews of this product and its results," he says. "It is far and away my favorite upgrade to any project!"
The systems go in very quickly now, as Nelson has developed a system that works effectively for him.
Most of Nelson's projects are tile floors installed over cement board.
"In a typical install, I will fasten the subfloor along the joist to eliminate any excess movement and then sand the top to get a clean surface," Nelson describes.
He uses latex primer before troweling thin-set for the cement board to set in.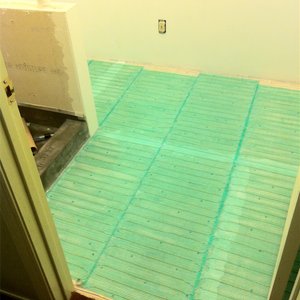 After screwing down the cement board and taping the seams, the floor is ready for the heating element. Nelson lays out the floor and dry fits the element in order to make sure he is happy with the coverage and how the wires will run.
"I use a hot glue gun to fasten the element and wires in place before burying it in auto leveler," Nelson explains. "Then I have a good bed for the heat to migrate through and a nice surface to work with for tiling."
He adds that he seldom needs to make any changes to the installation blueprints provided by WarmlyYours, saying, "They are very helpful!"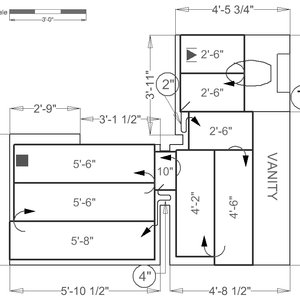 The blueprints were especially helpful for one of Nelson's most recent projects (see floorplan on right), where he installed a bathroom that Nelson says "didn't have a straight wall in it."
"It was a crazy project," he adds. "With projects like that, it is so great to have the floorplans done for you by WarmlyYours. I always say, 'Don't do work you don't have to!'"
The blueprint shown was for a bathroom finished with tile. Nelson installed a heated floor in the bath and accompanying attached closet, as well as a beautiful custom shower that the client designed.
The project, despite its unique design, went smoothly and ended with another impressed, happy client.
"She and her guests just love the floor!" Nelson shares.
Today Nelson still gets 100 percent of his business from referrals.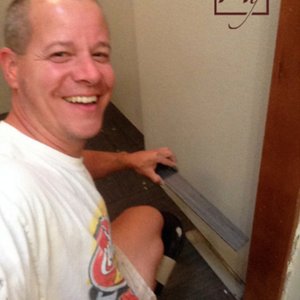 "I don't have a website or a Facebook page," he says. "I don't even have a phone number on my truck. All my jobs come from that moment when friends and family walk into a remodel I've done and want it done in their own homes.
"I basically don't exist unless you happen to know one of my customers," he continues. "I know that is very atypical, but it has worked for me. I have been in business now for 10 years doing only referral work, and the WarmlyYours floors are part of creating that positive impression that carries forward to new jobs.
How are you creating projects that "wow" your clients with WarmlyYours products?  Share your story, send us photos on the WarmlyYours Facebook page, or tweet us at @WarmlyYours.
---
Tell us About your Project
Our team of Radiant Experts is ready to help! Just tell us a little about yourself and your project to get started.
---
Did you find this post helpful?
Let us know by giving it some applause.
---
---