A System So Nice He Installed It Twice-- DIYer Installs TempZone™ Floor Heating Systems in Both Bathrooms of Basement Remodel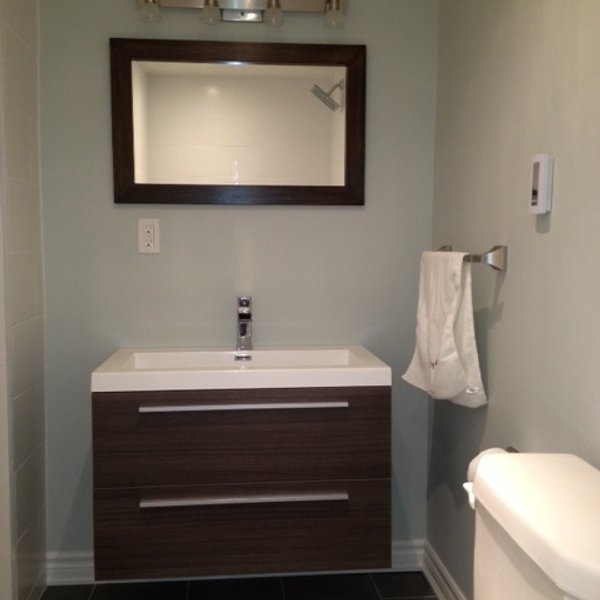 Radiant electric floor heating technology from WarmlyYours Radiant Heating, Lake Zurich, IL, has been installed in more than a million homes worldwide, and we love hearing about each and every unique project. Whether you are a homeowner, do-it-yourselfer, or seasoned designer or installer, we place an emphasis on offering a high-quality product with even better customer service. We've created the "Share Your Story" program to celebrate the diversity of uses (and users!) for our products and to show our customers how much we appreciate them while giving them an opportunity to let us know how our products are making a difference in their lives.
The newest Share Your Story winner is Brian Phillips, Mississauga, Ontario, Canada, who has installed not one, but two electric heated floors from WarmlyYours in his two basement bathrooms.
He calls himself a "weekend warrior" who just loves carpentry and working with tools. While he's not a professional tradesman, he was confident enough to tackle installing the flooring after researching WarmlyYours' products and their installation requirements. He was impressed by the product reviews for the TempZone™ floor heating system, and he also utilized WarmlyYours' installation video library to make sure he wanted to tackle the project himself. The ever-growing video library demonstrates how the products work and how to install them, and they are intended to help customers such as Phillips, as well as installers, choose the best products for their needs and confidently tackle projects.
"After watching the video I was confident the product's installation requirements were something that I could handle," Phillips recalled.
Phillips had previously worked on remodeling his parents' house when he was growing up, and used those experiences to tackle finishing off the entire basement in his house, a project he knew from the beginning would include heated floors.
"When I started working on the first basement bathroom, I knew I needed heated floors. No one wants to step on a cold tile floor in the middle of a Canadian winter," said Phillips.
He explored the different products available, settling on WarmlyYours in the end.
"For me it was a comfortable decision to go with the WarmlyYours product once I had done the research," Phillips said. "It was a highly recommended product when I read reviews, it seemed easy enough to tackle myself, and it was sold through Home Depot," Phillips recalled.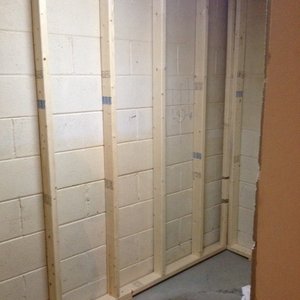 He used the WarmlyYours website and the online video library to answer most of his questions, and was very happy with the amount of information available. From there, he called the WarmlyYours Installation Support Team to answer his final questions.
This included double-checking whether or not he needed an insulated underlayment for the floors, which he did.
CeraZorb® is always recommended when installing TempZone™ floor heating systems over concrete slabs, such as the one in Phillips' basement. The cork underlayment, which is available in 4 ft. x 2 ft. sheets that cover eight square feet, is installed beneath the electric heating mats before installing a tile floor on top. This increases the energy efficiency of the system by creating a thermal break above the slab preventing heat loss into the cement and maximizing the heat that can be created.
"I am glad I could confirm everything I needed for the project to ensure its success before ordering. By calling, I found out how important an underlayment was to the success of the heating, helping prevent the cement basement floor from absorbing too much of the heat," Phillips shared.
The installation went smoothly. Phillips installed the CeraZorb®, followed by a 3 ft. x 6 ft. TempZone™ flex roll in a mat he had chosen based on the bathroom measurements. He then free-formed the roll to the actual bathroom shape himself. The floor was finished off with 12 in. x 12 in. ceramic tiles over the top.
The installation took less time than Phillips anticipated. "It went in so easily. I had no issues doing it myself even though I had never done it before," he shared. "In fact, the longest part was simply the drying time," he added.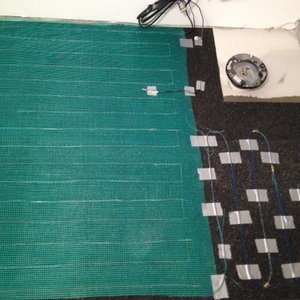 Phillips is very happy with the final result in both bathrooms—and with the service he experienced throughout the entire ordering and installation process.
"This is a great product, made even better by customer service that went above and beyond to ensure I left a satisfied customer—which of course I am," Phillips said. "I have been very impressed with WarmlyYours—everything from ordering the product, to the timely delivery, and after-purchase product support. Installation was easy and the heated tile in our basement bathrooms is absolutely wonderful."
Placing electric floor heating systems in bathrooms creates outstanding comfort and warmth. Have you designed or installed a unique radiant heated tile floor from WarmlyYours? We'd love to recognize your creativity with our products! We know that any remodeling project or purchasing decision you make that centers around bringing warmth and comfort to your family is an important one, so please share your story with us (your project may win $100 if it uses WarmlyYours products), send us photos on the WarmlyYours Facebook page, or tweet us at @WarmlyYours.
---
Tell us About your Project
Our team of Radiant Experts is ready to help! Just tell us a little about yourself and your project to get started.
---
Did you find this post helpful?
Let us know by giving it some applause.
---
---