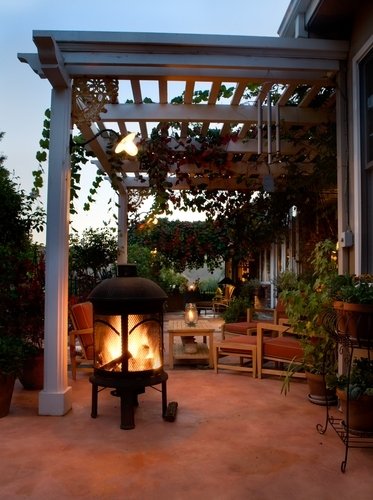 Now that springtime is here, your outdoor patio is going to get a lot more use. Before your first party, get the area ready to entertain.
Whether you have a large terrace, a pool patio or a classic deck, there are a handful of ways to remodel this entertainment space.
When revamping your patio space, you can approach its decor in a number of ways. For the summer months, especially if you're planning on entertaining, consider going for a beach side feel.
Lighting fixtures are great for enhancing a space. Consider antique lantern-style fixtures to accomplish this. You may even be able to find some with colored glass for a playful edge. These also have a certain nautical quality to them that would go with your theme.
If you want to stay simple, try string lights. They've become increasingly more popular and are not as tacky as some may assume. As long as they're not in excess, they can be quite tasteful on a patio or deck.
Going along with the beach idea, some may be tempted to whip out the Tiki torches. These definitely succeed in making a fun atmosphere, but they don't necessarily warm things up.
Consider a fire-pit to more effectively heat the area. If you're not up for installing one in the terrace itself, there are plenty of above-ground pits to choose from in a variety of styles. These will give your outdoor entertainment space both comfort and aesthetic.
If you're thinking about redoing your patio, or adding one for the first time, you should consider a snow melting system from WarmlyYours. Incorporating a snow melting system 2-3" below the final flooring surface of a new patio can help make sure that your space stays clear of snow and ice.
This enhanced decor along with upgraded flooring make for fantastic outdoor design. As spring melts into summer, your patio space will undoubtedly be a hit among all your guests. 
---
Tell us About your Project
Our team of Radiant Experts is ready to help! Just tell us a little about yourself and your project to get started.
---
Did you find this post helpful?
Let us know by giving it some applause.
---
---