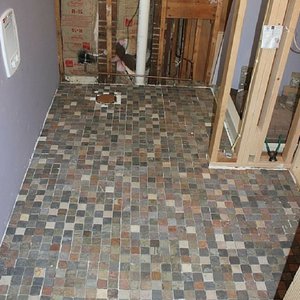 What do you get when you combine a TempZone™ Flex Roll offered by  WarmlyYours Radiant Heating, a witty, skilled craftsman with a low tolerance for snow and cold, and a heater-less bathroom in an old farmhouse in the Pennsylvania countryside? One heck of a testimonial/how-to that is entertaining and informative. Or at least we thought so when we read the blog "WarmlyYours Radiant Floor Heat — We Don't Need No Stinking Shoes!" on homefixated.com.
If you're looking for insight and information on how to tackle a  TempZone™ Flex Roll installation, there are many options available to you on www.WarmlyYours.com (just search for Flex Roll to get started!). This blog is another good resource as well.
When Phil Brind'Amour, who heads up Brind'Amour Contracting, a small construction firm in Pittsburgh, set out to install a TempZone™ Flex Roll in the first-floor bathroom of an old farmhouse that he and his family bought, he documented the process with some great photos and very honest, descriptive account of the process. In short, if you read his blog, you'll be entertained and educated. It's a win-win.
How honest was Brind'Amour? He admitted that the only reason he ended up documenting the bathroom floor installation was because the remodel of the kitchen and kitchen floor had to be put on hold for a rebuild of the home's foundation walls.
"The [kitchen] floor is not even close to being flat, and I was in the process of trying to get it level when we discovered another little item to attend to: two collapsing foundation walls," he wrote in his blog. "The kitchen portion has been momentarily halted while we got the foundation walls rebuilt. Ah, the character and charm of the older home! Meanwhile, I decided that the suddenly depleted building fund had enough remaining to tackle the first-floor bathroom (mainly because we had already purchased the floor tile)."
In addition to his humorous storytelling, Brind'Amour, who got his start in the construction trades right out of high school working as a framing carpenter for a custom home builder, breaks down his steps and evaluates the TempZone™ Flex Roll product. He is brutally honest, so we were happy to come out with an honestly positive review!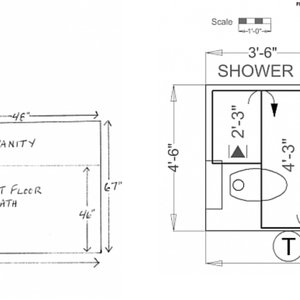 He advises that you use the customized floor plans that WarmlyYours offers. (Hey, we do too!)
"Designing your own heated floor is a simple process," he writes. "You'll need to draw a rough sketch of the room you want to heat. It doesn't have to be beautiful (thankfully). Just make a drawing showing where any cabinets, doorways, plumbing fixtures, appliances, etc., are located, and label everything with measurements, getting them as accurate as you can."
According to Brind'Amour, the floor plan "comes back looking much more professional and useful (in my case, anyway)."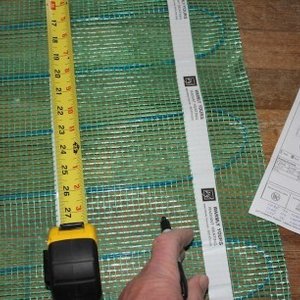 Brind-Amour also walks through cutting the roll to fit (he tackles it like a champ) and offers a key tip: "The main thing to remember when you start cutting is to only cut the mesh; steer clear of the blue wire!"
Like many people, Brind'Amour's first experience with radiant heat had him ready to put in more. There's an  "addictive" quality to radiant heat once you experience it firsthand.
"Now that I know how easy it is to install the WarmlyYours under-floor heat system, and what an excellent job it does of taking the chill off, I can't wait to get it into our kitchen and the other bathroom," he writes. "When I do, I'll update this post. In the meantime, my wife has notified me that radiant heat panels for the kitchen are something we should consider. Being a firm believer in the credo of 'Happy wife, happy life,' I will be looking into the purchase of some WarmlyYours  radiant heat panels."
Read the full blog  here.
If videos are more your style to learn about installing a TempZone™ Flex Roll, try watching our five-part series, "TempZone™ Flex Roll Installation Guide." It may not be as witty as Brind-Amour's account, but it will visually break down the process for you and give you solid tips and instructions on how to nail your installation.
TempZone™ Flex Roll Installation Guide Part 1 - Preparing Your Floor
TempZone™ Flex Roll Installation Guide Part 2 - Installing Your Floor Warming Roll
TempZone™ Flex Roll Installation Guide Part 3 - Ensuring a Good Installation
TempZone™ Flex Roll Installation Guide Part 4 - Wiring Your System
TempZone™ Flex Roll Installation Guide Part 5 - Installing Your Flooring
And if a time-lapse video showing a Flex Roll installed in under 40 minutes will get you pumped up, add this video to your viewing queue:  TempZone™ Flex Roll Installation in 40 Minutes.
If you're ready to install your own TempZone™ Flex Roll, let us know how it goes! Share your strategies and tips on the WarmlyYours  Facebook page or tweet us at @WarmlyYours. To add radiant heat to your home today, contact us at 800-875-5285 or info@warmlyyours.com. 
---
Tell us About your Project
Our team of Radiant Experts is ready to help! Just tell us a little about yourself and your project to get started.
---
Did you find this post helpful?
Let us know by giving it some applause.
---
---