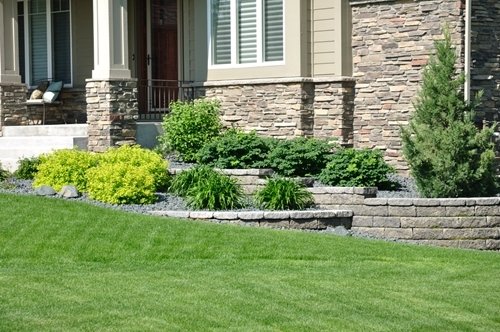 Deciding how much architecture and practical features like radiant heat should influence a home's decorating scheme extends to outdoor living spaces.
DIY Network recommended choosing exterior colors in terms of the whole house from the roof down. Walking around the neighborhood may also yield some pleasant color ideas if there's a home that's particularly appealing.
But the do-it-yourself channel added that while some architectural features are beautiful enough to emphasize, others are purely functional and should be disguised. A gas meter, for instance, may be easily hidden behind a small lattice board enclosure as long as there's a latch for utility personnel.
Well-planned Project
Painting outdoors presents some special challenges, which is why exterior paint is meant for surfaces that must withstand the elements. Specifically, DYI advised consumers to consider the exterior materials that are being painted in conjunction with the color of surfaces - shingles, bricks, stone and tile - that won't be painted. Then homeowners should take a step back to picture their chosen colors with the roof, brick areas and how the house looks between the nearest neighbors' homes.
Unless homeowners are particularly adventurous in choosing home colors, most houses look best with moldings, house trims and doors painted in tried-and-true natural wood tones or white because they go with all hues.
Just as homeowners have found electric in floor heat to be energy-efficient inside their homes, having the convenience of a heated driveway and walkways should be considered as part of projects to upgrade landscaping or house colors. Outdoor heating installed under concrete, asphalt or other building materials provides snow melting that's regulated by an electric switch inside the home.
Inside Decisions
To prevent architectural elements from standing out too much, interior doors and trim should be painted in the same color as the home's walls.
"Don't hesitate to paint the doors and wall trims the same color as the walls, if you don't want the extra detail or the doors and trims aren't great," design consultant Cindy Bergersen told Hamptons magazine.
On the other hand, highlighting attractive construction features within a room design can be accomplished by painting them in the same color family as the home's main hue, but in a shade that's lighter or darker. Painting with a satin or gloss finish paint will allow trim to become more prominent.
To bring together the permanent features of a home with the furniture and soft furnishings, choosing colors that complement upholstery and wood tones is an easy way to ensure a design plan that is balanced and well-coordinated.
Working with Color
Bergersen said consumers who want to use their favorite clothing colors for home decor may be dissuaded if those hues are too bold for wall colors or architectural features. But there's a way to get around that dilemma.
By "browning" or "graying" down the color, its own neutral is created in a lightened or darkened version. That way the homeowners can be surrounded by their favorites without feeling overpowered by them.
White Ceilings or Not?
With modern architecture, the starkness of a white ceiling are a great match for rooms in which there are few moldings and lots of angles. But with softer styles of decor, it may stand out as a bit harsh. To tone it down slightly, Bergersen recommended that homeowners mix a bit of their wall color into deep ivory to make a subtle connection to the wall shade.
In rooms with no crown molding, painting the walls and ceiling the same color eliminates the color shift from walls to ceiling. A neutral with a pale to medium tone is ideal for this purpose.
---
Tell us About your Project
Our team of Radiant Experts is ready to help! Just tell us a little about yourself and your project to get started.
---
Did you find this post helpful?
Let us know by giving it some applause.
---
---