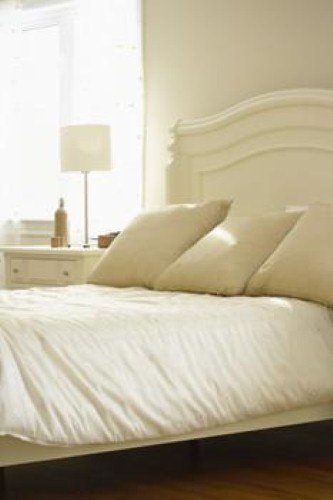 We sleep in our bedrooms, which means it's our place to recharge. Our daily mood, productivity, efficiency and general happiness is all dependent on sleep, and it's hard to get a night's rest when you're not comfortable. Make sure your bedroom is an ideal place to relax with a book, catch a little TV or retire for the night by keeping it comfortable year round.
Looking for a few season-specific tips? Take these into account.
Summer
An air conditioner is going to be essential for a truly comfortable summer, whether you live in the humid East Coast or the arid Southwest. As temperatures climb into the 90s, nothing will make you happier than a little relief, especially during the evening and overnight, when your rest is of the utmost importance. If you find that your home feels humid, especially the bedroom, you may want to invest in a portable dehumidifier. This will sap the air of unwanted moisture and help decrease the growth of mold or mildew.
Fall
As the weather cools down and you retire the air conditioning for the season, begin bringing out the heavier blankets for your bed. While you won't need to sleep with a comforter quite yet - depending on whether you personally run hot or cold - a quilt will make for a great cover during the chillier October nights. Once November arrives, consider investing a more permanent solution. Radiant floor heating is an eco-friendly way to keep your home comfortable without turning to your central heat system.
Winter
If you don't take the plunge on radiant heat in your bedroom in November, make it a Christmas gift to yourself. You'll want to pile on the blankets as winter gets well underway. Be sure to spread area rugs over any type of flooring that's going to get cold to the touch with the chilly weather and be sure to have a snug pair of flannel pajamas for lazing around and sleeping in!
Spring
As the thaw sets in, you'll want a whole new set of sheets. Head to your linen closet for some breathable bedcovers, then begin the annual cleaning to rid your bedroom of the clutter that's accumulated over the winter months. Keeping a room clear in time for summer will make it less crowded and stuffy. Finally, as May begins, why not bring the dehumidifier out of the basement and give the AC a test run on the first day it hits above eighty?
---
Tell us About your Project
Our team of Radiant Experts is ready to help! Just tell us a little about yourself and your project to get started.
---
Did you find this post helpful?
Let us know by giving it some applause.
---
---