More and more, homeowners are remodeling their kitchens and bathrooms for their own enjoyment rather than resale value. Exciting new design trends offer ways to create luxuriant spaces to meet your needs, as well as your wants.
Home is Where the Hearth Is
Still the heart of the home, the kitchen is not just for cooking and dining. It serves as a central location for everything from entertaining guests to doing homework.
"With a trend for more open-plan living, the kitchen is the hub of the home where all the family can congregate, so it can cater to many different activities and make it worth spending money on as well as adding value to your property," said Ronnie Whelan, editor of Essential Kitchen Bathroom Bedroom magazine.
New trends for kitchens and bathrooms include everything from furniture design featuring unusual shapes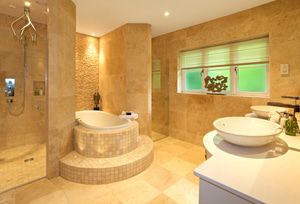 and clever camouflage to greener ideas and artistic accents.
Spa Experience at Home
Bathrooms have become spa-like retreats, complete with stereo surround sound, steam or multi-head showers, and even refrigerated vanity drawers to serve up a chilled beverage while you soak in the tub. Add in a towel warmer and in-floor heating and you can enjoy spa comfort right at home.
Decorative and functional features, such as deep soaking tubs, vessel sinks with wall-mounted hardware and waterfall-style showers, help turn the bathroom into a beautiful and tranquil refuge for relaxing at the end of a stressful day.
New Configurations
The straight lines and sharp angles of traditional furniture and fixtures are being replaced by more organic design, including curved counters and vanities, allowing for a more natural and comfortable traffic flow.
A perennial go-to option for saving space, built-ins are more popular than ever. Integrated and built-in refrigerators covered with custom panels blend seamlessly with the cabinets. Side-by-side or multi-function ovens, as well as refrigerated, and even microwave, drawers, discreetly add functionality without detracting from the décor.
Now even smaller appliances and storage features can be built-in to open up counter space and eliminate surface clutter. From coffee makers and ice machines to handy space savers like horizontal knife racks and spice holders, many commonly used implements are being integrated into the cabinetry.
The Natural Way
The desire to live a greener lifestyle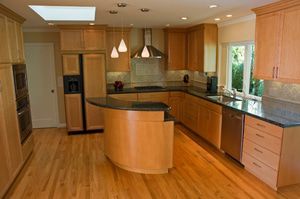 has driven consumer demand for sustainable materials and energy efficiency. Homeowners are looking to add products like water-saving dishwashers, eco-friendly materials like reclaimed wood and tile, and radiant heat as part of their plan to reduce their impact on the environment and save energy.
Artistic Expressions
Personal taste is becoming an important influence in home design as homeowners become more self-assured about how they want their homes to look and become less reliant on a showroom for guidance. Custom range hoods, accent doors for cabinets, and painted tiles add artistic flair and personal style to the kitchen.
Glass has become a major decorative influence in kitchens and bathrooms. Glass is everywhere, from cooktops and cabinet doors to tile backsplashes and decorative accents. In the bath, translucent glass sinks, light fixtures, and mosaic tiles add more light and reflection to the room.
Whatever your style, whether contemporary or traditional, or something eclectic, there's something for everyone in the array of new options for kitchens and bathrooms. With so many exciting choices, the only limit in designing that dream kitchen or at-home spa is your own imagination. So, go ahead. Indulge.
Like this post? Subscribe for regular updates
Make sure you don't miss out on the latest news in radiant heating by subscribing to our blog. We'll send you an email with links to the newest posts from WarmlyYours.
We won't share your information and you can unsubscribe at any time with a single click.
---
Did you find this post helpful?
Let us know by giving it some applause.
---
---