In today's economy making personal connections goes a long way in the sales cycle. Those initial personal connections that are made have the ability and potential to develop into something more, like gaining a new loyal customer or nurturing relationships with existing customers.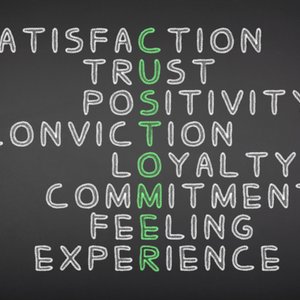 Studies show personal connections significantly increase callback and sales productivity by 240 percent via the Value of Connections infographic by Reachable, which is an online solution giving professionals the power to leverage all contacts within their organizations.
According to Reachable.com, when you have a personal connection to the customer they are calling, that person is 5.2 times more likely to return the call than if there is no personal connection.
The first step is to understand how to make personal connections and then practice making those connections with customers.
How to make personal connections?
Details. Details are what make up a person's identity, so try to remember one or two personal facts about the customer to bring up during the conversation. Doing this makes the customer feel important and appreciated; it adds a more human side to sales. Your goal should be making your customer feel that they are more than just another dollar sign that can be added to the company's earnings.
Ask questions. Asking questions is fundamental in making personal connections with people in everyday life and it is the same way in business. A better way to help customers is by asking questions. It is not only beneficial to them but also to the sales person allowing both parties to get a clearer understanding of the need and how the sales person can meet it.
Relate. As another way to make personal connections in sales, in addition to asking the customer questions, is to talk a little bit about yourself. It adds a more personal touch and authenticity to the conversation with the customer, creating a collaborative atmosphere.
Listen and be patient. A person can always tell if they are not being listened to or ignored. It takes patience to develop a long lasting relationship with a customer. Having the patience now, will pay dividends later.
Now practicing this can be a challenge, but it is beneficial to both the customer and to you.
WarmlyYours is all about connectedness with our customers. Engaging and serving is at our very core. We believe that "radiant" goes far beyond our heating products, it's who we are, and it's a way of life. Having a 99 percent satisfaction rating from our customers is further proof that staying connected with our customers, past, present, and future is a win-win relationship.
---
Tell us About your Project
Our team of Radiant Experts is ready to help! Just tell us a little about yourself and your project to get started.
---
Did you find this post helpful?
Let us know by giving it some applause.
---
---