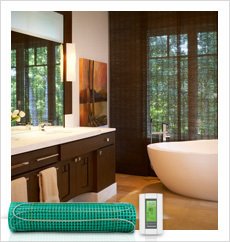 When you're visiting with potential or current customers, the question may arise, "Isn't radiant heat a luxury I can do without?" And, how then do you answer that question? Sure, radiant heat is, in fact a luxury, but there is strong merit in the added value and functionality that it offers to your customers.
Let's first start with the resale value of radiant heating, which in a down market can be an "easy sell." One in every five people or 20% of potential home buyers say that floor heating is a desired luxury when searching for and buying a new home. No matter the type of home, across the US - floor heating is one of the hottest selling points on the market!
On the side of functionality, it's important to know that comfort and efficiency are the two main reasons why potential homebuyers and homeowners alike, love radiant heating.
Additionally, investing in eco-friendly improvements in your customer's home reduces emissions and saves them money – from tax breaks to lower energy bills. The energy needed for floor heating, which can be used as a primary heat source, that's two-thirds of the energy required for standard central forced-air heating.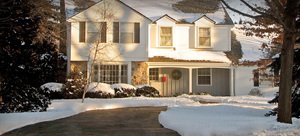 Floor heating is an affordable luxury that not only saves your customer money but also encourages a healthy, sustainable lifestyle. The silent heat has no air ducts, which eliminates blown air, decreasing dust mites by 80 percent. While electric radiant heat also allows for healthy heat absorption that enriches the skin in the same way the sun provides radiating warmth.
So, let's really break it down. Take note of this overview, crafted into easy talking points that you can use when speaking with your clients about the value and function of radiant heat in their home:
Radiant heat will improve the functionality of their home, with the ability to use it as a primary or secondary heating source.
Snow Melting products will free up money, time, and strength, leaving them without the demand of plowing, shoveling, or salting the driveway or walkways.
Deicing products will improve the life of your roof and gutters, keeping them free of ice dams and other damages caused by heavy ice and snow.
It will increase the resale value on your home, by making it an appealing and sought after luxury for prospective homebuyers.
It will last a lifetime with a transferrable warranty to the new owner, if applicable. WarmlyYours Radiant Heating products are built to last, and in the event that a repair is needed, your product comes backed by a No Nonsense™ Warranty that covers the cost of the labor and parts (including the floor covering, if needed).
Radiant heating will give them a luxurious spa experience in the convenience and comfort of their own home.
While radiant heat is considered a luxury, it is also a very cost-effective and efficient way to upgrade your home, warming a master bathroom for less than 16 cents-a-day.
The multiple benefits of radiant heating are many and combine to create your clients' ultimate comfort experience. With the ability to install underneath virtually any flooring surface, its low maintenance and energy efficiency make it an affordable way to increase value and add function to their home, indoors or outdoors.
---
Tell us About your Project
Our team of Radiant Experts is ready to help! Just tell us a little about yourself and your project to get started.
---
Did you find this post helpful?
Let us know by giving it some applause.
---
---