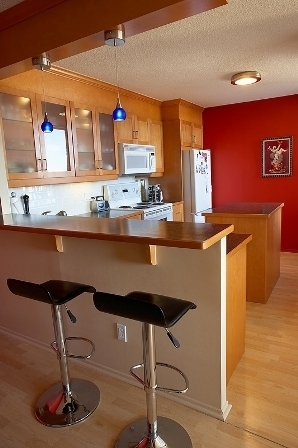 Ask yourself a quick question - how much time do you spend in your kitchen? For a fair amount of people, if not an overwhelming majority, the answer is likely "quite a bit," particularly if the respondents are fathers or mothers. Whether cooking, eating or socializing (after all, kitchens are fairly common areas for people to congregate during parties), the kitchen is an unquestioned centerpiece of the household.
Now, try a second question - are you happy with your kitchen? This is a query that many homeowners will have complicated answers to, as straight "yes" or "no" responses would be reductive. Some may want to change some aspects of the space, while others may want a complete overhaul. Similarly, some will choose to make adjustments for functional reasons and others will be more interested in improving its appearance or luxury, such as by installing a radiant floor.
If you're thinking about renovating your kitchen or any other aspects of your home, you'll want to do your homework. This includes learning current reasons why other individuals are choosing to make such changes, and seeing if any of these reasons apply to your situation.
Hurricane season
While this factor will not affect all homeowners, it is certainly a primary concern for those who are directly or indirectly in close proximity to major bodies of water. A survey conducted by Harris Interactive found that while many homeowners in areas where hurricanes have recently struck are taking certain precautions, 93 percent of them aren't opting for hurricane window protection.
While you'll not want to spend a great deal of time in the kitchen while holed up during a hurricane, you'll still want to be fully prepared and have the space be just as safe as every other room of your house. If upgrading the windows, be sure to avoid plywood or corrugated metal shutters, as these can't be removed from the inside.
On a less urgent note (but one still worth considering), the comfort that radiant floor heating can provide may serve as a major comfort while being stuck inside waiting out a major storm.
An improving housing market
Some homeowners will choose to renovate their home as a way to increase its resale value. As recent data has shown positive gains in home prices, more and more people may be getting started on various improvements, and the kitchen is often an area of focus.
According to the latest S&P/Case-Shiller Home Price Indices, all three major composites - 10-city, 20-city and national - posted increases for the past year (reaching to the first quarter of 2013), respectively experiencing upticks of 10.3, 10.9 and 10.2 percent. As such, the market is becoming better suited to sellers in both major cities and the nation as a whole. Those looking to move while the market is somewhat favorable would do well to start planning renovations now.
Like this post? Subscribe for regular updates
Make sure you don't miss out on the latest news in radiant heating by subscribing to our blog. We'll send you an email with links to the newest posts from WarmlyYours.
We won't share your information and you can unsubscribe at any time with a single click.
---
Did you find this post helpful?
Let us know by giving it some applause.
---
---