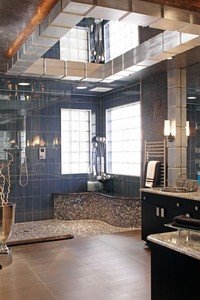 At WarmlyYours, we sincerely value each customer with whom we have the privilege of working. Building a relationship with a customer, whether homeowner, trade professional, or a kitchen and bath showroom – the privilege is the same.
We deeply appreciate the loyalty of … you, our customers, and enjoy building relationships with you – we love celebrating life's joys and triumphs with you, and encouraging you when you are in the midst of tough times. A warm relationship is one of the greatest gifts that we feel we've been given with our customers and with each other, here at WarmlyYours.
And, when we chose this month's "Share Your Story" winner; we were reminded of the treasure that our long-standing customer relationships offer us. We were thrilled to receive this kind response from our friends over at Remodeling Designs Inc. And, we hope you enjoy reading about their WarmlyYours experience too!
A Warm Relationship with WarmlyYours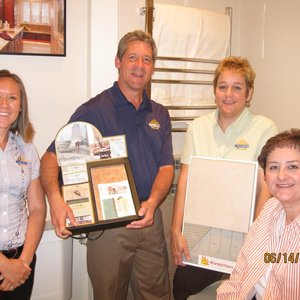 We are a full-service, residential, design/build remodeling company and absolutely love WarmlyYours and their products! We have been working with WarmlyYours and their products since 2001! And, we recommend installing WarmlyYours to all of our clients who are sensitive to cold floors, have a cold room in their home, or just want a luxury bathroom or kitchen experience. Our client's responses have been nothing short of fantastic. Not only do our clients love the heated floors and towel bars but, also, so do their pets! It's that extra touch to make their home a "safe haven" to come home to after a busy day.
Our WarmlyYours rep, Kerilyn Merritt, is wonderful and bends over backward to provide anything we need, and always goes the extra mile for us. We are loyal to WarmlyYours because of the consistently great products and the fabulous experience of working with our wonderful rep, Kerilyn. For us, it's a "no-brainer," the product sells itself and our rep takes care of us every step of the way. Doing business with WarmlyYours is very easy and any issues we've ever had are resolved immediately.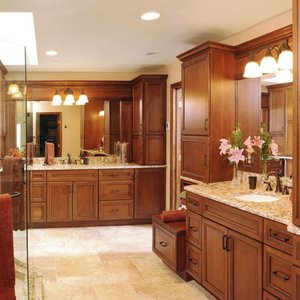 Thank you to the team at WarmlyYours for making our experience wonderful. We do a lot of business with a lot of different vendors and you are by far one of the best to work with. Your company's standards align with ours' and you stand by your product like we do. Your company is very well run and we've very much enjoyed our business relationship with you! Thanks for all your hard work and we look forward to continuing a great relationship. You guys are awesome, thank you!
Sincerely,
The Team at Remodeling Designs, Inc.
----------------------------------------
If you enjoyed this story, you may also enjoy reading about last month's "Share Your Story" winners, Tom and Stacy Rieger, "Toasty Toes even on Marble Floors" or feel free to read through all of our winner's stories!
We'd love to hear your story, too! Share it with us!
Pictured: The fabulous team at Remodeling Designs Inc. (Erich, Christine, Beth, and Karen) and two beautiful bathrooms featuring their design and building work and WarmlyYours towel warmer and radiant floor heating.
---
Tell us About your Project
Our team of Radiant Experts is ready to help! Just tell us a little about yourself and your project to get started.
---
Did you find this post helpful?
Let us know by giving it some applause.
---
---