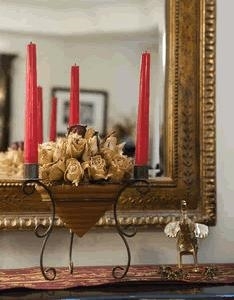 Even the smallest decorative change in a room can have an impact. Designers often have tricks of the trade that they rely on again and again to create a focal point or solve a decorating dilemma. Often, these small changes don't take much time or effort to freshen the design scheme of a room.
Texture and color
Pillows can add both color and pattern, particularly in neutral rooms in which they can be changed seasonally. Different covers can be made for the same pillow forms, similar to changing slip covers on a sofa.
Window treatments can be an attractive backdrop for accessories. Wooden blinds add texture to a room in a variety of finishes, while customized drapes or light and airy curtains can tie into the  furnishings around them. Roman shades also are available in a wide range of fabrics and have a softer look that works best in a residential setting.
Florida-based designer Jim Howard recommends giving the illusion of a larger space by using curtains or other window treatments that are the same color as the adjoining walls.
"You can achieve a similar look by painting rods and rings with a color that complements the curtains. Rub the paint on with a rag - it creates a softer effect," he told House Beautiful magazine.
Expressive accessories
Shari Hiller, co-host of the PBS series "Around the House with Matt and Shari," said some commonly found household items make the best accessories, including family photos, books, artwork and personal collections.
Why does Hiller like these accessories so much? Because they transform a house into a home by bringing the homeowners' personality into the rooms where they live. They also have sentimental value that's priceless. And they go to the heart of Hiller's decorating philosophy that home decorators don't have to spend a lot of money to put their personal stamp on home design.
When using photos, Hiller likes to unify them around a theme such as family events. Displaying all color photographs or all black-and-white ones keeps the uniformity going when they are hung along a hall or stairway wall.
Displaying a personal collection can easily become a room's focal point, often in hues that complement the room's color scheme.
Extra Comforts
Creating a spa-like atmosphere in the bathroom is something that can be accomplished in no time. Assemble a mix of toiletries and hair styling tools in a basket or on a beautiful tray. Include bath salts, moisturizing creams and mani-pedi supplies.
To prevent clutter, have a matching set of bathroom accessories for housing bath products. Keep a small jewelry box on the vanity counter to keep frequently worn pieces at hand.
For the comfort of having warm towels ready right after a bath or shower, install a heated towel rack. Some towel warmers come in plug-in styles for instant use, but others can be connected to the home's electrical wiring.
Attention on Art
New York City interior designer Eric Cohler likes to bring focus to artwork accessories by using bright, colored frames around a white mat, or a white frame around a colored mat. By hanging them in an under-used part of a room or a dark corner, they will draw attention to that spot.
Howard agreed with Cohler's idea to choose a space that isn't the expected location for a piece of artwork. He suggested putting pieces in unusual places, such as above a door, or to lean some against a mirror. When hanging several in an asymmetrical collage, he said they should be at least three inches apart.