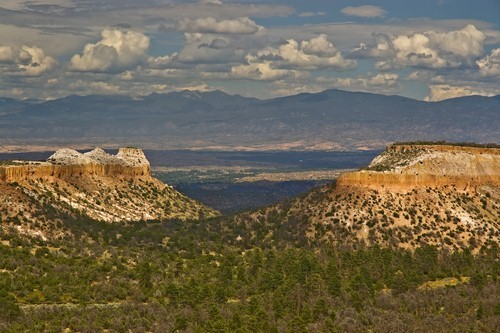 Perhaps you live in the heart of the Arizona desert, a devotee of dry heat and mesas. Or maybe you're a resident of Maine looking to give your living room a little kick. Wherever you call home, no house can't benefit from some Southwestern style.
Flavorful and exotic, Southwestern architecture and décor make up some of America's most unique interior design touches. If you're looking for the right mix of style for your home, you may find what you need in Spanish hacienda roofing or stucco walls. Consider some of these stylish options.
1. Hardwood floors. While the classic creamy color of stucco walls are an iconic part of Southwestern architecture, nothing fits them quite so well as dark hardwood floors. Knotted with whorls and rich character, these floors will bring any room to life in your home. Choosing engineered hardwood over solid may be a wise decision, especially if you want to have radiant heat installed under the boards. Even the heart of New Mexico can get chilly at night, so be sure you've got an energy-efficient heating option.
2. Turquoise paint. It's easy to get carried away with this color, but remember that the desert is host to a rich and evocative variety of hues, all of which turquoise can beautifully accent. Try painting some old wood cabinets or drawers with turquoise paint to bring the character of the wood grain to startling new life. You can also use it to highlight navy blue tiling or rust-red ceramic pots holding houseplants.
3. Navajo rugs. These geometrical designs are immediately evocative of the Southwest and its rich native traditions. They can also light up a sandy-hued stucco-walled room, bringing the space to colorful life.
4. Earthenware pottery. Terra-cotta is second only to the brilliant colors of the Navajo rugs in bringing traditional Southwestern style into a home. Whether you put them on display or utilize them in your cooking, some terra-cotta pots and dishes will liven up your kitchen. If you've got a talent for ceramics, fire a few yourself. Try various glazes too, including turquoise!
5. Distressed furniture. Take a pad of sandpaper to your chairs and wooden furnishings. Giving them the worn and sturdy look of handcrafted furniture is a great way to fill them with the rugged character and history of the Southwest. 
Like this post? Subscribe for regular updates
Make sure you don't miss out on the latest news in radiant heating by subscribing to our blog. We'll send you an email with links to the newest posts from WarmlyYours.
We won't share your information and you can unsubscribe at any time with a single click.
---
Did you find this post helpful?
Let us know by giving it some applause.
---
---