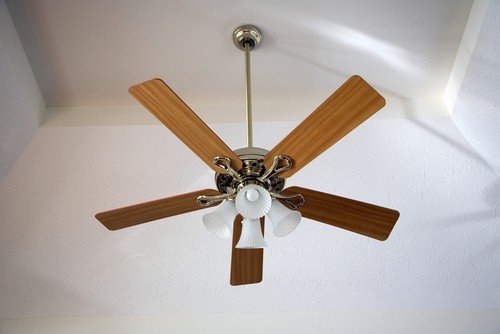 August is a great transition time for your home. As the heat keeps bearing down, we occasionally see and feel hints of fall weather and the seasonal change that Labor Day ushers in. Why not take this month then to keep your home cool while training an eye on the weather to come?
First, concentrate on summer comforts. While cranking up the central air to cool down your home is a fast way to stay refreshed, it's also a fast way to run up a frightening electric bill. Consider these more energy-efficient options.
1. Fans. Efficient, cool and quiet, the right model of fan can make a breeze feel as natural and silent as a change in season itself. Whether you invest in a large ceiling fan (as much décor as cooling apparatus) or a fleet of smaller ones, these do much more than just push hot air around. One important benefit of ceiling fans, according to SplendidFans.com, is that they kill almost all pathogens, giving you clean air in addition to controlling the room temperature.
2. Cross ventilation. If you want to go electricity-free and as green as you can, cross ventilation is one of the oldest methods of refreshing a home. Since ancient times, encouraging air flow via open windows has been a fantastic way to get a cooling breeze.
3. Portable air conditioners. If you want something quick but energy-efficient, a portable air conditioner is an excellent choice. Rather than trying to cool of the entire house, these units concentrate on the room and your immediate area, bringing you relief without exacerbating your electric bill. So instead of flushing your home with cold air, go with a greener solution - bring your portable air conditioner with you from room to room and stay comfortable without worrying whether the air near the ceiling is also a comfortable 75 degrees.
Now that you've taken care of cooling yourself off for the final month of summer, get ready to look forward and the coming season. How can you best stay warm as the autumn chill starts to sneak into your home and fall breezes catch you off guard? Consider these tips, starting with a way to make your A/C more efficient as well!
1. Seal and insulate. One of the cheapest and most effective methods of making your home more energy efficient, sealing and insulating will help keep your air conditioning efficient through the summer and do the same for your heating throughout the winter. First, seek out air leaks around the home, windows being the major offender. Be certain to check attics and basements carefully, as these are spots where drafts or poor insulation are likely to be the worst. Also, be sure to double check all vents, whether from washers and dryers or bathroom fans. While this is a potential Do It Yourself process, bring in a professional if you're having any difficulties.
2. Invest in radiant floor heating. One of the biggest favors you can do your home and the environment in preparation for the autumn is install radiant floor heating in your home. Radiant heat is an energy-efficient and green technology that utilizes minimum electricity and natural convection currents to heat floors and then rooms. Radiant heat systems are notable for their versatility and fit comfortably under a variety of floor types, from engineered hardwood to concrete. Rather than wake up with cold feet on a freezing floor, set your system's smart controls to raise temperatures right before your alarm goes off! Having radiant heat installed is a great decision for any room in your home.
Use these tips to make the transition from summer to autumn as smooth and relaxing as possible this August!
---
Tell us About your Project
Our team of Radiant Experts is ready to help! Just tell us a little about yourself and your project to get started.
---
Did you find this post helpful?
Let us know by giving it some applause.
---
---