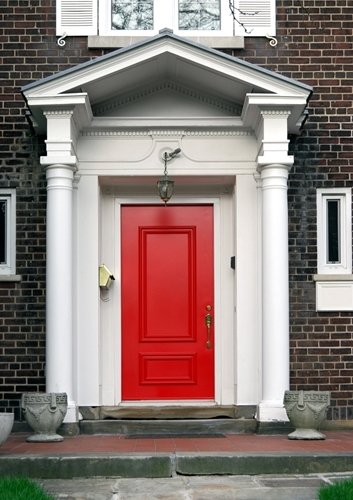 A front door is the gateway into someone's home and should be in sync with the architectural style of the house. But function is also a big part of choosing the right door for a home, and the wide selection on today's market allows homeowners to select doors for style as well as practicality.
While they may not get as much attention as the front entrance, side doors and those leading to a backyard patio or deck also need to have continuity in design. It's important, for instance, that a back door allows in natural light, presents a good view of the outdoors from within and coordinates well with a home's interior.
Current trends favor taller and wider doors that include decorative glass panels alongside the doors or above them. Many are inspired by particular architectural styles, while others come in customized colors for a contemporary look. A door choice should be in step with the decor of the foyer or the room closest to the entry and with the accessories - light lanterns, door fixtures and stair railings - chosen for the outdoor entrance.
Choosing a Color
HGTV host Carter Oosterhouse recommended that homeowners drive around their neighborhoods to get an idea of what hues work best. He also suggested taking a photograph of one's home, blowing up the image, cutting out the door and sliding paint chips into the slot made in the photo to try out different colors.
When it comes time to make a final choice, it should be one that offers good contrast to the rest of the house without conflicting with the overall color scheme. The textures of the home's building materials, including wood shingles or smooth siding, may also look better with certain shades than others and should be considered.
Weather factors
Some doors are best suited to certain weather conditions. While new doors are better insulated for energy efficiency than older models, hinged doors that swing out work well in colder climates. In areas with high winds and inclement weather, the wind pushes against the jamb, ensuring a tighter seal, according to The House Designers.
Placing snow melting mat systems that generate radiant heat outside doors provides safe and easy access to entryways in cold regions that accumulate lots of snow. Homeowners have a choice of portable snow melting systems or permanent installations under concrete, asphalt or paver walkways and driveways. Outdoor heating is another way to provide visitors with easy entry onto your property.
Range of Materials
Today's doors are frequently a mix of materials, including wood frames surrounding fiberglass or steel doors and manmade doors that have wood components. According to This Old House magazine, the surface material is what determines appearance, durability, security and price.
Wood doors are versatile and come in natural wood tones or painted finishes. Doors that are a mix of wood veneer skins and engineered wood cores minimize the expansion and contraction that causes warping. Steel doors often have a wood core as well.
Durable stains and clear finishes provide good protection for natural wood tones. High-gloss paint provides the best protection against the elements. To prevent a door from absorbing moisture and swelling, the top and bottom edges should be finished for a good seal.
Low-maintenance fiberglass doors are attractive, durable and sometimes replicate the look of wood. They can be found in many styles to complement home design.
Steel doors are the best choices for durability and security because they are the strongest. They're also an economical choice because they don't crack or warp and dents can be pulled and puttied with an auto-body repair kit.
---
Tell us About your Project
Our team of Radiant Experts is ready to help! Just tell us a little about yourself and your project to get started.
---
Did you find this post helpful?
Let us know by giving it some applause.
---
---