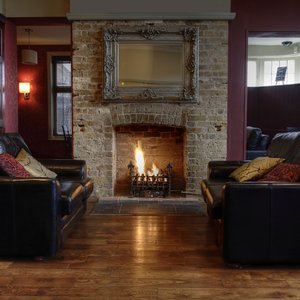 When you think of winter, you probably dream of being in a warm cozy home, sitting by a crackling fire, and sipping some hot chocolate. Yet, we all know that winter also means snow, ice, and freezing temperatures that often result in higher electricity bills because you're forced to turn up your central heat just to keep warm.
Instead of cranking up the thermostat and throwing more money into your heating bills, here are a few ways to avoid the cold without using central heat.
1. Cover the Windows
Windows are not only great for letting natural light in and illuminating your home. They are also great conductors, which means if your windows are cold then your house will become cold. In order to stop the cold from suffusing throughout your home, it's not a bad idea to insulate your windows and doors. Proper insulation will decrease your electric bill, making your home more energy-efficient. You can insulate your windows by installing cellular shades, applying rubber weather sealing, or even just using plastic/vinyl sheets.
A great way to stay warm during winter is with WarmlyYours Towel Warmers. WarmlyYours offers a wide variety of towel warmers that are hardwired, plug in, or free standing. Our towels warmers can hold up to two large towels, a bathrobe, and if necessary, even a cotton throw blanket! You don't have to toss your towels in the dryer anymore! Our towel warmers are the perfect accessory for your home and will instantly warm any item you throw on them! Our towel warmers will help you stay warm in the winter without the extra money.
WarmlyYours offers the both beautiful and functional LAVA® collection of radiant heating panels that bring a new perspective on heating your home. The LAVA® radiant heating panels radiate healthy infrared heat, which is ideal for allergy sufferers and has been proven to reduce heating expenses by an average of 12% annually. Our panels operate on an ECO- LAVA® principle, which allows you to maintain the same warmth as a regular heating system but at a lower capacity. They also provide a safe and artistic solution to bring warmth and comfort to your home without increasing your heating bill.
Unlike central heat, radiant heat is not a forced air system that circulates dirty air around your home while also increasing your heating bill. Electric Radiant Floor Heating warms your home by suffusing heat throughout the floor surface, actually radiating heat from the ground up warming the objects on or around it. Radiant heat is the same type of heat that is emitted from the human body, making it a natural and healthy heat.
With these solutions you can sit back and enjoy that hot chocolate knowing you're saving money at the same time.
---
Tell us About your Project
Our team of Radiant Experts is ready to help! Just tell us a little about yourself and your project to get started.
---
Did you find this post helpful?
Let us know by giving it some applause.
---
---