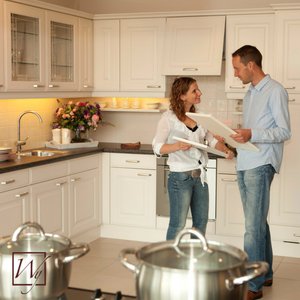 In this age of online sales, social media, digital communication, and pressing timetables, homeowners can be tempted to reduce design decisions to pixels on a screen. However, there are some things that just can't be communicated without the ability to see and touch them. Without those senses — and a personal experience with the product — homeowners can miss the opportunity to choose the best products to meet their needs and expectations.

"Presenting products that homeowners can see and touch, combined with explaining the benefits of accessories and upgrades, can ensure customers purchase the best products for their needs," according to a May 2013 LBM Journal article, as cited in a huttig.com article.
That is one of the most powerful impacts that a showroom space you create for your business can have: it provides the opportunity for potential customers to touch, feel and engage with your products and design concepts. Here are six tips to make that shine through and optimize the showroom you create.
1. Make Space
"Make sure there is sufficient room for customers to view and touch displays," advises John Drinen, general manager for Huttig Sacramento, a wholesale distributor of specialty building products for light commercial and residential construction and remodeling. It is the first step to creating a memorable experience. A memorable showroom experience results in a sale — and in the customer walking away with a product that truly fits their preferences and their home.

For this to happen, you need to create a space that allows it, leaving intentional room for customers to touch and feel the products. This is especially true for radiant heating products from WarmlyYours Radiant Heating. Experiencing soothing warmth while standing in front of a stylish radiant heat panel is very different than reading about it online. Taking off your shoes and walking on warm porcelain floors without feeling the expected chill on your feet has a much stronger impact than the most perfectly written marketing materials.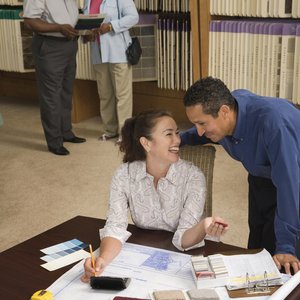 Take a close look at how it feels to move through your showroom. Make it flow so that customers stay happy and focused on your products rather than annoyed and frustrated with the space.
"Nobody wants to bump into displays while awkwardly maneuvering around the room to see everything you offer," point out the writers of "Creating and Maintaining a Spectacular Showroom" on huttig.com. "The process should be literally smooth and painless!"
Make nice, wide aisles in your showroom — preferably at least 60 inches wide — to make it easy to maneuver, advises Morton Block, president of Morton Block Associates, Kennett Square, Pa. "That's the room it takes for a wheelchair to make a 360-degree turn," he notes. "That also allows people to feel they can step back and look at an item and not be trapped, and give you sightlines so you and your customers can see through the store."
2. Enable Experiences
A successful showroom that adds value to your business will create an experience. "While your customers may have seen your products online when they come to a showroom, they are looking to visually and physically review everything before making a final decision," says Mark Gluhosky, Huttig Newington general manager. They want to experience the products — that's why they're there.
3. Prepare a Destination
With that in mind, your products — not necessarily the location — are what make your showroom a destination.

"If someone's planning to remodel a kitchen or a bathroom, they may go off the beaten path," Morton Block Associates' Block says. "Being in a heavily trafficked area can only be an asset, but people who are ready to spend larger dollar volumes to buy these types of items will go an extra block or two. We have destination products."
4. Create Departments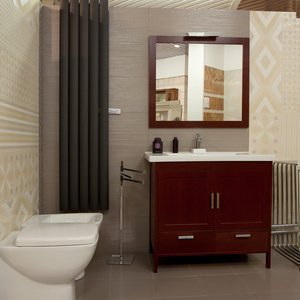 You don't want customers wandering throughout the store having to work to see your products. Instead, create "rooms" — gorgeous rooms no less. The showroom should flow logically.

Keep related products adjacent to each other, suggests Jack Sweet in the Reeves Journal article, "10 Ways Your Showrooms Can Be More Profitable."
"Keep the bath accessories near the faucets, which are near the sinks, which are near the mirrors, which are next to the lighting fixtures, if you have them," he suggests. "This can help upsell customers into purchasing virtually an entire remodeling job rather than just ones and twos."
It is easy to focus on the big features such as sinks, tubs and showers, and leave out the accessories, such as radiant panels, towel warmers and mirror defoggers. However, it's important to experience the accessories in context.
"Too many people will spec out the faucet and forget the bath accessories," observes Hank Darlington, of Darlington Consulting, Sacramento, Calif., in the Reeves Journal article. "That adds up to a lot of money, and every bathroom has them. Sell the faucet along with the matching look-alike accessories."
5. Create Opportunities to Visit
"Once you've invested in a showroom, make it count!" says Sarah Reep, in a ForResidentialPros.com article. "Getting the most out of your displays requires getting as many eyes on them as possible." Therefore, you should schedule events to bring multiple people in at once.

She suggests the following five things to create an event that's memorable and effective.
Make it fun – not a sales event;
Include other local businesses;
Fully utilize your showroom;
Consider tying in a charity fundraiser; and
Plan well for a successful function.
6. Mix It Up
If you are holding events and drawing people into your showroom frequently, definitely emphasize mixing it up and keeping it fresh. Rearrange the furniture, change out the paint colors or furniture, and take the time to highlight new things.

"I think a showroom probably should change 25 percent of its look and product every year," Darlington Consulting's Darlington shares. "Over the course of four years, you wind up with a new place with new products. Colors and styles and finishes come into and go out of style. Once you have a good layout and design in the showroom, you can change it by bringing in new products, painting and accessorizing."
With a continuous, fresh approach, a well-designed, well-stocked, well-run showroom utilizing these six tips can add measurable value to your business.

Sources:
www.davidhawkinsdesign.com
---
Tell us About your Project
Our team of Radiant Experts is ready to help! Just tell us a little about yourself and your project to get started.
---
Did you find this post helpful?
Let us know by giving it some applause.
---
---