2019 Q4 & Annual Industry Report
In 2019, the TempZone Easy Mat emerged as one of WarmlyYours's fastest growing floor heating products. This video covers some of the reasons why along with addressing some of the other findings from the 2019 Q4 & Annual Industry Report.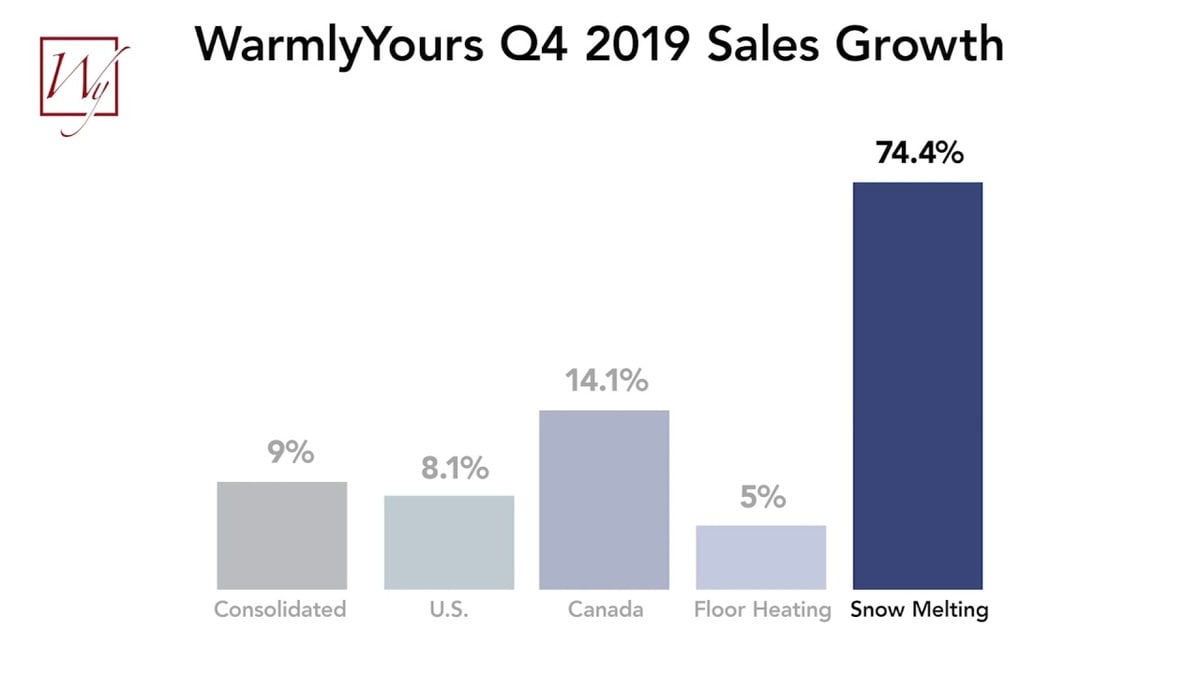 Hello, my name is Cameron Witbeck and I'm the marketing communications manager for WarmlyYours Radiant Heating. We're here today to discuss our "2019 Q4 and Annual Industry Report". This report analyzes the performance of radiant heating products within the larger context of the national housing and remodeling markets. To start, let's take a look at the fourth quarter of 2019. WarmlyYours saw consolidated sales grow 9%, compared to prior-year-period. This was driven by 8.1% growth in the US and 14.8% sales growth in Canada. A lot of this increase was from a 5% uptick in floor heating sales. However, sales of electric snow melting systems contributed the largest volume increase by posting an impressive growth of 74.4% in Q4 2019. In fact, when comparing all of 2019 to 2018, snow melting sales grew from just 14% of all WarmlyYours sales to 23%. There are several causes for this, including increased public awareness of outdoor heating systems and a particularly bad winter between the end of 2018 and the start of 2019. There were also several floor heating products which helped drive fourth quarter growth. TempZone Shower Mats were the fastest growing product with 221.4% growth but the largest volume increase came from the TempZone Cables and TempZone Easy Mats, up 13.2% and 15.8%, respectively. The TempZone Cable has been a popular option with trade professionals for several years because it can be paired with an uncoupling membrane for fast installations. It's also been popular with homeowners because of the long lasting benefits that this combination can extend to relatively fragile floor coverings like tile. TempZone Easy Mats not only grew in the fourth quarter but throughout all of 2019, posting a year-over-year growth rate of 10.3%. There are several reasons for this. First, about 87.2% of the floors heated in the last year involved tile, marble, or stone. These floor coverings are most commonly paired with our TempZone heating systems. Secondly, about 61.7% of all radiant heating projects were in bathrooms. The TempZone Easy Mat is often used in a bathroom because of the predictable foot traffic. Using the mats to "spot heat" the areas where warmth is most needed helps save on both product costs and operation costs without having to sacrifice performance or comfort. Finally, Amazon sales of floor heating were up 125.9%. The TempZone Easy Mat has proven to be an extremely popular option for ecommerce when it's paired with a thermostat as a floor heating kit. We fully expect this trend to continue into 2020 as even more homeowners and professionals turn to Amazon and other ecommerce channels for their home improvement shopping. This prediction comes on the heels of recent industry projections, including the most recent Leading Indicator of Remodeling Activity from the Joint Centers for Housing Studies of Harvard University. The LIRA projects that while remodeling activity will remain fairly flat through most of 2020, it will show slight gains by the fourth quarter. To read our industry report in full, make sure to check out our press page at WarmlyYours.com.