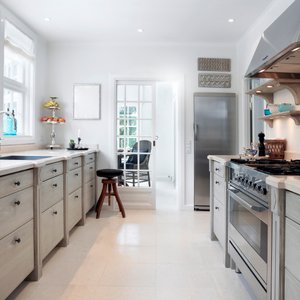 There's a lot of measuring that takes place in a kitchen: cups of flour, tablespoons of oil, and teaspoons of sugar. But before any of that can take place, the "recipe" for a perfect kitchen requires its own measurements. While many important design principles and measurements have been proven over the years to create the most functional and stunning kitchen designs, the measurement to rule them all is known as the "work triangle." According to the National Kitchen and Bath Association (NKBA), if you draw an imaginary straight line drawn from the center of the sink, to the center of the cooktop, to the center of the refrigerator and finally back to the sink, you create a perfect work triangle that enables good traffic flow and efficiency in your dream kitchen.
While this concept is extremely flexible in design and size, designers and the NKBA also suggest some key measurements to follow when creating your work triangle.
Efficiency is the triangle's main goal, as it keeps all the major work stations near the cook, without placing them so close that the kitchen becomes cramped. As a general rule of thumb, the NKBA suggests the sum of the three sides of the work triangle should be no less than 15 feet and no greater than 25 feet. Why? These dimensions allow for a work area that you can work in comfortably, yet avoid wasting time and energy running back and forth if things are <.>too spread out.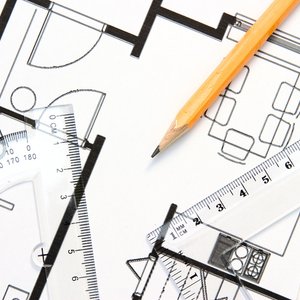 The work triangle is also designed to minimize traffic within the kitchen so the cook isn't interrupted or interfered with. This always increases safety. No bumped elbows or run-ins with hot pots or knives, etc. With this in mind, a main through route should not pass through the triangle if at all possible.
Build LLC, a design-build company located in Seattle, Wash., adds that the "Work Triangle" should "be compact enough that it allows convenient and effective circulation for the chef, but generous enough that two people working in the kitchen aren't bumping into one another." It also shouldn't intersect with the kitchen island or other projecting cabinets/countertops. In general, work aisles in the kitchen should be at least 42 inches for one cook and at least 48 inches for multiple cooks.
Another tip? "Gathering/entertaining areas in the kitchen should be independent of the work triangle so that guests can nibble on appetizers, enjoy a drink, and watch the chef without getting in the way of the cooking. At the same time, it's useful for the gathering/entertaining area to have a direct view of the kitchen's work triangle," the company advises.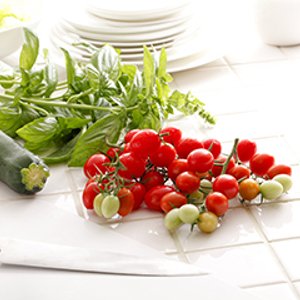 While dreaming up your dream kitchen, use the "work triangle" as a guide, but don't feel unnecessarily bound to it. First, there are exceptions to every rule. You need to follow your vision toward the space that works best for you. For example, if you thrive on having multiple cooks in the kitchen or consider more appliances important (than the work triangle's standard sink, stove, and refrigerator), then the work triangle design might not be the best. It simply gets hard to fit extra sinks, one or more dishwashers, separate cooktop and ovens, microwave ovens, etc. within one simple triangle. If those are part of your vision for the kitchen, then look into designing work stations (or "zones") instead. You'll design task stations (preparation, cooking, storage and cleanup) around a major appliance and its landing area of at least 15 inches of adjacent countertop.
Remember, the perfect kitchen is the right blend of time-honored principles, accurate planning and measurement — and a final design that is right for you. That's why WarmlyYours Radiant Heating offers radiant heat flooring that is customizable to any space — no matter what nook, cranny, or work triangle you can dream up. TempZone™ Custom Heated Mats can be specifically shaped to accommodate all the curves and angles of your dream design. There's no potential for cold spots in the room because the custom-cut mats fit the dimensions of your room perfectly.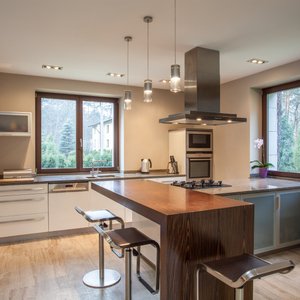 Also, to get the measurements right the first time, take advantage of WarmlyYours' SmartFit service, which in partnership with MeasureComp, utilizes a computerized drawing process to ensure that requested areas are measured and all required information is obtained. Every area is scaled to the exact size while on site, minimizing the risk of errors. This service is offered by bonded and biennially-screened professionals in 49 states and next day appointments are generally available. Call (800) 875-5285 today for more information.
While you're brainstorming, planning, or doing any of the work yourself, keep the work triangle or work zones in mind to get your design off on the right foot. Even if you choose to work with a designer to implement these measurements in your design, knowing these principles creates easier communication and helps you understand what your designer is striving for during the process.
What measurements worked best for you in your kitchen? Share your creativity and successes with us on the WarmlyYours Facebook page or tweet us at @WarmlyYours.
Sources:
http://uscabinetry.net/usc/plan/
http://blog.buildllc.com/2013/12/5-modern-kitchen-designs-principles
http://www.kitchens.com/design/layouts/nkba-guidelines/nkba-guidelines
---
Tell us About your Project
Our team of Radiant Experts is ready to help! Just tell us a little about yourself and your project to get started.
---
Did you find this post helpful?
Let us know by giving it some applause.
---
---