The second quarter of 2022 saw radiant heating product sales experience a significant shift between major product lines. For WarmlyYours, we saw this in the exceptional growth of our towel warmer product line as a result of various product improvements that had been launched at the end of 2021.
During the same timeframe, however, there were significant challenges such as high inflation levels along with manufacturing delays. Inflation levels reached 9.1% year over year by June, which caused a great deal of uncertainty in almost every aspect of not only the American economy but in regards to most of the world. Additionally, labor shortages and manufacturing delays (often the result of the former) continued to hamper output which continued the inflationary cycle.
In this report, we'll take a closer look at the performance of radiant heating product sales, with a specific focus on towel warmers, and analyze the impact that the national housing and remodeling markets are expected to have on future sales.


Towel Warmer Sales in Q2 2022


The second quarter saw towel warmer sales rise from approximately 10% of all WarmlyYours sales to 12%, which was by far the greatest percentage increase in sales of any product line. In fact, U.S. sales for WarmlyYours towel warmers were up 9.9%.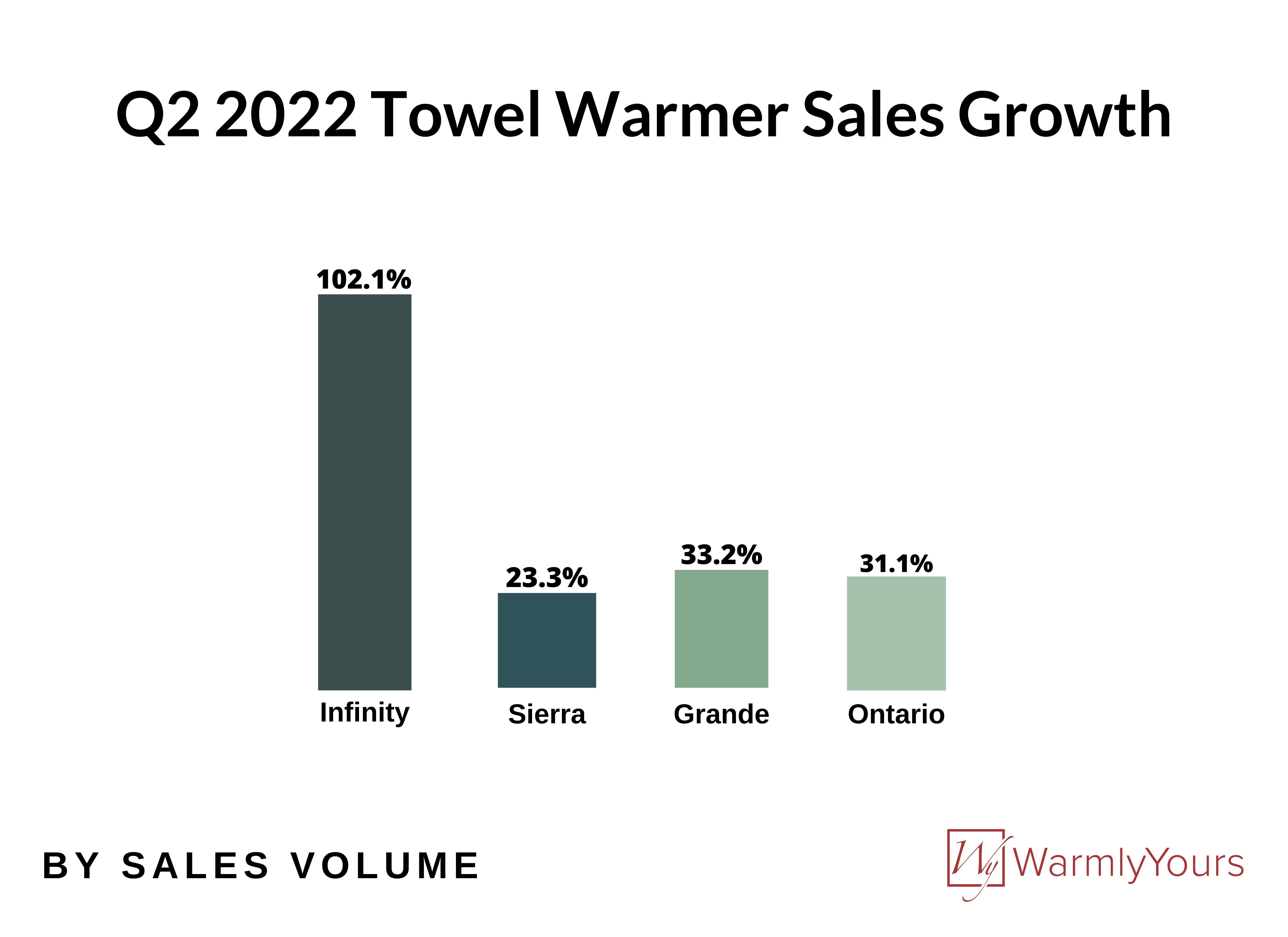 This shift in growth rates for towel warmers is due to many factors but perhaps the most significant driver has been the onboarding of a new line of towel warmers with several upgraded features.
Over the last year, WarmlyYours has launched a complete revamp of 5 of the company's most popular towel warmers: the Infinity, the Riviera, the Sierra, the Metropolitan, and the Barcelona. Additionally, WarmlyYours introduced a brand new model called the Summit.
These new towel warmers all come with attractive LED power switches along with TempSmart™, which is an overheat protection feature that prevents the towel warmer's surface from exceeding 167°F (75°C). But perhaps the most significant change has been that nearly all of these models (excluding the Barcelona, a free-standing, plug-in model) are "dual connection," which means that the units can be used with their default plug-in connection or they can be converted by a licensed electrician to become hardwired while maintaining their cETLus listed approval.
Julia Billen, owner and president of WarmlyYours, said in a press release from the company that the dual connection towel warmers provide end-users with a high degree of design flexibility.
"For some people, the initial install location for a towel warmer isn't where they want the device forever. With dual connection models, you can install the device as a plug-in and then when you decide where you want it permanently, you can have it converted to hardwired for a more streamlined appearance," said Billen.
Billen also said that an additional benefit of the new dual connection towel warmers is that they don't have a cover plate for hardwired installation which means that the towel warmer will have a balanced appearance after installed.
Two of the upgraded models, the Infinity and the Sierra, have contributed the greatest increase in sales volume, up 102.1% and 23.3% respectively. These models have been popular for WarmlyYours even prior to the upgrade but the new versions have accelerated their desirability. When comparing Q2 2021 (prior to the update) to Q2 2022, the Sierra and the Infinity went from just 9% each of total towel warmer sales to 11% and 19%.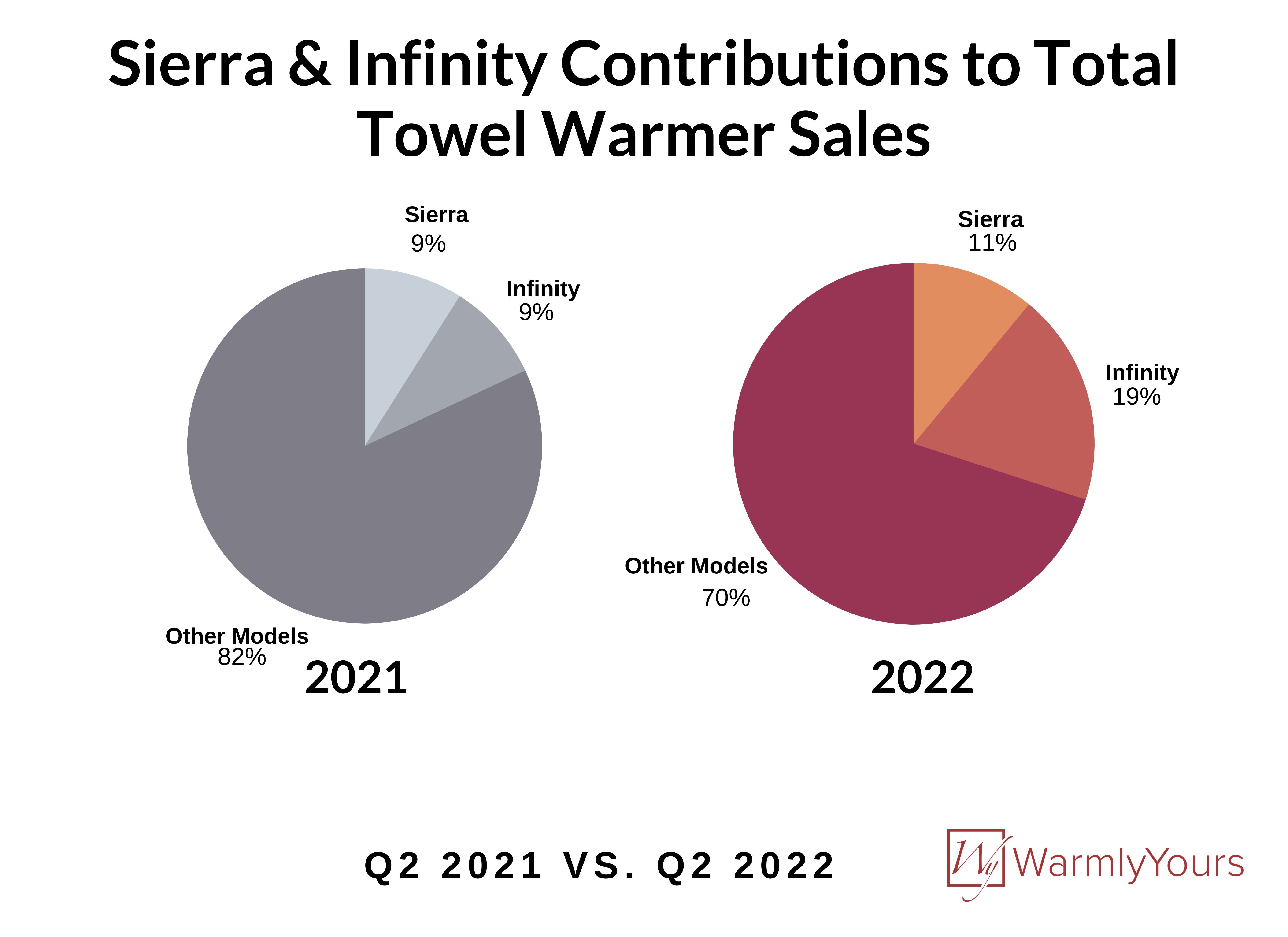 In addition to the dual connection update, the Infinity and Sierra lines also expanded their finish options. The Infinity added matte black to pre-existing brushed and polished options while the Sierra expanded from just polished to also offering matte black and polished gold. For the Infinity, the new finish option accounted for 16.4% of Q2 2022 sales while for the Sierra, the new finishes made up 62.5%.
Billen said that WarmlyYours made a concerted effort to expand finish options for towel warmer customers.
"People generally think about the functionality of a towel warmer first and foremost," said Billen. "But we understand that the towel warmer is a highly visible part of any room and it has to add to the decor, not take away from it. By offering more finish options, we're able to ensure that everyone will be able to find the towel warmer that represents their personal style most accurately."
In addition to offering more finish options, WarmlyYours also invested in onboarding Austrian crystal accents for two models currently (the Infinity and the Riviera, with plans to expand in the future). The new product line includes Crystal Towel Warmer Accents, which are crystal-capped collars that are then placed on the compatible towel warmer's legs.
The new product line also includes a pairing of one of most popular controls for towel warmers, our Hardwired WiFi Switch, with wallplates covered in Austrian crystals.
In a press release, Billen said that the Austrian crystals help bring a level of visual radiance to towel warmers that helps match the physical warmth the devices deliver.
"It used to be that the radiant heating industry was limited to telling our customers 'You have to feel it to believe it!'," said Billen. "By pairing beautiful Austrian crystals with our high performance heating products, our towel warmers will look as good as they feel!"



Where are Towel Warmers Selling?


Another aspect of evaluating towel warmer sales in Q2 2022 is looking at shifts in regional markets.
In the second quarter of this year we did see some surprising markets show strong growth such as Canada, which accounted for a whopping 30.8% of all towel warmer sales in Q2 2022. We also saw the Far West and the Southeast contribute 13.6% and 14.4% of towel warmer sales respectively.
On the state/province level, we saw growth in Texas (up 83.7%), Pennsylvania (up 55.7%), New York (up 32.1%), and Ontario (up 26.3%). While Ontario, New York, and Pennsylvania are historically strong areas for towel warmer sales, it is interesting to note the sheer level of growth in Texas. And while Texas home sales as a whole were down 5.6% year over year, according to Texas Realtors' 2022 Texas Quarterly Housing Report, the demand for homes in Texas continues to rise.
Finally, looking at the city level, we see New York City leading the way with 59.5% growth. Followed closely by D.C. (up 35.7%), Philadelphia (up 26.8%), and Portland (up 22.1%). Portland is definitely growing at a rapid pace compared to previous years. This is probably due to the red hot housing market in the city that saw 26.3% increase in home sales between the first and second quarters of this year.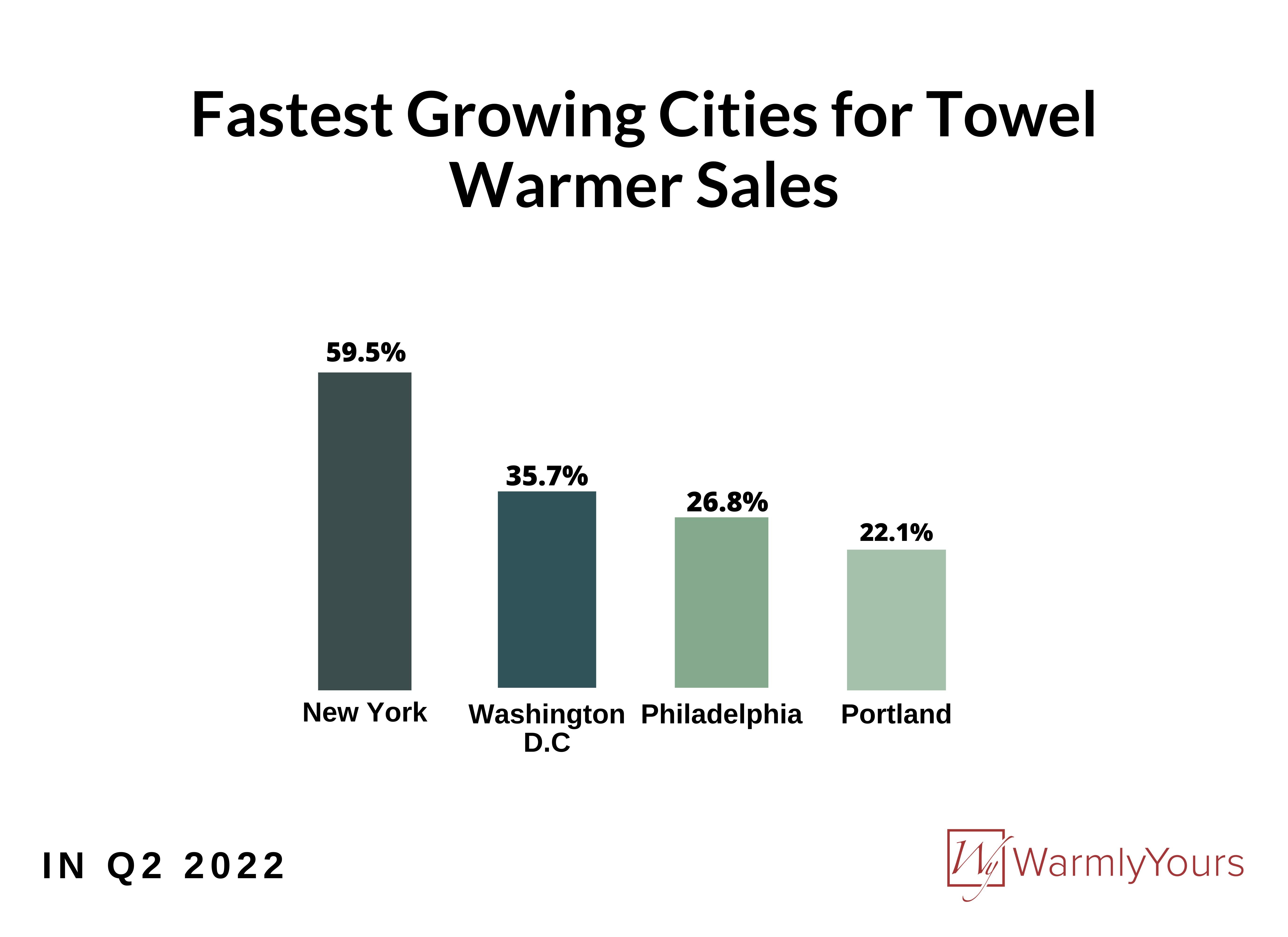 E-Tailer Contributions to Towel Warmer Sales


WarmlyYours saw significant growth in all sales for both the trade and homeowner customer segments (up 6.7% and 19.7% respectively). Both of these customer channels have historically been strong contributors to towel warmer sales because towel warmers, when compared to floor heating or snow melting systems, are relatively easy for non-specialists to install.
In Q2 2022, WarmlyYours did see a significant increase in total e-tailer sales, which were up 20.5%. E-tailer sales have been a great driver of towel warmer sales for many years because the product doesn't require any installation designs so they're a good product line for single session ecommerce platforms like most e-tailers have.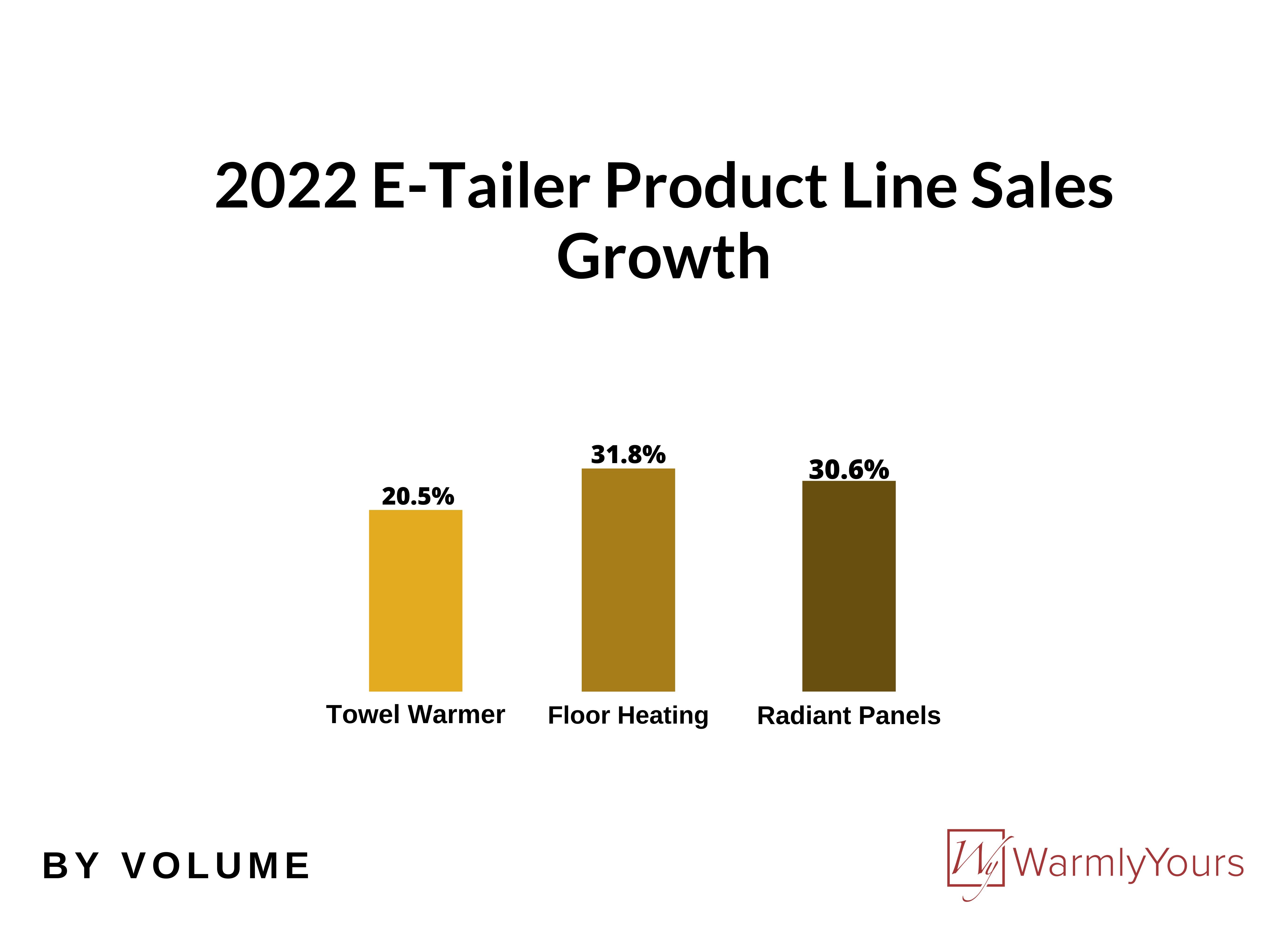 Within e-tailers as a whole, WarmlyYours also saw growth for radiant panels (up 30.6%) and floor heating (up 31.8%).
Amazon was the largest e-tailer for WarmlyYours towel warmer sales (by volume) followed by Build.com and Wayfair in the second quarter of this year. Additionally, we saw solid growth rates during the same time period for both Houzz and Overstock.com. For Amazon, the sales volume leader, we saw towel warmers make up about 14% of all sales.


Towel Warmer Sales Moving Forward


The sales of towel warmers are tied pretty closely with both home sales and with remodeling activity, since the inclusion of a towel warmer is often, though not always, paired with a bathroom remodel.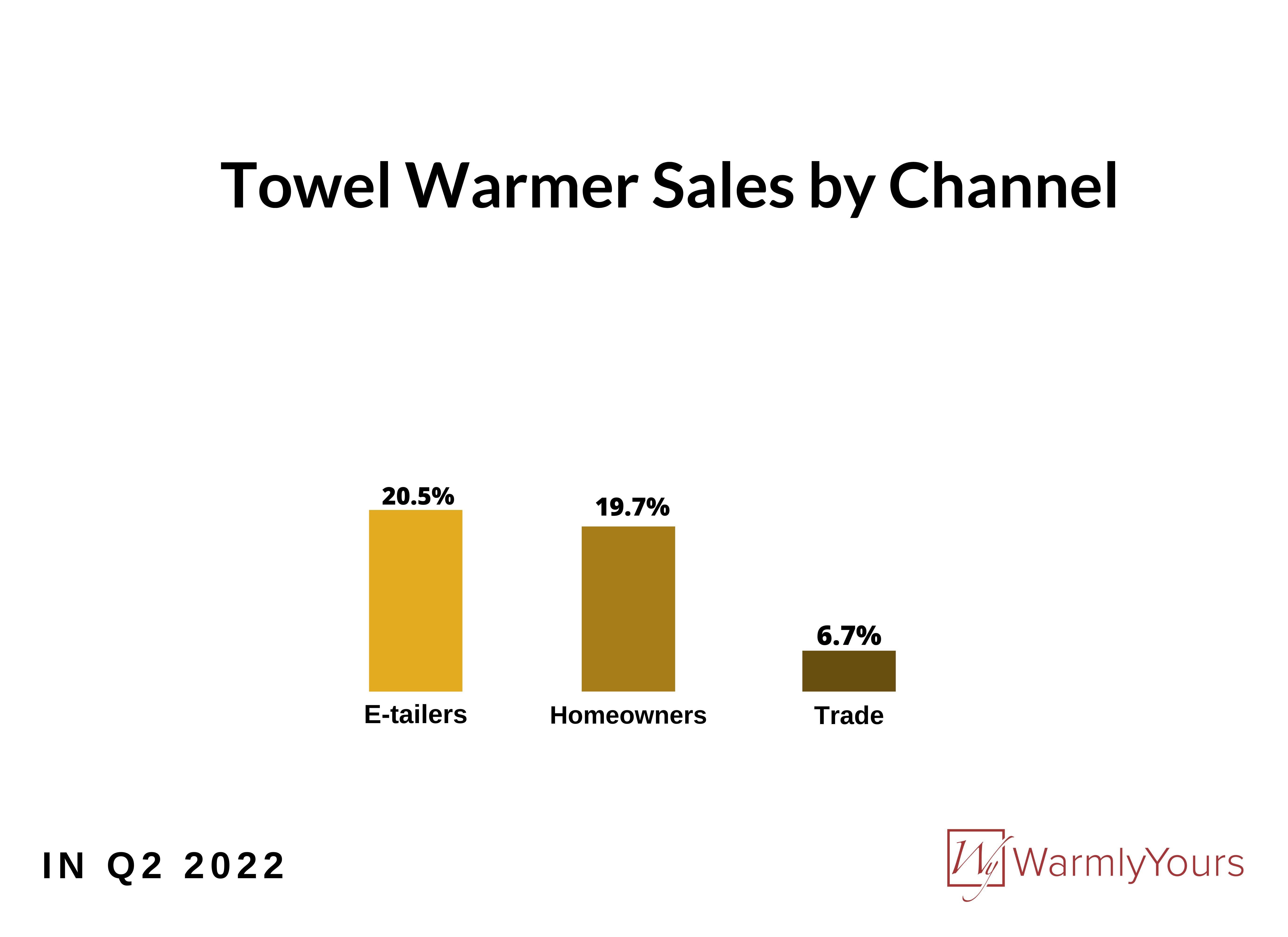 According to the Leading Indicator of Remodeling Activity (LIRA), a quarterly assessment from the Joint Center for Housing Studies of Harvard University, year-over-year homeowner expenditures on renovation will decelerate down from 17.4% this year to 10.1% by Q2 2023.
"Slowing sales of existing homes, rising mortgage interest rates, and moderating house price appreciation are expected to dampen owners' investments in home improvements and maintenance over the coming year," said Carlos Martín, Project Director of the Remodeling Futures Program at the Center. "Steep slowdowns in homebuilding, retail sales of building materials, and renovation permits all also point to a cooling environment for residential remodeling."
However, despite this slowing of growth rates, the total expenditure is still well above previous levels.
"While beginning to soften, growth in spending for home improvements and repairs is expected to remain well above the market's historical average of 5 percent," said Abbe Will, Associate Project Director of the Remodeling Futures Program. "In the first half of 2023, annual remodeling expenditures are still set to expand to nearly $450 billion."
Additionally, pending home sales dipped at the close of Q2 2022 (down 8.6% in June), according to the National Association of Realtors (NAR).
"Contract signings to buy a home will keep tumbling down as long as mortgage rates keep climbing, as has happened this year to date. There are indications that mortgage rates may be topping or very close to a cyclical high in July. If so, pending contracts should also begin to stabilize," said NAR Chief Economist Lawrence Yun. "Home sales will be down by 13% in 2022, according to our latest projection," Yun added. "With mortgage rates expected to stabilize near 6% and steady job creation, home sales should start to rise by early 2023."
These factors, homeowner spending on renovations and home sales as a whole, may begin to offset each other in 2023, which could result in increased towel warmer sales year-over-year. Julia Billen said that WarmlyYours isn't going to wait for towel warmer sales to come to the company.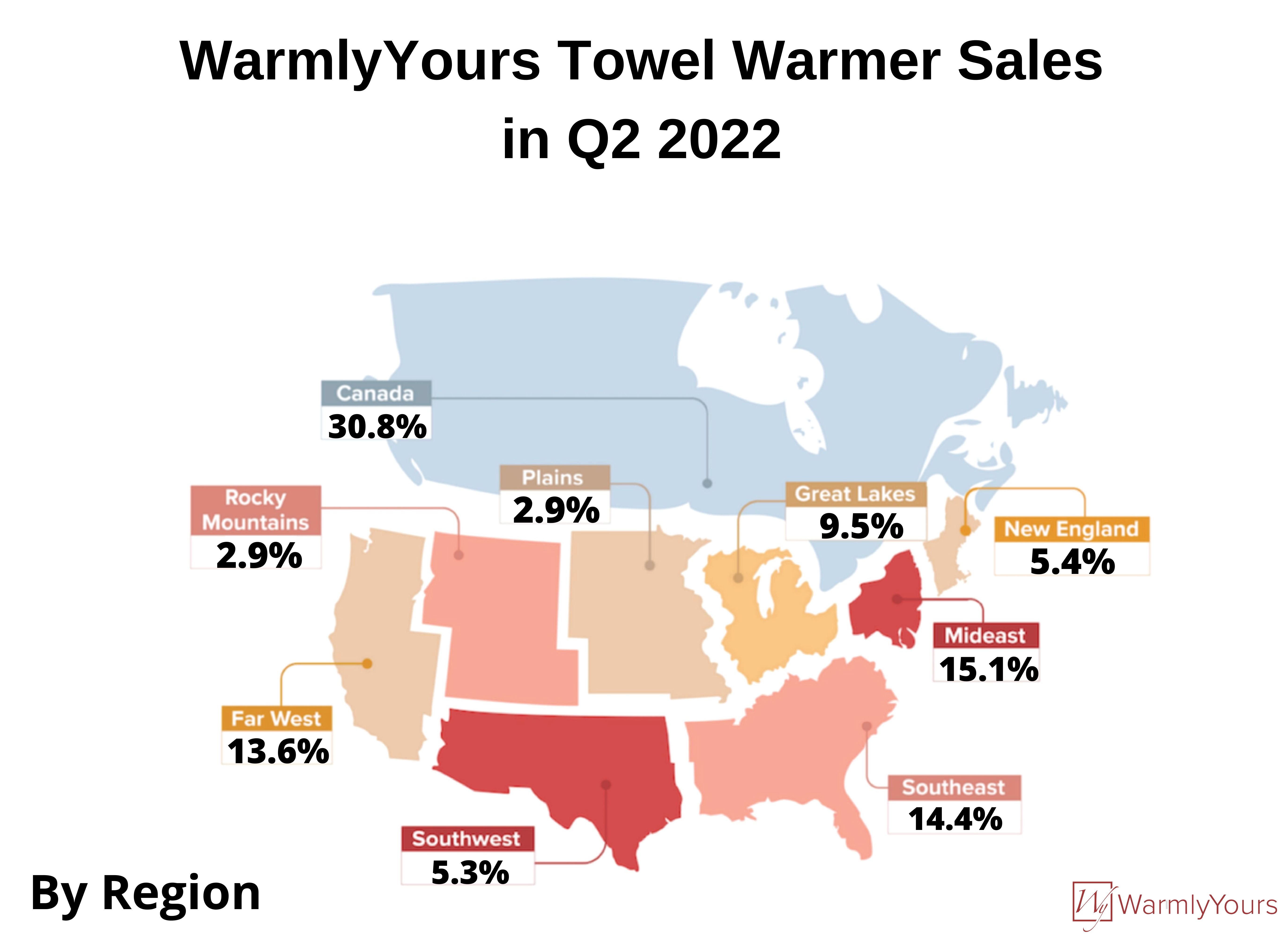 "We're offering a completely new type of electric towel warmer," said Billen. "Even if the market isn't growing as a whole in the short term, we can take a bigger piece of the market share by getting the word out to both homeowners and professionals about how much easier these dual connection towel warmers can make your life. Not to mention, how much better they look than traditional models that require the use of a cover plate to obscure the gangbox."
Billen said that the company has always placed a premium on continuous improvement.
"WarmlyYours will always want to improve our products," said Billen. "We're always looking at investing in the latest technology, the most secure safety features, the best installation practices, and the most attractive aesthetic options because that's what our customers deserve."



Sources:
---
Tell us About your Project
Our team of Radiant Experts is ready to help! Just tell us a little about yourself and your project to get started.
---
Did you find this post helpful?
Let us know by giving it some applause.
---
---