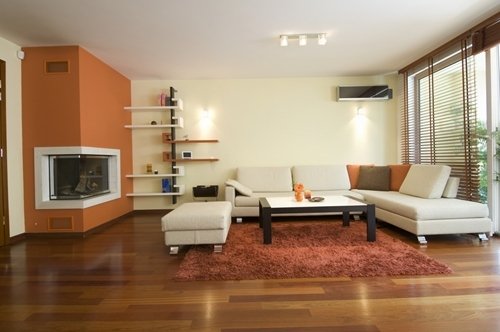 Furniture that can serve more than one purpose is a boon to people who live in a small apartment or a home that's outgrown their family's needs. Furnishings that can be moved around easily will suit periodic changes in decor as well as make the most of the space that's available.
Interior designer Danielle Lareau of Giraffe Design in Vancouver, Canada, suggested that home decorators find a sofa that's deep enough to double as a bed for overnight visitors and a coffee table that can be raised to dining table height. In cases when a room isn't used much - such as a dining room - it should be re-arranged to serve another activity.
"It's about not letting furniture take over a space that could be better used for something you do more often," Lareau told the Vancouver Sun.
Some functional features of a home also contribute in more ways than one. Electric floor heating, for instance, allows homes to have uniform radiant heat throughout a space. Because no air ducts are involved in floor warming systems, they also allow homeowners to situate furniture without blocking heating units.
Inventive Design
For many years, furniture store owner Tara Bushby has specialized in multipurpose furnishings. They include a home office desk that lifts to uncover a bed and a high shelf that can be repositioned to rest under a bed with all the shelf items still in place.
"You can have guests over but not have to change the way you live - have it work as a fully functioning office and, without moving a book, switch it around to create a bedroom," Bushby explained to the Sun.
A tall bookshelf can serve as a room divider in a small space. Bamboo shades can serve a similar purpose and be raised when a larger space is needed. Such movable "walls" are especially effective in an apartment, a lengthy finished basement or a great room divided into activity areas.
Double-duty Rooms
Designer Alda Pereira has used the double-duty concept in her three-story townhouse. A red lacquer Japanese sculptural piece is not only beautiful, but also has compartments for Pereira to store items from linens to paperwork.
She agrees with Lareau's philosophy of using whole spaces for two purposes within home design. Her hallway, for instance, doubles as a gallery for artwork and collectibles.
---
Tell us About your Project
Our team of Radiant Experts is ready to help! Just tell us a little about yourself and your project to get started.
---
Did you find this post helpful?
Let us know by giving it some applause.
---
---