An Atlantic Ocean port in eastern Canada, Halifax is the provincial capital of Nova Scotia. Because Nova Scotia juts out into the Atlantic, it is prone to intense cold-season storms known as "nor'easters" - primarily November to March. Precipitation is high year-round with winter featuring a mix of rain, freezing rain and snow with frequent freeze-thaw cycles. 
Snowfall is heavy in winter, but snow cover is usually spotty due to the frequent freeze-thaw cycles, which melt accumulated snow. Some Halifax winters bring colder temperatures and fewer freeze-thaw cycles; the most recent of which was the winter of 2014-2015, one of the coldest, snowiest and stormiest in about a century. Dealing with an unpredictable winter can be a challenge, but adding a snow melting system to your driveway can be one way to deal with the adversity winter can bring.
A Halifax Driveway Heating System is the Answer to Harsh Winter Weather
When these Halifax homeowners decided to replace their driveway, they elected to install a WarmlyYours snow melting system underneath. The tire tracks option was an economical choice for the long driveway as it would be both cost effective, by cutting down on installation and operating costs, and still provide great functionality. Each WarmlyYours quote comes with a free installation plan, like the one below.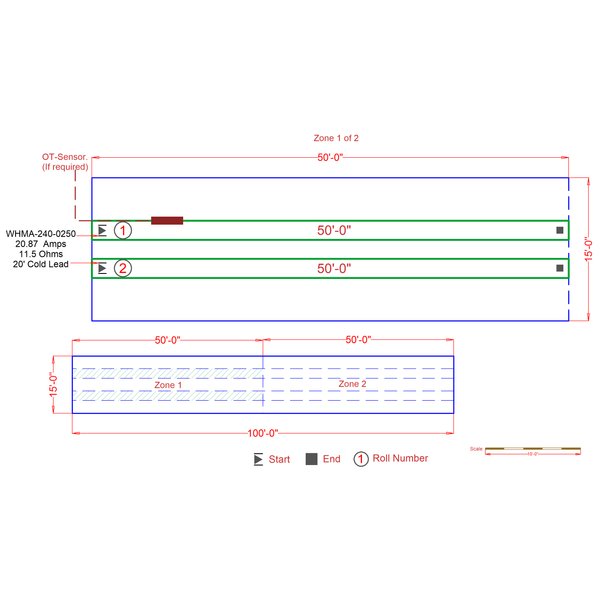 The 400 sq. ft. tire tracks snow melting cost $4272.00 or $10.68 per sq. ft. for the 15 foot by 50 foot driveway. A bonus is the low operating cost. The system only costs $3.18 per hour to operate based on the 15.88 cents KWh cost in Halifax. With the system selected, it's now time to add the control. There are numerous control options to pair with any snow melting system.
A Full Collection of Snow Melting Controls Available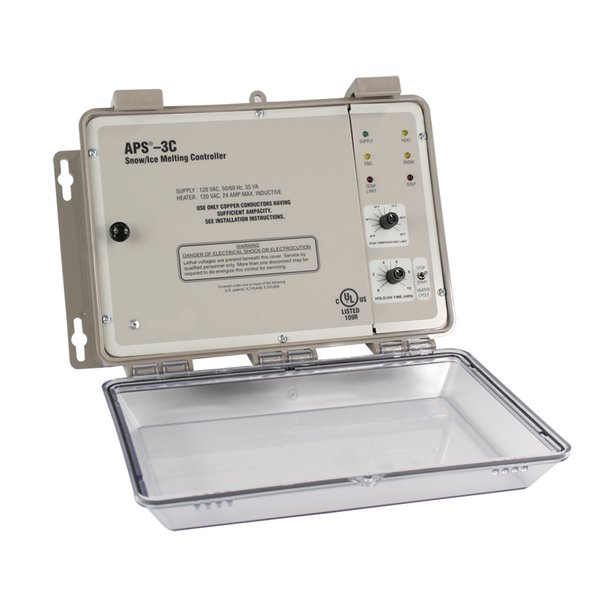 From manual and economy to advanced and premium, there are a variety of snow melting controls that let you choose what will best meet your needs. The WarmlyYours manual snow melt control is a simple, affordable option featuring a 12-hour, adjustable timer and a NEMA 1 enclosure with hinged cover. It is UL Listed and suitable for use with relay panels. 
These Halifax homeowners chose the premium snow melt control as it was highly recommended for asphalt applications. This control also provides for easy installation and operation and is CSA Certified for use in both Canada and the U.S. To see all the snow melting control options click here. 
Free Installation Plan is Key to Starting Your Project Off Right
When installing a snow melting system, getting a good installation plan is very important to ensure your project goes smoothly from start to finish. Each free, no-obligation SmartPlan from WarmlyYours includes an installation plan, an electrical plan, and an itemized quote, all prepared by a highly skilled team of engineers.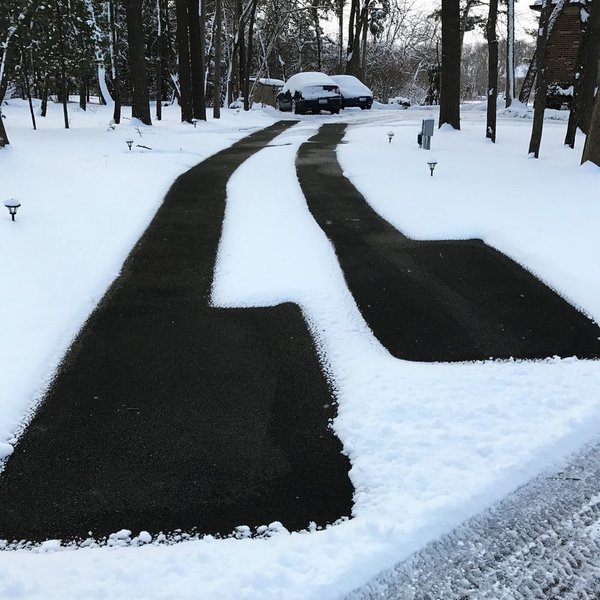 To take advantage of this service, simply provide a sketch of the project that includes dimensions and other relevant information, such as where power will be most readily accessible. Typically, within one day of providing this information, you'll receive your free SmartPlan. If you prefer, you can get started now with an Instant Quote here. 
The itemized quote included in your SmartPlan will also include MSRP pricing so that you can properly budget for your project. Best of all, each snow melting system is backed by our unbeatable 10-year warranty. If you have any questions during installation, it's not a problem. You have 24/7 access to our installation experts so that you can call them with any questions at 800-875-5285. 
If you are replacing a driveway, walkway, landing or patio, there's still time to install a snow melting system so that this winter you are ready for whatever Mother Nature may bring. To find out more about our snow melting advantages or any of our radiant solutions, please visit us at www.WarmlyYours.com.
---
Tell us About your Project
Our team of Radiant Experts is ready to help! Just tell us a little about yourself and your project to get started.
---
Did you find this post helpful?
Let us know by giving it some applause.
---
---