WarmlyYours just published its "2017 First Quarter Industry Report" and things are looking pretty good for the ol' radiant heating marketplace.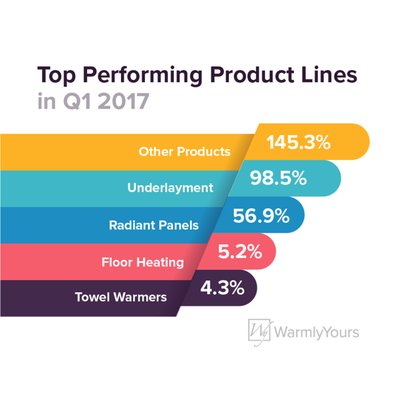 In the first quarter of 2017, WarmlyYours saw a 5.3% increase in total consolidated sales which was largely driven by a 5.2% increase in sales of electric floor heating (EFH) systems (the flagship product category for WarmlyYours). 
When breaking down the Q1 sales for EFH systems, there were a few surprise developments when comparing the first quarter of 2017 to the same period in 2016.
-       Environ Easy Mats, used for spot heating applications under laminate, floating wood, and carpet (U.S. only), grew a whopping 194.1%., which has brought it up from 1% to 4% of all EFH sales.
-       Slab Heating Mats, a heating element embedded in concrete floors that is often used in finished basements or garage remodels, tipped the scales at 166.6% growth.
-       TempZone Shower Mats, a heating mat with a pre-cut hole for installation around a drain, grew 66.2%.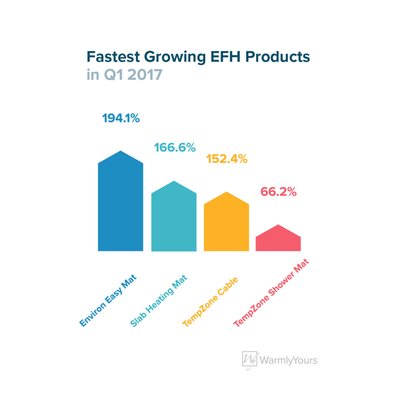 And then there was the 152.4% increase in TempZone 3.7-watt Heating Cable sales, which surprised absolutely no one (considering it has been growing like a magical beanstalk since it was introduced in Q4 2015). 
Why has this product been so popular? It has a lot to do with its compatibility with the Prodeso Cable Installation Membrane (which has itself grown 305%).
The combo of this heating element with the Prodeso uncoupling membrane has proven to be hugely popular with both homeowners and trade professionals. For homeowners, the crack isolation, uncoupling, and waterproofing (with accessories) benefits of the membrane has proven an irresistible draw. And installers love the fact that the membrane decimates installation time.
A lot of this EFH growth has to do with the fact that for nearly a year, national remodeling activity has been growing at breakneck speeds. According to the most recent Leading Indicator of Remodeling Activity (LIRA), a quarterly assessment of remodeling expenditures compiled by the Joint Center for Housing Studies of Harvard University, the first quarter of 2017 saw the rate of change in remodeling expenditures reach an impressive 7.3%, for a total of $300.4 billion.
This continued growth has cleared the way for significant developments in a plethora of remodeling-adjacent industries, like radiant heating. With national wages trending upward, many homeowners have more disposable income to pursue renovation projects like replacing a floor (coincidentally, the best time to install floor heating!).
The first quarter of 2017 also saw an interesting development in consumer behavior as evidenced by a 13.5% increase in radiant heating orders with an online origin. Part of this uptick is certainly related to the recent launch of streamlined product pages for WarmlyYours that were pushed live late in Q1. Additionally, there was a 14% increase in sales of WarmlyYours radiant heating products via e-tailers like Costco, Amazon, and Wayfair.
However, the LIRA also projects that over the next several quarters, remodeling growth will not be as intense as it has been. According to the LIRA, the 7.3% rate of change in Q1 2017 will decline throughout the year until it reaches 6.1% in the first quarter of 2018. Chris Herbert, the managing director of the Joint Center, offered some explanation for this relative tempering of activity.
"Homeowners are continuing to spend more on improvements as house prices strengthen in most parts of the country. Yet, recent slowdowns in home sales activity and remodeling permitting suggests improvement spending gains will lose some steam over the course of the year," said Herbert.
While the future of national remodeling activity may be uncertain, we're positive about one thing: the TempZone 3.7-watt Heating Cable (with the Prodeso membrane) is going to continue to sell like hotcakes.
Read the full "2017 First Quarter Industry Report" here. 
---
Tell us About your Project
Our team of Radiant Experts is ready to help! Just tell us a little about yourself and your project to get started.
---
Did you find this post helpful?
Let us know by giving it some applause.
---
---