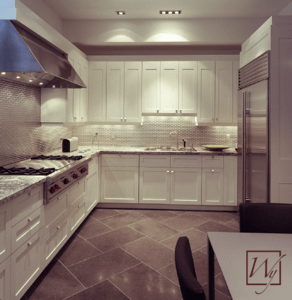 According to multiple sources, like the National Association of Home Builders and the American Institute of Architects, kitchens are getting larger. In fact, the average kitchen size increased 50 percent to 303 square feet from 1973 to 2007, as reported in a Wall Street Journal article.
As kitchens increasingly take up more of a home's footprint, this room becomes even more of a focal point for entertaining. With family and friends gathering in your kitchen, you'll want to make sure it's as comfortable of a space as possible. Yet, you'll also want to be cost-conscious. WarmlyYours makes this possible with affordable radiant floor heating.
For instance, a large 141¾ square foot kitchen only requires one radiant heating roll, which costs well under $1,000. The roll can be cut and turned to fit underneath nearly every inch of the tile, stone or hardwood floor that isn't already covered by a permanent fixture. In this case (see floor plan), nearly half of the kitchen is taken up by cabinets and appliances. The remaining 72 square feet is covered by a 1.5- by 48-foot TempZone™ Flex Roll.
Dollars and Cents
The total cost of heating this floor space is $889 , with $720 of that price coming from the Flex Roll and $169 coming from the SmartStat™ thermostat. That's likely less than you spent on your refrigerator alone!
Looking at it from another perspective, the price is only $10 per square foot (excluding the thermostat).
However, you might worry that although the TempZone™ Flex Roll itself only costs $10 a day, the daily energy costs could put you above your budget. Luckily, that is not the case. On average, if you were to heat this 72-square-foot space for 8.5 hours (which is the default setting on the thermostat) every day, it would only cost you 38 cents a day to heat your kitchen floors.
What's My Quote?
With this information in mind, it's clear that having a large, warm kitchen is an affordable option for homeowners. Of course, pricing will change depending on the size of the room and layout. To determine how much it would cost to add heated floors to a room in your home, send us a floor plan. Our team will get back to you the next day with a customized installation plan and a free quote.
Our customized SmartPlan™ floor plans will walk you through the installation process, but if you have any questions along the way, our technical support team is here for you. Give them a call any day, any time, at 800-875-5285.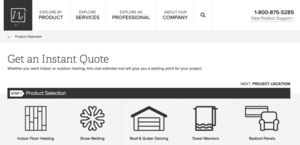 If you want an immediate quote, check out our "Instant Quoting Tool" tool. Within seconds, you'll receive an estimate of how much it would cost to install radiant floor heating in one of your rooms.
WarmlyYours also offers a Heat LossCalculator, which can help you determine if you should use in-floor heating as a primary or supplementary heating source.
For more information, visit www.warmlyyours.com.
Sources:
Links:
Instant Quote: https://www.warmlyyours.com/my_instant_quote/start
Energy Use Calculator: https://www.warmlyyours.com/tools/cost-calculators
HeatLoss Calculator: https://www.warmlyyours.com/tools/heatloss-calculator
Related Articles:
Radiant Heat Makes Mid-Sized Bathroom Magnificent
https://www.warmlyyours.com/en-CA/posts/bathroom-remodeling--Radiant-Heat-Makes-Mid-Sized-Bathroom-Magnificent-1093
How to Optimize Your Living Room with Radiant Heat
https://www.warmlyyours.com/en-CA/posts/floor-heating--How-to-Optimize-Your-Living-Room-with-Radiant-Heat-1090
Warm up Your Kitchen with Affordable Radiant Heat
https://www.warmlyyours.com/en-CA/posts/floor-heating--Warm-up-Your-Kitchen-with-Affordable-Radiant-Heat-1087
Radiant heat takes master bathroom from biggest to best
https://www.warmlyyours.com/en-CA/posts/bathroom-remodeling--Radiant-heat-takes-master-bathroom-from-biggest-to-best-1084
Radiant heat takes bathroom from ordinary to extraordinary
https://www.warmlyyours.com/en-CA/posts/bathroom-remodeling--Radiant-heat-takes-bathroom-from-ordinary-to-extraordinary-1082
The cost of radiant floor heating in a bedroom
https://www.warmlyyours.com/en-CA/posts/bedroom-remodeling--The-cost-of-radiant-floor-heating-in-a-bedroom-1079