Part 1

There are so many different floor coverings available in the marketplace. Sometimes, it may feel a bit overwhelming just trying to choose the best option for your kitchen. To make this process easier, I've grouped together various flooring types and reviewed their advantages and disadvantages. In Part 1, I'll talk about cork, bamboo and hardwood. I hope this helps make your kitchen flooring decision a little easier!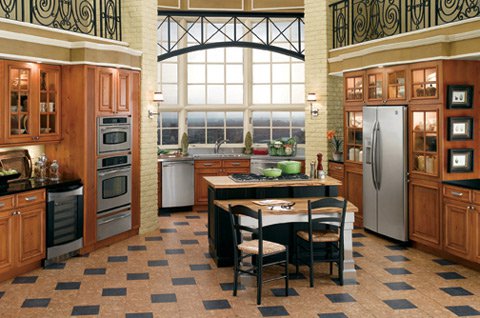 Cork Flooring

Cork flooring is a relatively new option on the flooring scene and is gaining in popularity. It is a renewable resource and offers the same strength and durability of hardwood. It's also allergy-friendly, which is a growing concern for many homeowners. Actually made from the bark of the cork oak tree, it is harvested every 9 years and the harvesting process does not harm the actual tree. With a variety of colors and finishes available, it is easy to see why cork is becoming a popular flooring choice.

Pros - Renewable, allergy-friendly, and comes in many colors and finishes. It is easy to install and is often one of the more affordable options. Contains a natural waxy element called Suberin, which actually inhibits fire, repels insects and naturally seals the floor.

Cons - Cork does require sealing on a regular basis and is not as easy to clean or as durable as vinyl. If you are very hard on your floors, cork may not be the best option for your kitchen.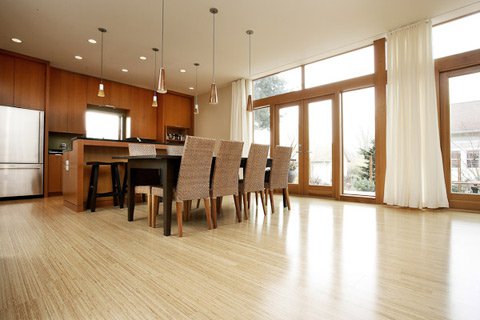 Bamboo Flooring

Bamboo flooring is a highly sustainable resource as well as being environmentally friendly. As bamboo grows to maturity rather quickly, it can be harvested every 7 years. During harvesting, the root system is unharmed and remains healthy and ready to produce more bamboo shoots. Bamboo is cured and glued together to make flooring. It is naturally moisture resistant which makes it an ideal choice for a kitchen (or bathroom). It has become a natural option for those who prefer to use environmentally friendly materials when building or remodeling.

Pros - Bamboo is renewable and as durable as maple or walnut hardwood flooring. It's also highly moisture resistant. Keep in mind when choosing the color, the lighter the coloring, the harder the flooring will be.

Cons - It can be pricey. Often the profits are not shared fairly with the harvesters. Also,
some bamboo farms do not harvest responsibly which diminishes the sustainability aspect. Bamboo is shipped from overseas, so if being "green" is a consideration for you, keep that in mind.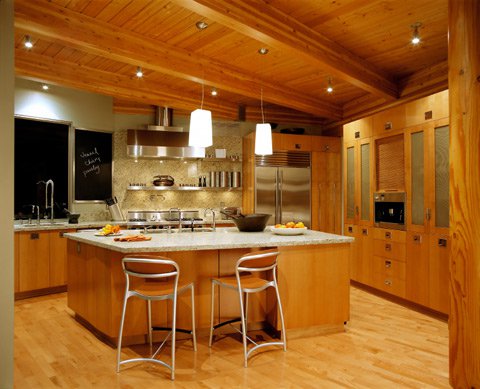 Wood (solid wood or engineered planks)

Wood flooring is a timeless option, and has recently skyrocketed in popularity. Not only is it fairly durable and long lasting, there are also lots of wood types, colors and stains available. If you do decide to use reclaimed wood, your choice helps to conserve natural resources and preserve the eco system; it can also be a more affordable alternative. No matter what type of wood flooring you use, it will inevitably be a gorgeous feature in your kitchen.

Pros - Wood is beautiful and feels soft underfoot. It's pretty durable and long lasting if it is taken care of and sealed properly. There are many colors and stains to choose from and is a great complement for most kitchen designs.

Cons - Wood is prone to water damage, and can also darken with age. While it is soft underfoot, it can make feet and legs tired if you stand on it for any length of time. Softer woods can also dent easily. Lastly, real wood is one of the more expensive floor covering options.
---
Tell us About your Project
Our team of Radiant Experts is ready to help! Just tell us a little about yourself and your project to get started.
---
Did you find this post helpful?
Let us know by giving it some applause.
---
---