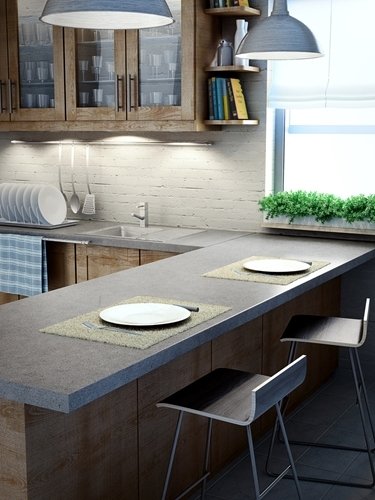 Like many interior designers, HGTV show host Meg Caswell has had her share of makeovers that began with rooms "stuck in the 1970s." In those cases, she has two types of advice for home decorators - find home products and furnishings that will have appeal well into the future and make sure the colors of a redone room carries into adjoining spaces in some way.
One example in Caswell's portfolio was a kitchen that needed new appliances, updated lighting and refinishing on old cabinets. She chose a trend-setting slate gray that's neutral enough for the homeowners to find it useful for some years to come.
As for the second bit of advice - carrying over color - that could be accomplished by mimicking the gray-based decor in a nearby bathroom, another room that's focused on functionality. It's a color that works well with many metallic finishes, including those on fixtures, heated towel racks and cabinet hardware.
In addition, neutral wall colors will go well with many types of kitchen and bathroom flooring, which is also the case with electric in floor heating. It works with virtually any floor covering, and when they're finished, the home will benefit from a uniform source of radiant heat that's comfortable and energy-efficient.
Before-and-After Design Can Be Big or Small
Caswell knows a lot about before-and-after decor. As a past winner of the design channel's Design Star series, she earned the opportunity to host Meg's Great Rooms, a series in which room transformations take place in every episode.
While many of her designs involved significant purchases or renovation, there were also plenty of easy and affordable tips from Caswell that homeowners could try on their own. Many updates were accomplished with a new paint job, a change in accessories or by simply moving around furniture.
For instance, Caswell favors displaying one's collectibles in a single area for optimum effect rather than scattering them in various locations. In one client's home, she gathered together artifacts the family had collected on various trips around the world, and used ethnic prints and similar colors throughout the living area, kitchen and dining room to tie the three spaces together.
Another Caswell makeover included adding a double-duty extension built onto one end of the galley kitchen counter. The new peninsula-style counter serves as cooking prep space, a breakfast bar and has shelves underneath to store cookbooks or utensils.
---
Tell us About your Project
Our team of Radiant Experts is ready to help! Just tell us a little about yourself and your project to get started.
---
Did you find this post helpful?
Let us know by giving it some applause.
---
---