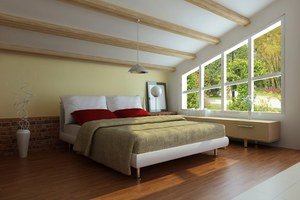 While there won't be as many vacationers swinging by to visit over the fall months, plenty of friends and family will be coming your way during the holidays. Whether you're putting up a few old college friends for a Columbus Day weekend party or looking ahead to all the guests you're sure to have at Thanksgiving, there's no time like the present for renovating your guest room. Keep the new season in mind however - you'll want to plan ahead for colder mornings and evenings, while also giving the décor a little autumnal pizazz. Consider these tips to help you out along the way.
1. Rethink your current heat.
Rather than the forced dry heat you've been dealing with in your home, consider installing radiant floor heating. Radiant heat systems are a revolution in home heating, boasting fantastic features like energy-efficiency. Your air quality will improve, once dusty vents aren't your heating method, which your guests are sure to appreciate. Radiant floor heating also works with a variety of flooring materials. And, if you aren't seeking to replace your floors, you can add a radiant panel to add extra warmth and beauty to the room. Best of all, what greater feeling could there be than setting foot on cozy warm floorboards after getting out of bed on a cool autumn morning?
2. Break out the comforter.
You'll want to trade in those light cotton and linen sheets from the summer for the flannels in the closet. Give the old duvet cover a wash, and maybe even break out a quilt, if that's the kind of thing that matches your design scheme. Make sure your guests have plenty of blankets for when the temperatures drop.
3. Add cozy autumnal accents.
These can be visual or olfactory. A few pumpkin spice or apple cinnamon candles could certainly add a lot to a guest room's ambiance and help keep the space smelling fresh. Looking for a colorful seasonal touch? Why not pick up some mini-pumpkins at the grocery store? Setting up a few on the dresser or window ledge can add a spark of style to the space.
4. Consider the guest bathroom as well.
While you're remodeling your guest room, there's no reason not to spread your renovations into the bathroom. Even if you just grab some seasonally-scented hand soap for the sink, the gesture will be appreciated. Consider investing in a WarmlyYours towel warmer as well. This luxurious hotel-style amenity is sure to win over your guest, but you'll adore it for its energy efficiency.
For more ideas on remodeling and using radiant heat in a guest room or any other bedroom, take a look at our informational and interactive Bedroom Radiant Heating Hub.
---
Tell us About your Project
Our team of Radiant Experts is ready to help! Just tell us a little about yourself and your project to get started.
---
Did you find this post helpful?
Let us know by giving it some applause.
---
---