We are continuing the mission to learn by listening to you, our valued customers, and discover how we can best serve you! With our "Share Your Story" program, we seek to receive feedback about our floor heating, comfort products, and services – and if you are chosen as our winner, you are awarded a feature in our Company Blog, Facebook, and Twitter, and $100!
We love when our customers contact us through this program to share their own personal story. Hearing back from a happy customer, enhances our efforts to offer the very best in products, services, and education, here at WarmlyYours Radiant.
This month, our feature story is about the Boltz family. We received this great story from Jim Boltz in NE Ohio! Take a look at his story of installing and using our HeatTrak Stairway Heater (11in x 36in 120v). Oh, and he raves about our customer service, too … you made us blush! Thank you!
-------------------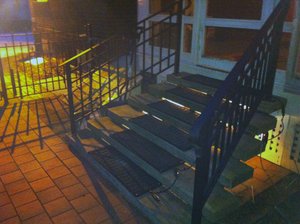 I'd like to say a big thanks to WarmlyYours Radiant and my account rep. Chad Braker for their help and assistance. Chad was actively available to help me all throughout the quote, purchase, and installation process – making sure that I was taken care of every step of the way.
With elderly parents and slick wooden stairs leading into my home, Chad helped me choose the portable HeatTrak mat product from WarmlyYours – since I wasn't looking to replace my steps completely. I also travel for a living, and with home-bound 80+-year-old parents in NE Ohio it helps to know their access to our home using stairs is safe. Even with a handicap lift available ten feet away; the stairs are what they use. Given a choice, wouldn't you?
Installing the mats, of course, was the easy part, while the electrical work was a challenge to me. I ran a new circuit through our 16" thick brick walls, ran conduit for a wet environment, and installed an inside switch (20 amps, of course) for the GFCI receptacle I plugged them into. While I was at it, I ran a line for floodlights under the stairs so that when the mats are on, the lights come on (in addition to the inside pilot switch). Many tell me that the effect of the lights with the snow melting mats is rather charming!
We have really enjoyed using our HeatTrak mats, and feel much safer with them installed! I can only hope others learn of your product and can have the same peace of mind a sound investment can make.
Thanks again from your prompt replies over the weekend while I was installing the product, and thanks to Chad for your help placing the order and the fantastic follow up!
Best Regards,
Jim Boltz
-------------------
Also, if you enjoyed this story, you may enjoy reading about last month's "Share Your Story" winner, Jim Peters, "Giving Troops Well-Deserved Comfort and Appreciation" or read through all of our winner's stories!
We'd love to hear your story, too! Share it with us!
---
Tell us About your Project
Our team of Radiant Experts is ready to help! Just tell us a little about yourself and your project to get started.
---
Did you find this post helpful?
Let us know by giving it some applause.
---
---