In this day and age, it can be difficult to pull families away from their smartphones and tablets. We've all seen — and even experienced firsthand — that mesmerizing stare that takes over when you're checking email, scrolling through social media posts, or playing a game. These devices can be hard to put down.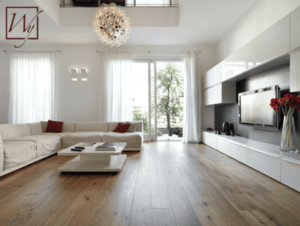 Nevertheless, when it comes to family, many strive to make some "technology-free" time to connect with each other. To gather everyone together, they might schedule a weekly family game night or simply set aside an hour to talk in a comfortable setting. The living room plays the perfect host for such events.
Living rooms are typically outfitted with cushy couches for lounging and relaxing, but these rooms can also include in-floor radiant heating in order to create the warmest, most comfortable environment for families. And the cost of installing heated floors in your living room might be less than you'd think.
To heat a 248-square-foot living room (see floor plan) with tile, stone or hardwood flooring in place, only one TempZone™ Flex Roll is required. The 3- by 70-foot roll can be cut and turned to cover about 85 percent of the surface of the room. Of course, the heat emitted from the roll will evenly warm the entire room.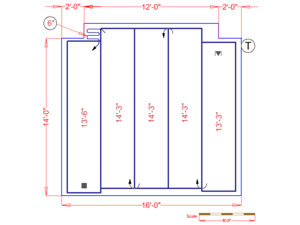 The total price of this TempZone™ heating system with a SmartStat™ thermostat is $1,849, which is likely well below the cost of your cozy couches. By itself, the thermostat costs $169 and the Flex Roll costs $1,680.
If you look at the price in terms of square footage, the cost of the radiant heating materials (not including the thermostat) is only $8 per square foot. That could be less than the price of one of your board games!
To determine how much it would cost to upgrade your living room — or any other room in your home — with in-floor radiant heat, send us a floor plan! The WarmlyYours team will get back to you the next day with a customized installation plan and a free quote.
These customized floor plans will show you where to begin and end your project and also how to cut and turn the mat along the way. However, if you have any questions during installation, our technical support team is available to help you 24/7. You can reach them any time at 800-875-5285.
If you're in a hurry to get a quote before a customized floor plan, you can visit our "Get A Quote" tool online. Just enter a few bits of information, like the room type, sub-floor and flooring surface, and your quote will be calculated instantly.
WarmlyYours also offers a Heat Loss Calculator, which can help you determine if you should use in-floor heating as a primary or supplementary heating source.
Now you can easily and affordably bring additional warmth to your family time. Radiant heat is ideal for any room in your home and any area of life — indoors or out.
For more information, visit www.warmlyyours.com.

Links:
Instant Quote: www.warmlyyours.com/my_projects/new
Energy Use Calculator: www.warmlyyours.com/tools/cost-calculators
Heat Loss Calculator: www.warmlyyours.com/tools/heatloss-calculator

Related Articles:
Warm up Your Kitchen with Affordable Radiant Heat
https://www.warmlyyours.com/en-CA/posts/floor-heating--Warm-up-Your-Kitchen-with-Affordable-Radiant-Heat-1087
Radiant heat takes master bathroom from biggest to best
https://www.warmlyyours.com/en-CA/posts/bathroom-remodeling--Radiant-heat-takes-master-bathroom-from-biggest-to-best-1084
Radiant heat takes bathroom from ordinary to extraordinary
https://www.warmlyyours.com/en-CA/posts/bathroom-remodeling--Radiant-heat-takes-bathroom-from-ordinary-to-extraordinary-1082
The cost of radiant floor heating in a bedroom
https://www.warmlyyours.com/en-CA/posts/bedroom-remodeling--The-cost-of-radiant-floor-heating-in-a-bedroom-1079