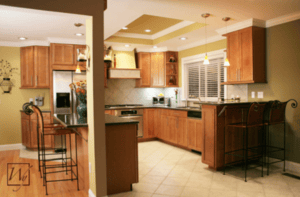 If the party poppers, streamers and noisemakers strewn about your home are any indication, 2015 is officially here. As your guests ate, drank and laughed together during your party, you might have noticed that they tended to gravitate toward one particular area during the evening: the kitchen.
Guests often socialize in the kitchen because it's where the "action" is. Thus, it's important to keep this room comfortable and welcoming. One way in which to do so is with heated floors.
For instance, a kitchen that is approximately 110 square feet in size – including the cabinets – only requires one TempZone™ Flex Roll to heat its hardwood, tile or stone floors (see floor plan).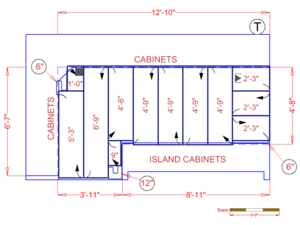 Excluding the kitchen and island cabinets, that's just 69 square feet of flooring to heat. Therefore, WarmlyYours suggested installing its high-quality yet affordable 1.5' x 46' TempZone™ Flex Roll to fit the space.
After adding the SmartStat™ thermostat, the total cost of heating this kitchen is well under $1,000. To be exact, the thermostat costs $169, and the TempZone™ Flex Roll costs $690, which equals a total of $859.
In terms of square footage, that's only $10 a square foot (excluding the thermostat). To put that into perspective, that could be less than the retail price of 1 square foot of your premium stone flooring!
Turning your kitchen into a warmer, more inviting gathering place is easy and affordable.
To find out exactly how much it would cost to install in-floor radiant heating in your kitchen – or any other room in your home – just send us a floor plan! Our team will get back to you the next day with a customized installation plan and a free quote.
Our customized floor plans will visually walk you through the installation process, but if you have questions along the way, our technical support team is here for you. In fact, they're here for you 24/7. Just give them a call at 800-875-5285.
An even faster way to determine the cost of heated floors for your kitchen is by using our online "Get A Quote" tool. Within seconds, you'll receive an estimate of how much it would cost to install an in-floor heating system in any one of your rooms.
Furthermore, WarmlyYours offers a Heat Loss Calculator, which can help you determine if your home is better suited to use in-floor heating as a primary or supplementary heating source.
For more information, visit www.warmlyyours.com. We're dedicated to helping you and your guests feel warm and comfortable all year long.

Links:
Instant Quote: www.warmlyyours.com/my_projects/new
Energy Use Calculator: www.warmlyyours.com/tools/cost-calculators
Heat Loss Calculator: www.warmlyyours.com/tools/heatloss-calculator

Related Articles:
Radiant heat takes master bathroom from biggest to best
https://www.warmlyyours.com/en-CA/posts/bathroom-remodeling--Radiant-heat-takes-master-bathroom-from-biggest-to-best-1084
Radiant heat takes bathroom from ordinary to extraordinary
https://www.warmlyyours.com/en-CA/posts/bathroom-remodeling--Radiant-heat-takes-bathroom-from-ordinary-to-extraordinary-1082
The cost of radiant floor heating in a bedroom
https://www.warmlyyours.com/en-CA/posts/bedroom-remodeling--The-cost-of-radiant-floor-heating-in-a-bedroom-1079