We're just a couple of days away from the final glittering 10-second countdown of 2014 when the crystal ball will drop in New York City signaling the new year, and that's the perfect time to start focusing on all things "new," including a possible home remodeling project. As you do your planning, here are the Top 7 remodeling trends that experts predict will loom large in 2015 remodels. It's a list that contains some strong, long-standing mainstays you might expect as well as a few newcomers.
As the trends come and go, how do you decide which trends to pay attention to as you plan? The key to long-term happiness and value is to follow the basic home remodeling trends for 2015 "that offer timeless appeal and a sound investment," advise Dwight Sailer and Bryan Soth in a Coloradoan article titled  "Building Solutions: Timeless remodeling trends." In short, follow trends, not fads.
"A trend is not a fad," caution the designers at The Neil Kelly Design Company, headquartered in North Portland, Ore. "A trend veers in a new direction. A fad fades fast. A trend shows a social tendency. A fad shows that … whoever fell for it … has more dollars than sense." Every year, the company releases its  "Great Eight" interior design and remodeling trends.
The following are a compilation of the top trends, as identified by industry experts.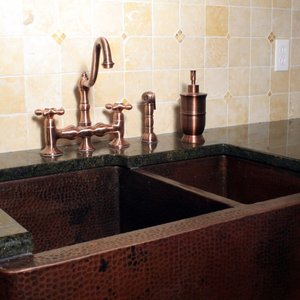 1. Metals are in.
Experts predict that metal accessories will remain a strong trend in 2015.
"Shades and tones of copper are in the mix," says Heidi Hawk of The Neil Kelly Design Company. "For 2015, it has moved from accessories to lighting, sinks and even countertops."
"I love working with multiple mediums as it brings out the artistic side of design," she adds.
The trend also includes forgetting any rules about not mixing metals, says designer Cadence Woodland of  Home Planning Hawaii, Honolulu. "Mash up your silvers, golds and bronzes to create fabulous tonal depths in any space from kitchens to bedrooms," she advises.
Search for "mixed metals" on Houzz.com for some fun, inspirational photos and projects to search through.
2. Open up your home.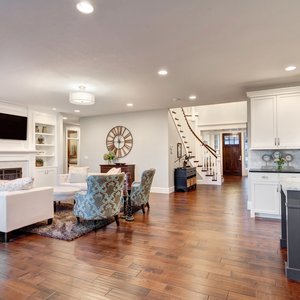 More and more homeowners are remodeling to create open floor plans in 2015, according to Coloradoan. Don't think massive (and expensive) additions or a substantial expansion of your existing space. Instead, think strategically. Creating an open floor plan can include simple changes such as removing a wall or two and forgoing certain lesser-used rooms, such as a formal dining room or den. You can use these changes to create one larger kitchen-dining-living "great room" space that is open and warm for guests and family.
Open floor plans that combine kitchens, family rooms, living rooms and dining rooms are one of the biggest predicted trends for kitchen spaces in 2015, according to  Granite Transformations, Miramar, Fla.
"Open living spaces … create a more relaxed space where everyone can be together," says Marcello Becchi of the company. "By blending these rooms together, designers suggest harmonizing the décor of each room to create an atmosphere of consistency."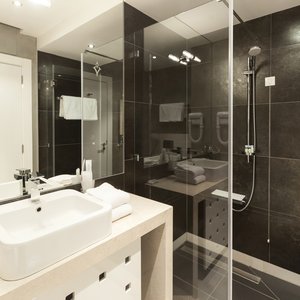 3. Universal design
Seventy-two million Americans will be 65 or older by 2030. Studies show that the majority of them will choose to live in their homes independently. This is driving demand for universal design — designing for accessibility without sacrificing visual appeal and style. "We expect to see more open floor plans, roll-in showers, wider doorways, floating sinks and cabinets, and other wheelchair-accessible features in 2015 remodels," Becchi shares.
One study from the American Association of Retired Persons (AARP) found that almost 90 percent of seniors wanted to stay in their own homes as they aged. As baby boomers continue to age, this market will remain strong in 2015. Read more about how to remodel with this unique market in mind in our blog,  "Warming the Home So the Heart Can Stay."
4. A mixed bag for showers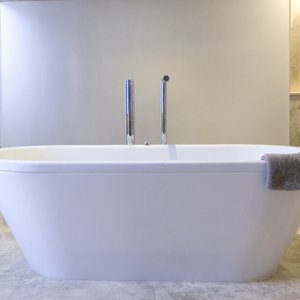 Showers are both in and out according to two simultaneously predicted yet conflicting trends for bathrooms. In the first trend, many designers predict a shift away from showers toward large soaker tubs.
"Forget about glass-encased showers — these days it's all about the soaking and free-standing tubs, so much so that we can actually expect a decline in standard tubs with shower-surrounds," said the San Antonio Express-News in a  RealtyTimes article.
However, the second trend predicts that homeowners will keep the shower — and make it bigger — choosing "walk-in showers with oversize panes of glass or solid walls that completely enclose the space, rather than bathrooms with tiny cubicles," predicts Houzz.
"Walk-in showers, also known as 'doorless showers,' 'curb-less showers' and 'no-threshold showers,' are accommodating this trend — and also adding accessibility for anyone, particularly seniors, who might have a hard time stepping up and over to access their showers," according to  Decorator's Wisdom.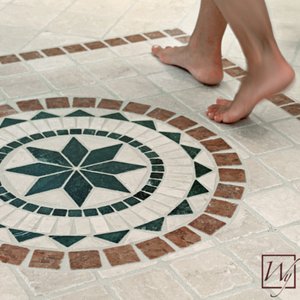 5. Feature floor tiles.
Statement-making floor tiles were a strong trend in 2014 that will continue into the new year, says interior designer Jasmine McClelland. "I have done a couple of feature floor bathrooms this year — they are stunning and provide a great design opportunity when working with challenging bathrooms that have no clear walls for a feature wall," she says.

"In smaller bathrooms, a feature floor tile adds style without overwhelming the space, and when used in a larger bathroom, the effect is elegant," McClelland adds.
"Statement-making floor tiles proved popular in 2014, and this striking look doesn't appear to be leaving in a hurry," Houzz says. 
For all their stunning design appeal, tile floors can be cold and uninviting, so follow the trend without sacrificing comfort by adding  electric floor-heating systems. There is a reason tile and stone flooring are among the most popular applications in the industry: they are perfect for delivering radiant heat to provide beautifully soothing, warm floors.
6. Creature comforts
In fact, heated floors are a part of another trend — creature comforts — which is the No. 2 trend predicted in The Neil Kelly Design Company's "Great Eight" interior design and home remodeling trends for 2015.
"Some creature comforts never go out of style, and many see technological improvements over the years," the firm says. "That's the case with heated floors in the bathroom."
"It gets pretty cold in Central Oregon, so my clients here often want heated floors," says Kathleen Donohue. "And these clients took it a step further and added an increasingly popular feature — a heated towel rack."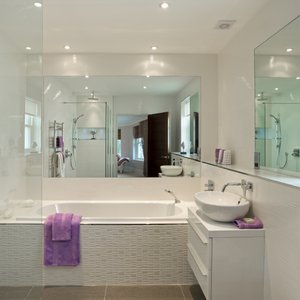 WarmlyYours plug-in towel warmers actually go one step further to bringing creature comforts to homeowners by adding the luxury of heated towels with the anywhere-you-are control of Belkin's Wi-Fi-enabled WeMo Switch. With this new value-added option, you can use your smartphone or tablet to  control your towel warmers from any location.
This is one small step to a smarter home. The National Association of the Remodeling Industry (NARI) estimates that in the next 10 years, 41 percent of remodeling projects will include the installation of "smart" products.
7. The healthy home
According The Neil Kelly Design Company, remodeling for health reasons is the next frontier. "Remodelers have a critical role to play in helping people make changes — large and small — to improve their home environments," the company said. "Whether it's non-off gassing finishes, no-formaldehyde cabinets, or better air filtration systems, homeowners realize a benefit to the family in creating a healthy living space."
Creating a healthier living space includes cleaning up the air your family breathes inside the home. Reduce dust, mold and other airborne allergens with radiant heat, which does not blow air and kick up allergens throughout the house. Read our blog,  "4 Ways Radiant Heat is Your Secret Ally Against Seasonal Allergies," for more on radiant heat's benefits for keeping your family healthier and happier year-round.
Whether you are aiming for smarter controls, use of metals, or a heathier home, have fun daydreaming about which trends — not fads — might make an appearance in your potential 2015 home renovation.

Sources:
www.granitetransformations.com
http://decoratorswisdom.com
www.architecthonolulu.com
http://imagineerremodeling.com
---
Tell us About your Project
Our team of Radiant Experts is ready to help! Just tell us a little about yourself and your project to get started.
---
Did you find this post helpful?
Let us know by giving it some applause.
---
---