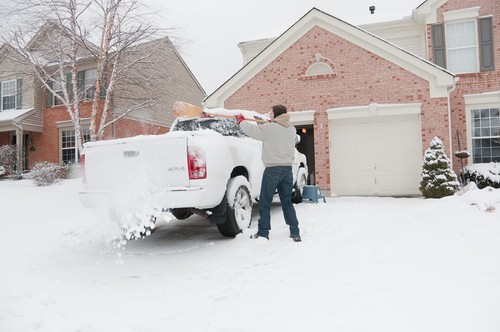 When the temperatures are climbing into the 90s and most people are cooped up inside with the air conditioning on full blast or lounging in any bit of shade they can find, the last thing you're worried about is the pain of shoveling snow off a driveway. That winter chore may seem like a distant worry, but the effect that shoveling snow has on your back is felt year-round, and the dangers it can pose to an overtaxed heart aren't something you can ignore, even in bright and sunny weather.
While there are ways to avoid lower-back strain while shoveling snow, there's only one way to assure that you're not doing yourself any injury, and that's seeking out alternative methods of snow removal. Among the best and most effective of these are the snow melting systems offered by radiant heat technology companies like WarmlyYours.
These systems do more than just clear driveways of snow, however - they can also de-ice a porch or patio as well as gutters and rooftops, cleanly accomplishing a number of otherwise difficult and potentially hazardous household tasks.
Driveway snow melting systems are designed to be installed directly into the concrete or asphalt and are constructed in a cable format to allow for maximum flexibility when arranged along your driveway. WarmlyYours also offers a mat driveway heating system that has significantly more heat output per square foot for driveways and areas with heavy snowfall.
If your home is prone to water damage from snow buildup in your gutters or along your roof, you may want to look into de-icing systems. WarmlyYours' de-icing systems are not only equipped with thermostats, but provide an avenue for melted water to leave your gutter or roof, eliminating troublesome leaks or gutter overflow. You can also adjust voltage to your region's usual snowfall.
It may seem like a premature time for installation, but it's a much easier project while the weather's warm. Installation is quick, but because good weather makes it even quicker, there's no reason not to take the opportunity to upgrade your driveway, roof and gutters now. Don't be caught unprepared by a November snowstorm! Thinking ahead might just save your back some trouble down the line.