While many thermostats boast a modern design, there's much more substance under the panel than ever before. "Smart" thermostats are gaining traction in North America and around the world. According to a Sandler Research report, the smart thermostats market is expected to grow exponentially in the next few years. In fact, the market is projected to generate more than $1.3 million in revenue by 2019.
Honeywell is a key player in this segment. Recently, the company introduced its Wi-Fi VisionPRO 8000 smart thermostat, which allows homeowners to manage their heating and cooling systems from a smartphone, tablet or computer. All they have to do is download the Total Connect Comfort app (for free) to their Apple or Android device and connect to the Wi-Fi. Then, whether they're on their way home from work or in the house but too cozy in their beds to leave and turn the thermostat down (we've all been there), they'll have a convenient way to operate their system.
Other Features
But the Honeywell Wi-Fi VisionPRO 8000 is more than just a remote control for a thermostat. It also has many other helpful features.

Some of its "smartest" features include a default Energy Saver setting and Adaptive Intelligent Recovery feature. The Energy Saver setting adjusts the temperature in the home in order to reduce the homeowner's heating or cooling expenses. With Adaptive Intelligent Recovery, the thermostat learns how long it takes your home to reach the desired temperature. Once it gains this information, it turns on the heat or air conditioning earlier to make sure the homeowner is comfortable at the time they expect.
Additionally, the thermostat helps out the homeowner by sending alerts to your phone or computer when the temperature or humidity is higher or lower than it should be. The home screen also displays the outside temperature and humidity for added convenience.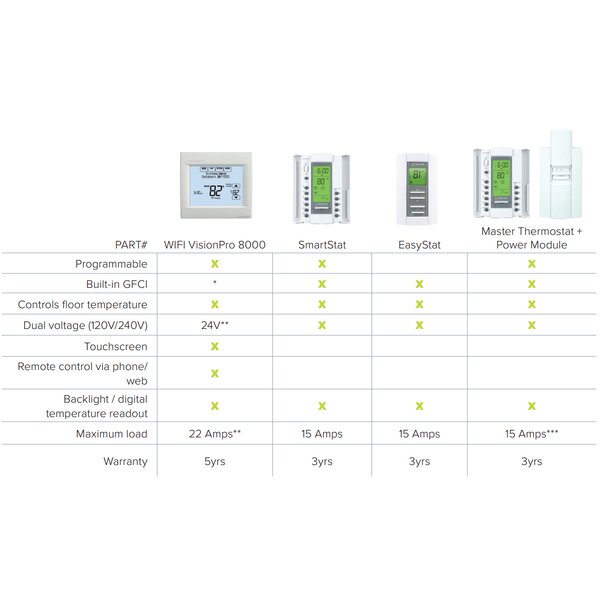 'Smart' Floor Heating
Best of all, the thermostat integrates seamlessly with a WarmlyYours floor-heating system. When purchased on warmlyyours.com, the Honeywell Wi-Fi VisionPRO 8000 comes with a 120- or 240-volt integration kit (depending on the user's particular voltage) that enables the thermostat to control the floor-warming system. When connected, the homeowner has the same convenient features at his or her fingertips — control via a mobile device, Adaptive Intelligent Recovery, temperature alerts, seven-day programming and more.

To compare the Honeywell Wi-Fi VisionPRO 8000 with other floor-heating-compatible thermostats, such as WarmlyYours's SmartStat™ and EasyStat™, visit www.warmlyyours.com. Here, you can also find more in-depth information about the Honeywell Wi-Fi VisionPRO 8000, including a user manual and installation guide. If you have any additional questions, just give WarmlyYours a call at 800-875-5285.
If you want information about how to program your Honeywell Wi-Fi VisionPRO 8000, check out this recorded webinar.
---
Tell us About your Project
Our team of Radiant Experts is ready to help! Just tell us a little about yourself and your project to get started.
---
Did you find this post helpful?
Let us know by giving it some applause.
---
---