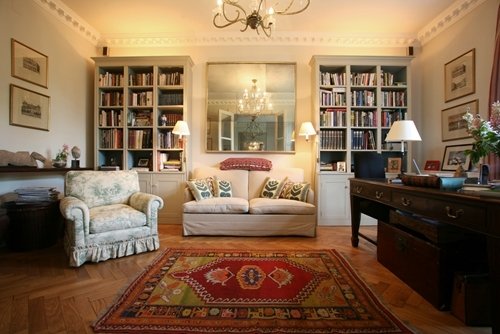 By regulating foot traffic, creating activity "zones" and playing up a room's best features, home decorators can solve a vexing problem in a long, rectangular space - how to even out its shape.
"If you have a long room, you can give it a balanced look by painting one of the walls at the long end a much darker shade of whatever color you choose for the room," wrote designer Kathy Burns-Millyard on DecoratingYourSmallSpace.com. "It will bring that one wall closer in, and make the space seem more uniform in shape."

If painting an accent wall isn't to homeowners' liking, but they're big fans of bringing the outdoors inside, they may arrange wall displays of house plants on one end of their narrow rooms. Doing this will have the same effect as painting the wall a darker shade and add texture to the room design as well.
If colors are kept in proportions that are nearly equal between walls, draperies and upholstery, there's less chance that one color will dominate the room. Accessories in bright colors can be used to complement furnishings, or darker colors may be chosen for area rugs to anchor the room without overpowering the overall space.
Creating Zones
One good thing about a lengthy space is that it lends itself to different activity areas. While kids play in one designated zone, their parents can stretch out to relax on the sofa elsewhere in the room. Using small rugs to break up the sections, while leaving some flooring exposed between them, is an effective way to separate the zones but have the underlying floor as a unifying factor.
When people are making choices in floor materials, it's a good time to consider installing electric in floor heating. This energy-saving, duct-free method relies on radiant heat to create warm floors that heat the overall space. Without air ducts, homeowners also have the freedom to locate furniture in any spot without worrying about blocking the heat.
To make a relaxation zone cozier, it helps to face a sofa away from more active areas and make the separation as a "getaway" spot more pronounced.
Differentiating sections of a room can also be accomplished by using partial dividers that allow one to see the whole space from end to end. The open design atmosphere is enhanced when shelves have no backing to allow the room to be seen beyond the items on display.
Directing Traffic
According to Houzz.com, arranging a good flow of foot traffic in a narrow room should be done by keeping the traveling on one side of the space. Having people walk between pieces of furniture is awkward for both the walkers and the design of the room. Creating natural travel ways between groupings of furniture keeps people on an indoor path that doesn't disrupt conversation or activity areas.
An L-shaped sofa, for instance, forces the eye to seek a way around the sofa and any related pieces such as a coffee table, ottoman or side chair.
---
Tell us About your Project
Our team of Radiant Experts is ready to help! Just tell us a little about yourself and your project to get started.
---
Did you find this post helpful?
Let us know by giving it some applause.
---
---