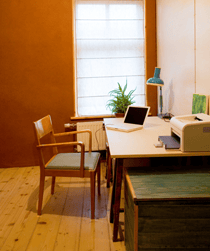 My sister has a home office in Kansas City where she moonlights as a business consultant and freelance graphic designer. Consequentially, she often works at night after the sun has gone down. The window in her home office has northern exposure, making it colder than the rest of the house. As the holidays were approaching, I knew the one gift she probably wouldn't buy for herself. I also knew that the WarmlyYours Under Desk Heater would be the perfect solution to those long cold nights at work. All she would have to do is plug it into a standard 120V outlet and she'd be reaping the warm benefits right away.


I shipped her the Under Desk Heater just in time for the Thanksgiving Holiday and she was happily surprised. After trying it out for just a few days she had this to say:


" Toasty toes feel magnificent on this cold late autumn evening. A simple little luxury that makes me feel so utterly cozy in an office with windows facing North- or, really facing any direction, I'm sure. I adore Warmly Yours Under Desk Heater and can't believe how affordable a luxury it is! I'm going to order for Christmas gifts!"
Now she's much more productive since she's not shivering at her desk. And as for feeling warm and cozy . . .she also has two cats, Thelma and Louise, who share her office space. Since using the Under Desk Heater both of the cats take turns curling up at her feet. The Under Desk Heater, much like WarmlyYours floor heating system, is a favorite of pets.


The only problem I have is that she's been visiting WarmlyYours website and now I think she has her eye on a Towel Warmer. Oh well, I guess that's the benefit of having a big sister.


Victoria Hale
Marketing Affiliation