Sales growth for WarmlyYours in the first quarter of 2019 was in large part the product of the harsher than normal winter which held much of the United States and Canada in its grip. While this may have dampened the level of remodeling activity that was projected to some degree, it also had a causal and positive impact on sales of our snow melting products.
This year also opened with the continuation of several trends which have remained constant for many concurrent quarters: growth in etailer sales of radiant heating products and the ever expanding popularity of TempZone Floor Heating Cable when paired with the Prodeso Cable Installation Membrane.
In this report, we'll take a closer look at the causes of these developments along with analyzing the performance of radiant heating product sales within the larger context of the remodeling and housing markets.
Electric Snow Melting Systems in High Demand After Brutal Winter
This year began in the middle of what ended up being a particularly harsh winter for many parts of both the United States and Canada. Despite that, January was actually unseasonably warm (2.6°F above the average), according to the National Oceanic and Atmospheric Administration (NOAA). However, that month ended by bringing about a polar vortex weather event that caused temperatures to plummet across much of the United States, setting records in some parts of the country. With February came the continuation of brutally cold temperatures and extremely high levels of precipitation. According to NOAA, the average temperature for the contiguous United States was 1.8°F below the average and marked the coldest February since 2010.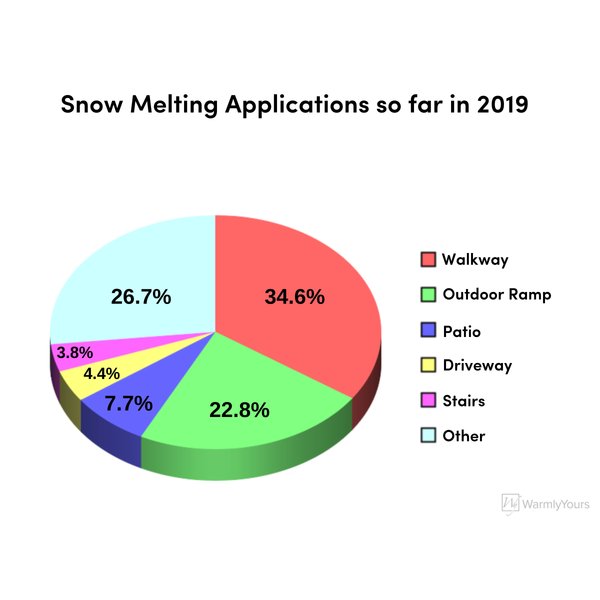 However, cold temperatures weren't the only problem in February. That month also brought about sizeable levels of precipitation. According to NOAA, the average precipitation level for the contiguous United States was over an inch higher than the average and it was the second snowiest February on record (0.1" behind 1998).
The excesses of this winter resulted in an impressive Q1 2019 for snow melting sales, including an 85.5% bump in outdoor heating sales. This increase was across nearly every product line in "outdoor heating" (including a sizeable 326.9% increase in pipe freeze protection sales) but it was most evident in snow melting sales which increased 174%, providing nearly 80% of the total sales volume increase for outdoor heating sales as a whole.
Interestingly, the two products which grew the fastest in snow melting were our 208V and 277V cables, at 391.7% and 222.6% growth respectively. These products are typically used in commercial applications for walkways, stairways, and ramps. While all snow melting products showed growth, the 240V (up 179%) and 120V (up 165.8%) snow melting mats were the second fastest growing grouping.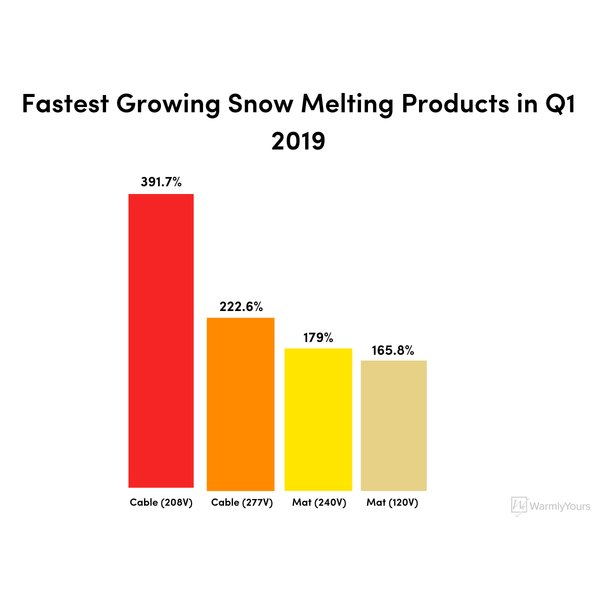 Julia Billen, owner and president of WarmlyYours said that these increased sales were almost certainly a direct response to the severity of the winter.
"When a winter is as bad as this one was, people tend to consider installing a snow melting system," said Billen. "At a certain point, it's not even really about the convenience of not having to shovel and it starts to be about the safety and security that a snow-free surface can provide. It's about the peace of mind that snow melting gives you."  
Another interesting piece of data concerns the shifts in snow melting application types in 2019 vs. the same time period in 2018. In the first quarter of this year, the most popular applications for snow melting were: walkways (34.6%), ramps (22.8%), and patios (7.7%). This represents one of the first times that driveways (4.4%) were not in the top three applications. In 2018, driveways made up 29.8% of snow melting jobs. According to Billen, this shift in application-type lines up well with the growth of interest in commercial products, as those projects are typically walkways and accessibility ramps which must remain free of snow and ice for liability reasons.
"We're finding that more and more commercial contractors are turning to electric snow melting systems for spot heating areas that are crucial for a business and must remain clear in the wintertime—like a loading dock or even just the entranceway," said Billen. "Electric has a huge advantage over hydronic systems in these smaller scale applications because it doesn't require pumps or boilers and once it's installed there's essentially no maintenance."
First Quarter Etailer Sales Growth of Radiant Heating Products
WarmlyYours has continued to see strong growth in the etailer market. However, one important change concerns the compositions of these sales. When looking at last year (Q1 2018), towel warmers sold via Amazon were by far and away the strongest performers. This was not true in Q1 2019 where etailer sales in Amazon of towel warmers were actually down 7.9%. However, the primary explanation for this discrepancy is that the first quarter of last year represented our first consolidated effort to optimize our towel warmer product line on Amazon and the results were extremely positive. This minor drop in sales growth is to be expected as an equilibrium is reached. We fully expect to see towel warmer sales via Amazon to show incremental growth rates that correspond to comparatively massive sales volume throughout this fiscal year.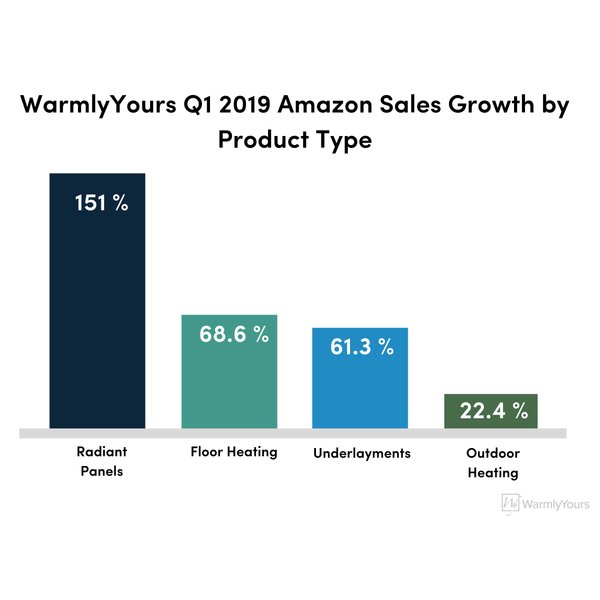 Overall, Amazon did see increases in sales of radiant panels (151%), underlayments (61.3%), and outdoor heating (22.4%) which helped lead to consolidated sales growth overall. However, the number one driving force in terms of sales volume for this channel was electric floor heating which grew 68.6% when compared to the prior year. The growth in electric floor heating products via etailer channels like Amazon is heartening and may indicate a significant change in how professional customers are shopping across the industry, said Billen.
"There is a certain segment of our audience that is familiar with radiant heating from previous projects but doesn't consistently work with a specific provider," said Billen. 'These customers understand the products and are looking for a good deal. If they like what they find on Amazon, then that is where they're going to spend their money."
Besides Amazon, several other etailer channels also saw significant first quarter growth for WarmlyYours sales:
-    Wayfair: Up 49.1%
-       Lowe's: Up 41.6%
-       Build.com: Up 131%
-       Overstock.com: Up 30.4%
Radiant Heating Sales and Product Performance in the First Quarter of 2019
For floor heating, the combination of TempZone Floor Heating Cable (up 21.6%) and the Prodeso Cable Installation Membrane (up 38.6%) continued to be an extremely popular option for homeowners and professionals alike. While the TempZone Floor Heating Cable can be installed with fixing strips, thermoplastic strips which are attached to the subfloor and hold the cable in properly spaced intervals via tension, it is growing more popular to pair it with an uncoupling membrane like the Prodeso Cable Installation Membrane. This product not only provides the framework for properly spacing the heating element, it also significantly decreases the amount of time a professional needs to spend installing embedded radiant heating. In addition to these benefits, the decoupling membrane also provides the ability to waterproof the subfloor (with accessories), prevent subfloor cracks from telegraphing upward, and protect the floor from foundational movement.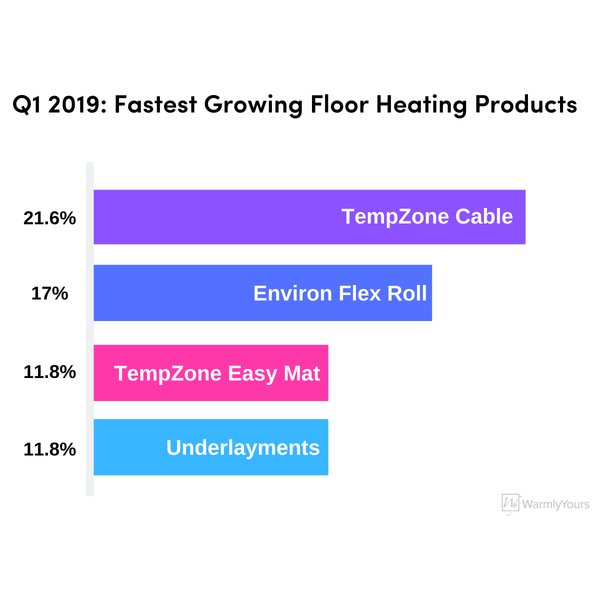 Sales of the Prodeso membrane made up 69% of all underlayment sales in Q1 (which is up from 56% a year ago and up from 44% in 2017). Underlayment sales as a whole were up 11.8%.
Other products of note in the floor heating category were the TempZone Easy Mat (up 11.8%) and the Environ Flex Roll (up 17%). Slab Heating Mats and Slab Heating Cables also posted solid growth rates (128.9% and 192.6% respectively) but ultimately had little impact on total sales volume for the product category.
The biggest shift regarding towel warmers in the first quarter, when compared to the previous year, was the launch of dozens of new models in three new collections. While the Classic Collection, our original line of electric towel warmer, still leads the way in terms of sales volume, the new collections have begun to establish themselves in the marketplace. In fact, the only Classic Collection towel warmer to post positive growth over the prior year was the Barcelona which grew 16.1%. In the first quarter of this year, the Classic Collection made up 68% of all towel warmer sales (down from 99% the prior year).
The Elevate Collection, which is sold through ecommerce channels with vendors like Home Depot and Costco, saw the largest growth rate and had the greatest impact on sales volume. The Elevate Collection made up 24% of all towel warmer sales in the first quarter. The fastest growing models in this collection, in order, were: the Tahoe, the Ontario, the Huron, and the Grande.
The Premier and Cosmopolitan Collections launched later in 2018 and so haven't had as much time to gather a consistent customer base. The Premier Collection constituted about 4% of all towel warmer sales while the Cosmopolitan Collection accounted for about 3%.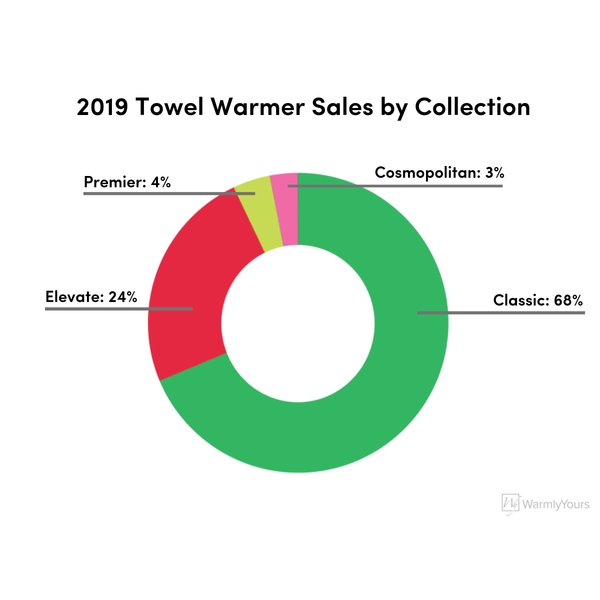 The Cosmopolitan Collection is a unique model for us because the towel warmers are only sold by authorized WarmlyYours dealers. This collection is unique because the business model is that WarmlyYours doesn't compete against our dealers with these items but instead provides exclusive models to our professional customers (ranging from installers to kitchen and bath showrooms) at a competitive price so that they can pass the savings on to their customers. We  fully expect the Cosmopolitan Collection to continue to grow in 2019 due to increased consumer-awareness and continued marketing support.
Looking Forward at the National Housing and Remodeling Markets
Many of the indicators for both the housing market and for remodeling in general do not have a particularly optimistic view of the upcoming quarters. According to the Leading Indicator of Remodeling Activity (LIRA), a quarterly assessment from the Joint Center for Housing Studies of Harvard University, remodeling activity is expected to decelerate from 7% to just 2.6% (the lowest level since 2013). Chris Herbert, the managing director for the Joint Center, said that is due primarily to continued issues in the housing market.
"Cooling house price gains, home sales activity, and remodeling permitting are lowering our expectations for home improvement and repair spending this year and next," said Herbert. "Yet, more favorable mortgage rates could still give a boost to home sales and refinancing this spring and summer, which could help buoy remodeling activity."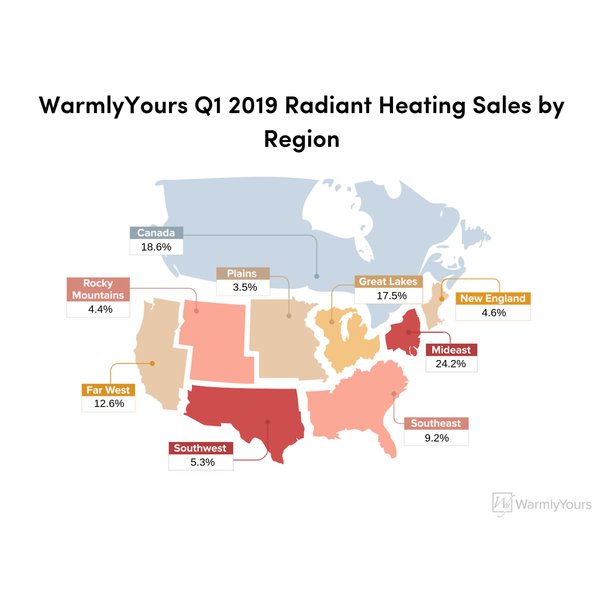 According to the National Association of Realtors (NAR), March 2019 saw year-over-year decreases in both pending home sales and existing home sales, down 1.2% and 5.4% respectively. Lawrence Yun, the chief economist for NAR, attributed a lot of this to comparatively high sales numbers in February 2019.
"It is not surprising to see a retreat after a powerful surge in sales in the prior month. Still, current sales activity is underperforming in relation to the strength in the jobs markets. The impact of lower mortgage rates has not yet been fully realized," said Yun.
However, there is some positive news because housing inventory levels do appear to be increasing. According to NAR, unsold inventory at the end of March was at a 3.9 month supply at current sales rate vs. 3.6 months in the year previous.
"Further increases in inventory are highly desirable to keep home prices in check," said Yun. "The sustained steady gains in home sales can occur when home price appreciation grows at roughly the same pace as wage growth."
The challenge for WarmlyYours moving forward is to stay ahead of the market forces that are trending downward by finding new avenues of revenue and contact with customers. Part of this practice can be seen in the Q2 2019 launch of our new line of shower waterproofing and floor heating kits, said Billen.  
"We're always paying attention to consumer trends and the development of these shower kits came directly from that," said Billen. "No matter how the market trends, we know that we're always going to have a reliable customer base because we listen to them."
Sources:
-       https://www.jchs.harvard.edu/press-releases/below-average-growth-home-remodeling-expected-2020
-       https://www.nar.realtor/research-and-statistics/housing-statistics/existing-home-sales
-       https://www.nar.realtor/newsroom/existing-home-sales-slide-4-9-in-march
-       https://www.ncei.noaa.gov/news/national-climate-201902
-       https://weather.com/safety/winter/news/2019-02-12-snowy-february-midwest-west
-       https://www.ncdc.noaa.gov/sotc/national/201901
-       https://weather.com/forecast/national/news/2019-01-28-polar-vortex-midwest-arctic-air-coldest-two-decades
-       https://www.remax.com/newsroom/press-releases/remax-national-housing-report-for-march-2019.htm
-       https://www.nar.realtor/newsroom/existing-home-sales-slide-4-9-in-march
-       https://economistsoutlook.blogs.realtor.org/2019/04/30/march-2019-pending-home-sales/
-       Relevant internal WarmlyYours sales data
---
Tell us About your Project
Our team of Radiant Experts is ready to help! Just tell us a little about yourself and your project to get started.
---
Did you find this post helpful?
Let us know by giving it some applause.
---
---