Snow Melt Mat 240V, 2' x 20', 40 sq.ft., 8.4A
---
Snow Melt Mat 240V, 2' x 20', 40 sq.ft., 8.4A
---
High Heat Output: This embeddable electric heating mat provides nearly 50-watts per sq. ft.
Embeddable in Concrete, Asphalt, or in Mortar Under Pavers: When you install a mat-based snow melting system within a new driveway, walkway, or patio, you can make sure your outdoor surface will be free of ice and snow all year
Even Heating: Snow melting mats come with the heating elements pre-attached to a green mesh in a serpentine pattern with consistent 3" spacing which ensures even heating
Fast and Easy Installation: Snow melting mats are faster and easier to install than snow melting cables but a bit more expensive
Installation Support: WarmlyYours offers free SmartPlan™ installation plans, 24/7 phone support, and a 10-year limited warranty
---
Snow Melt Mats Description
WarmlyYours snows melting mats safely and efficiently melt snow and ice from walkways, patios, and driveways. These 2′ x 20′ 240 VAC snow melting mats provide of coverage. They feature a sturdy, corrosion-resistant, twin-conductor heating element affixed in a serpentine pattern to a polypropylene mesh backing, allowing for easy installation and even distribution of heat in asphalt, concrete or (mortar underneath) paver surfaces. Equipped with a 20-foot (6m) cold lead, WarmlyYours snow melting mats generate 50 watts per square foot for dependable and efficient snow melting performance and are CSA certified for outdoor use in Canadian and U.S. markets.
Specifications
Electrical
| | |
| --- | --- |
| Amps | 8.33 A |
| Voltage | 240 VAC |
| Watts | 1999.2 W |
Warranty / Certifications
| | |
| --- | --- |
| Approvals | cCSAus Listed |
| Warranty | 10 Year Warranty |
Product Dimensions
| | |
| --- | --- |
| Cold Lead Length | 20′ |
| Coverage | 40 Sq. Ft. |
| Heating Element Thickness | 0.313″ |
| Length | 20′ |
| Weight | 9.7 lbs |
| Width | 2′ |
Identifiers
| | |
| --- | --- |
| SKU | WHMA-240-0220 |
| UPC (GTIN-12) | 881308011185 |
Installation
| | |
| --- | --- |
| Surface Types | Asphalt, concrete or in mortar under pavers |
Example Floor Plan
This is a real example of a floor plan that uses this product. If you want to design your own room or have any questions, please contact us.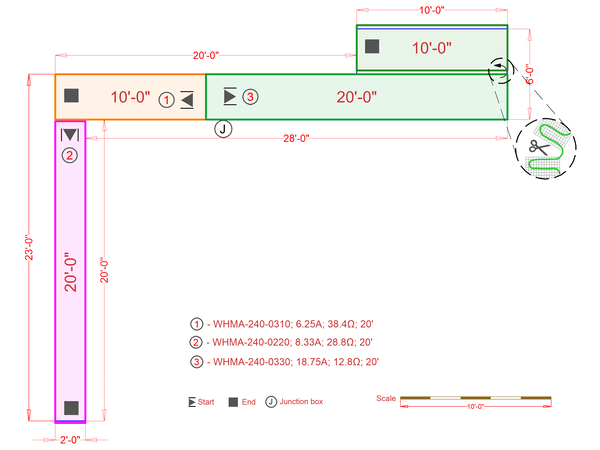 Flooring
Tile, Marble or Stone
---
Subfloor
N/A
---
Voltage
240V
This Floor Plan Includes:
---
Documents & Manuals
Installation
Project Planners
Technical Information
Warranties
Sell Sheets
Catalogs
Case Studies
Customer Questions & Answers
How deep should snow melting heating elements be embedded in an outdoor surface like a driveway or walkway?
To ensure optimal performance, snow melting heating elements should be installed so that they are consistently 2"-3" from the finished surface. For installations using pavers, the maximum thickness for pavers installed over heating elements is 2.5". 
---
What is the minimum depth for the layer of noncombustible material needed beneath snow melting heating elements?
The layer of noncombustible material needed below snow melting heating elements must be at least 2" deep. 
---
Does the factory splice need to be completely embedded during installation?
Yes. The manufacturer's splice that connects the heating element to the cold lead should be entirely embedded in a noncombustible material (like asphalt, concrete, or mortar) within the outdoor surface that is being heated. 
---
Will the snow refreeze into ice once melted?
All of our automatic controllers have a Hold-on time feature after the initial warming up of the snow melt system. This feature ensures that all the snow is melted from the surface, and also that the system continues to operate and evaporate the surface water without it refreezing.
---
How quickly do these systems melt the snow?
These systems are designed to melt 1" - 3" of snow per hour on average. Anything above 3" per hour is typically considered blizzard conditions.
---
What is the lowest temperature that a snow melt system can handle?
Our systems can handle low temperatures, but most controls come equipped with a Low Temperature Lockout Feature. This feature prevents the system from running by default in temperatures below 17F. At temperatures this low it becomes difficult for the system to effectively melt the snow. It is however possible to turn off this feature should you need the system to keep running during such low temperatures.
---
What type of conduit should I use to bring power to the heating cables?
Each heating cable comes with a factory installed cold lead wire that must be routed through the rigid metal 3/4" conduit to a outdoor rated junction box where a simple wire nut connection can be made for the electrical hook-up.
---
Will I need a new / expanded electrical panel for my snow melting system?
Always confirm the power requirements with the electrician. Large snow melting systems usually require a new electrical panel or electrical service. Contact WarmlyYours for a quotation, indicating the actual power capacity available, and to obtain recommendations for reducing the power consumption. For example, opting for tire track coverage rather than installing the snow melting system over the entire driveway can dramatically reduce power requirements.
---
How much power does the snow melting system use?
Power requirements are measured in Amps and based on three factors: the watts per sq. ft. of the snow melting cable or mat, the area powered and the voltage used for the application. Our product is rated at 50 watts per sq. ft., so that is a constant factor. Most snowmelt projects are powered with 240V AC – not all, but most. The one factor that is always variable is the area to be heated/powered. That is based on your project. For a point of reference, let's use the example above of a 350 sq. ft. concrete patio.
The formula is (50 W/sq. ft. x area of 350 sq. ft.) / V (240V) = Amps, so 17,500 / 240V = 72.9 Amps
---
How much does the snow melting system cost to operate?
To calculate the system's approximate operating costs, multiply the total kilowatts of the system by the cost per kilowatt in your area. Let's use the example of a 350 sq. ft. of concrete patio (residential application), with 240 VAC.
Total Watts: multiply area in sq. ft. x 50 Watts
350 x 50 = 17,500 Total Watts
Kilowatts: (the unit in we purchase electricity) take the Total Watts and divide by 1000
17,500 Total Watts / 1000 = 17.5 Kilowatts.
Kilowatt Rate: use the national average of .12 cents per Kilowatt-hours so how much do we pay for 17.5 kWatts?
17.5 kW x .12 = $2.10 for every full hour of operation.
Hours of Operation: We use a typical 6 hour snowfall for our example.
$2.10 x 6 hours = $12.60 for that snowfall.
All of this will vary due to "after-run time". "After run time" is where the system remains on extra hours after the snow has completed falling, to ensure complete pavement snow melting and drying.
---
How much does a snow melting system cost?
A snow melting system typically costs between $7.00 and $15.00 per square foot, not including a control. Control packages range from $250.00 and $1,500.00 per system.
---
What happens if the cable is damaged during the installation?
If a cable is damaged during installation, recheck the system for continuity and confirm the integrity of the insulation with a megohmmeter, or "megger" tester, referring to the installation and testing instructions. If the cable fails any of these tests, take the following actions: clear a 3 foot square working area around the damaged section of cable, and record the cable part number from the UL tag and the location where you purchased the product. Call WarmlyYours with the above information. WarmlyYours will provide further assistance and supply a splice kit suitable for repairing the particular cable.
---
May I cross or overlap the heating cable?
Never cross, overlap, or allow the heating cables to touch each other. Doing so will quickly cause a circuit failure due to excessive heat build up. Always follow the product instructions and/or design layout plan to ensure the cable is installed with the correct spacing required for proper operation.
---
May I cut the cold lead wires?
The electrician may shorten the cold lead wires during the installation. Any lead wire extensions/splices must be made in a junction box in accordance with the installation instructions, and must comply with all national and local electrical codes. Never cut the heating cable.
---
Can I cut the heating cable if it is too long for the application for which it was designed?
Never cut the heating cable. A heating cable will not work if it has been cut. If the heating cable is too long, call WarmlyYours to consult with a technician who will guide you in utilizing the additional length of cable.
---
How does the electric snow melting system compare to hot water tubing (hydronic) systems?
The material costs are similar. However, electric systems are easier to install, with fewer components and significantly lower maintenance costs. Electric systems will run for a shorter period of time to give the same level of performance but with much higher energy efficiency (typically 95%-98% efficient). Controls and sensors required for the two types of systems are very similar. Electric systems do not usually require slab insulation and do not create the concerns typically associated with hydronic systems. These concerns include, but are not limited to, return temperatures, flue gas venting, waterway shrinkage and property damage caused by leaking pipes or tubes.
---
Customer Reviews
Snow Melt Mats achieved an average rating of 4.8 stars with 13 reviews by our customers.
The MAT was very easy to install.
Randy B., CANFIELD, OH on 08/24/2018
The MAT was very easy to install - the directions were straightforward. My electrician had installed this product in the past, and the customers spoke highly of its efficiency. I can not rate how well it works at my home, as it if far from the weather needed to test it!
I'm very pleased with the performance of this system.
IDesign R., Brampton, ON on 05/22/2018
I'm very pleased with the performance of this system. It keeps the walkways of the patio clear of snow and ice without requiring any intervention on my part. There are a couple of "tricky" aspects to installing it under interlocking bricks. Keeping it flat while adding 1" of screening on top requires something to hold the mesh down due to the wire being fairly thick and having been rolled up in shipping. Changing heights (step downs, stairs) requires planning and access through retaining walls, etc. such that installing the wire may need to be done concurrently to the stone work being done. Last point to consider is that because the heating wires keep the area around them warmer than the rest of the patio there is a differential of frost heaving between the unheated and heated part of the patio. In my case what happened is the ground froze long before any snow or freezing rain fell, so the first time the system came on, the moisture in the lime screening under the pavers melted and this caused a localized drop in the screenings causing the pavers to be left suspended in the air. Two things to mention about what this meant. The pavers were not in direct contact with the heating wires so it appeared that the system wasn't working. to fix this issue, I walked on the heated area and the pavers dropped down to make contact with the screenings and the system then started to work as expected. The dropped pavers (1/8"~3/16") do create a visible line on the patio over the winter but in spring, it evens out again. I say all this not as criticism but rather to inform potential buyers what to expect so there are fewer unwanted surprises. I am extremely happy with the system and resulting clear paths that allow easy access to the BBQ, spa and bird feeders in the winter. Highly recommend the "practical indulgence" of installing a system like this.
The talk of the neighborhood
Scott S., Loveland, CO on 02/01/2017
Loveland, Colorado - Feb 2017 After several good snow storms - as much as 10-inches - we have the following observations; 1. The auto sensors work great - the mats turn on and are working as the snow falls eliminating build up. 2. We made some max temp adjustments and have settled on 60-degrees F. 3. Blowing snow is tricky - you have to manually run the system since the moisture sensor on the eaves does not "see" falling snow and the heat does not turn on automatically. Not a huge issue but if ignored the blowing snow can build up to quite a depth making he system work very hard to melt it. 4. The edges of the walk do not get warm enough to melt - the "clear area" is pretty much the limit of the mat. We have a pretty good mass of concrete but it does not warm enough to melt either edge - about 2-inches on each side. 5. It has been the talk of the neighborhood - everyone nosing around to see the installation and asking how it works. It definitely has eliminated the frozen spot at the front of our porch and had given peace of mind we won't have someone take a terrible spill on the ice. Thanks very much for that!
Works like a charm!
Todd G., Mount Prospect, IL on 01/05/2017
The product works like a charm! Highly recommend to anyone looking for a heated walkway.
Excellent quality product.
KM, Glenwood Springs, CO on 04/24/2016
Excellent quality product. Installed for patio door threshold last summer. Used it a couple times last winter to make sure it worked, it did. I still shovel the stoop and the rest of the concrete, need the exercise anyway. But the heater is there if needed.
Installation was a snap
Mike C., Fort Scott, KS on 04/18/2016
We had the strangest winter in years here in Fort Scott, Kansas. We didn't have any weather this season which would have initiated the WarmlyYours Heating Mats. Please check with me about this time next year and maybe I will have an experience worth rating. I had a great experience with the Ordering and Delivery of your products and am anxious to see how the system works. Installation was a snap as advertised.
Functioned flawlessly
Chrissie P., Coloma, MI on 04/16/2016
Functioned flawlessly and best of all never shoveled this winter.
Worked perfectly through two winters!
Thomas F., Saint Charles, IL on 04/16/2016
I used this mat by placing it between two rubber door mats and placing in on top of the sidewalk by my main entry door. So far it has worked perfectly through two winters!
Great, easy to use product
Todd B., Auburn, ME on 04/16/2016
The mat was an easy install under pavers. The walkway was on North side of home and doesn't see much sun during the winter and was tough to keep clear without excessive salt. We set the walkway on a timer which works excellent when we need it. Thank you for a great, easy to use product!
Excellent
Cesar S., Novi, MI on 12/18/2013
Excellent
View all customer reviews