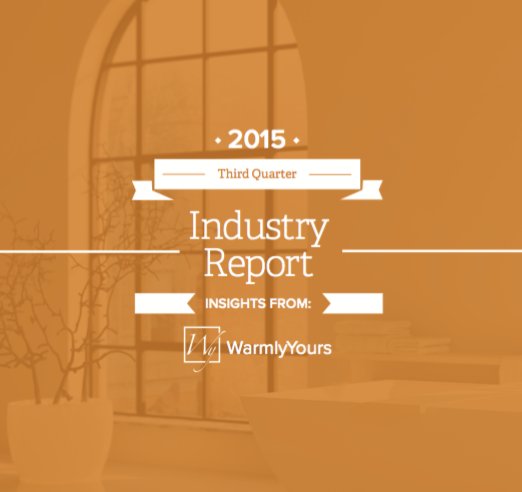 Modern times seem to have an answer for anything, and snowy and icy driveways are no exception. Since most homeowners loathe the idea of shoveling snow, heated driveways have gained in popularity because "the basic concept of a heated driveway revolves around keeping the pavement warm enough to melt falling snow when it contacts the surface instead of letting it pile up," explains Angie's List.
Sales of snow melting and deicing products soared as a result of seasonal demand in the United States and Canada, and as anticipated last quarter, WarmlyYours' Snow Melting Systems excelled in the third quarter (Q3) of fiscal 2015, increasing by 22 percent. As installation of these products is usually done in warmer months when ground temperatures are above 14°F, the trend is expected to continue into the foreseeable future.
Towel Warmers Are In Demand For Added Bathroom Luxury And Comfort
While Snow Melting Systems surpassed sales expectations in Q3-2015, the company reported accelerated growth in several other product categories including towel warmers, up 18 percent over the same period in 2014. Towel warmers are in high demand because of their ability to add warmth and luxury to a bathroom, according to a recent Kitchen & Bath Design News article, and homeowners are looking to add more home and bathroom features along these lines.
Established Towel Warmer models showed an outstanding performance, with the Infinity Towel Warmer (54 percent) topping sales, followed by the Riviera (16 percent) and the Sierra (26 percent). The newly introduced models of 2015, the Metropolitan Towel Warmer and the Studio Towel Warmer grew an astonishing 250 percent.
Floor Heating Accounts For 50 Percent Of The Business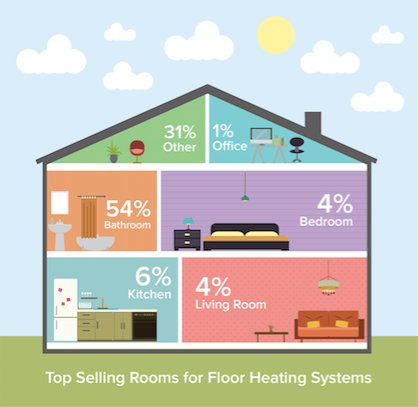 TheNEWS reports, that homeowners and builders recognize the comfort and energy efficiency provided by radiant floor heating systems and thus, they are often willing to invest time and money in floor heating because its benefits far outweigh its costs.

Overwhelmingly, consumers are choosing floor heating for bathrooms, accounting for more than 50 percent of the business and surpassing kitchen (6.2 percent), living room (4.1 percent) and powder room (3.6 percent), with all other rooms (11.1 percent) showing strong increases over Q3 2014 numbers. It should be noted that the most recent addition to the floor heating product offering, Loose Cable, continued its increase of sales in Q3 by 89 percent, comprising 6 percent of the floor heating business.
Julia Billen, the President/Owner of the company reported that WarmlyYours expects to see a healthy growth in sales of the Prodeso Cable Installation Membrane for floor heating, which attracts flooring professionals for its speed of installation - in and out in one day. It's that quick!

WarmlyYours Reports Expansive Regional Growth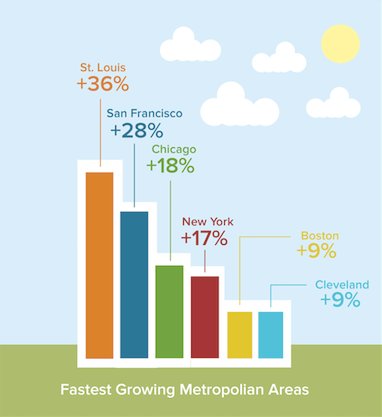 It's always beneficial to offer a diverse portfolio of products, and that's just what WarmlyYours does. With a unique collection of radiant heating systems and home and bathroom luxury items, WarmlyYours attracts many homebuyers and professionals across the United States and Canada. In the third quarter, for instance, several key metropolitan markets reported expansion, with St. Louis (35.7 percent) taking the lead among growth areas, San Jose (28.3 percent), Chicago (18.3 percent), Cleveland (9.0 percent), while New York (17.2 percent) and Boston (9.0 percent) were in line with the year prior.
In addition, WarmlyYours saw an impressive share of business in the United States with Mideast (23.8 percent) and Great Lakes (19.9 percent) still leading the region, Far West (11.6 percent) replacing the third position with Southeast (10.9 percent), followed by US Plains (6.6 percent), New England (5.6 percent), South West (4.2 percent) and Rocky Mountains (3.9 percent).
"We saw continued growth in 2015's third quarter across different products in the United States and Canada," said Billen. The company is in its growth mode and so is the industry as the home improvement market continues to remain healthy and growing. "Our secret ingredient is our people. They are passionate about delivering the best consumer experience and that is something that cannot be faked."
To read WarmlyYours' full industry report for the third quarter of fiscal 2015, click here.
Sources:
angieslist.com
achrnews.com
---
Tell us About your Project
Our team of Radiant Experts is ready to help! Just tell us a little about yourself and your project to get started.
---
Did you find this post helpful?
Let us know by giving it some applause.
---
---