The third quarter of 2021 has continued to see increased sales for radiant heating products as WarmlyYours saw yet another successive quarter of substantive, double-digit sales growth.
However, this is set against continued uncertainty relating to both COVID-19 and the national housing market, which continues to suffer from dampened sales activity.
In this report, we'll take a closer look at the performance of radiant heating product sales and analyze the impact that the national housing and remodeling markets are expected to have on
future sales.

Radiant Heating Growth in Q3 2021
WarmlyYours saw consolidated sales in Q3 grow by 12.3% when compared to the same time period in 2020. This constitutes an entire year (four consecutive quarters) of double digit growth for WarmlyYours due in large part to an increase in consumer awareness of radiant heating solutions and generalized increases in home renovation spending. The U.S., the volume leader by a wide margin, saw sales accelerate from 14.5% in Q2 2021 to 19.6% in Q3 2021.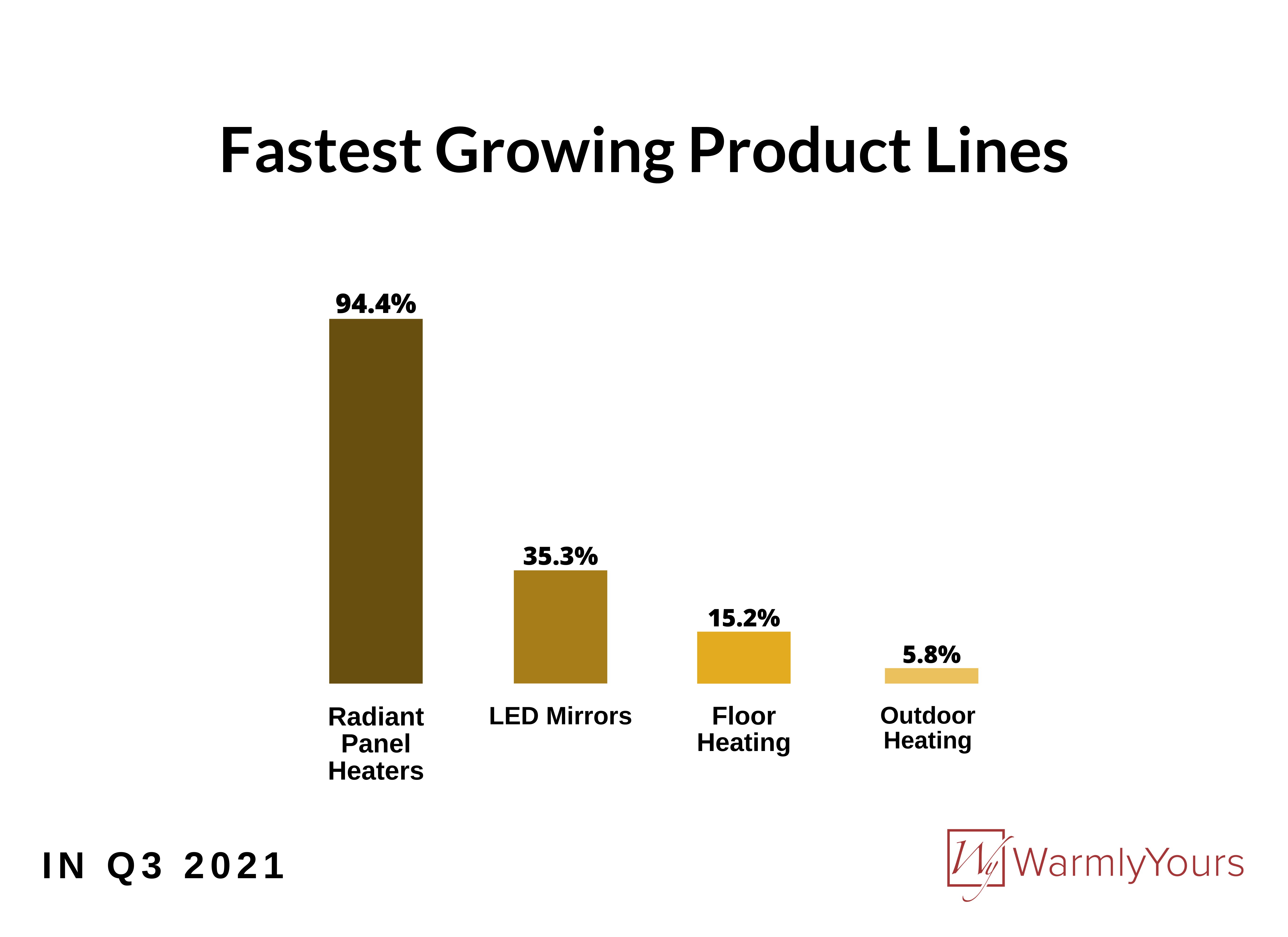 The product line that had the fastest rate of change was, yet again, radiant panel heaters, which saw an increase of 94.4% in Q3 2021. This product line has greatly benefited from increased consumer awareness of the product as a potential solution for adding supplemental heat to a room that is less intrusive than augmenting an existing central air heating system or replacing your floor for an underfloor heating system. This is evident in the increased visits from Google to the main WarmlyYours radiant panel heater webpage (up 9% in Q3 2021 over Q3 2020) along with a substantial increase in visits during the same time period for search queries from Google related to radiant panel heaters (up 50.6%).
During Q3 2021, we also saw a significant increase in sales for LED Mirrors (up 35.3%) and outdoor heating products (up 5.8%). However, the largest volume increase (by a wide margin) came from increased sales of floor heating products which saw a growth rate of 15.2% in consolidated sales. This increase follows a trend that has perpetuated itself all year with floor heating sales up 23.6% in year-to-date sales vs. the same time period last year. In fact, floor heating now makes up nearly 60% of all WarmlyYours sales (up from 56% last year).
So far this year, several of WarmlyYours's perennially popular floor heating products have seen a significant upswing in sales, such as TempZone Easy Mats (up 57.3%), Environ Flex Rolls (up 53.2%), TempZone Cables (up 25.2%), and TempZone Flex Rolls (up 12.2%).The largest sales volume increase so far this year for floor heating products has come from growth for both the TempZone Cable and the TempZone Flex Roll.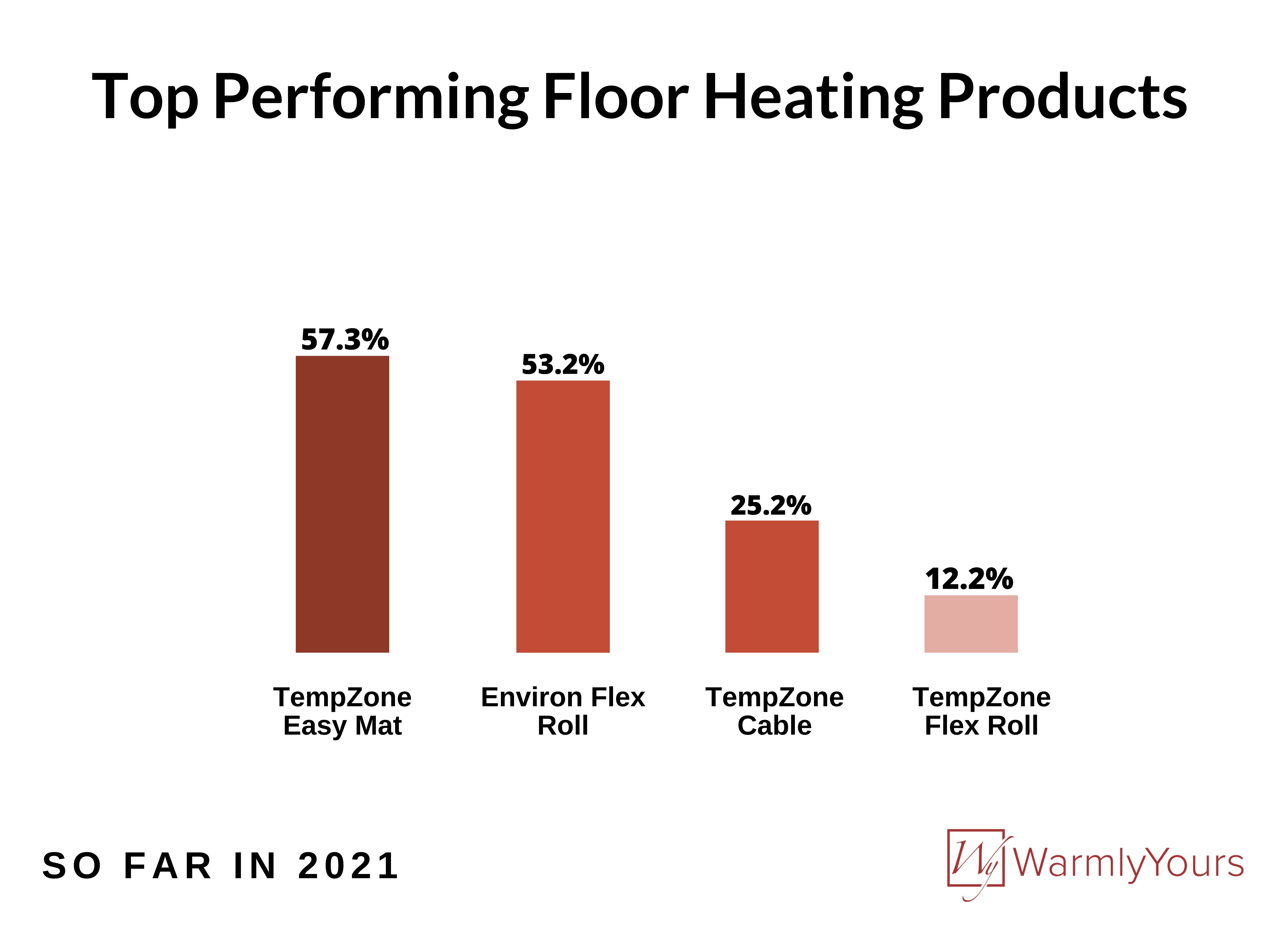 The increases for these 2 products alone accounts for nearly 60% of floor heating growth so far this year and that is certainly attributable to their continued popularity with trade professionals who appreciate the flexibility (and speed when combined with an uncoupling membrane) of TempZone Cable and the familiarity and ease of installation of the TempZone Flex Roll. Our TempZone products, as a whole, saw a 9.4% jump in sales to the trade customer segment during Q3 2021.
This makes sense given that the trade customer channel contributed the largest increase in WarmlyYours sales in Q3 2021. During this time, the trade channel made up 39.3% of all growth in WarmlyYours sales and nearly 20% of growth in floor heating sales specifically. While the growth rate for the trade customer segment was only 13.5%, it was still the volume leader. Julia Billen, owner and president of WarmlyYours, said that supporting the trade customer segment has always been a top priority for the company.
"With radiant heating, a homeowner might only work on 1 or 2 projects in their lifetime," said Billen. "But with a professional installer, they're often involved in dozens or even hundreds of different radiant heating projects throughout their careers. That's why this relationship is so important. We need to make sure these installers are armed with not only the latest and greatest products, which we're happy to provide, but also the latest and greatest knowledge."
Billen said this was the driving goal behind the company's launch of a new installer certification program earlier this year.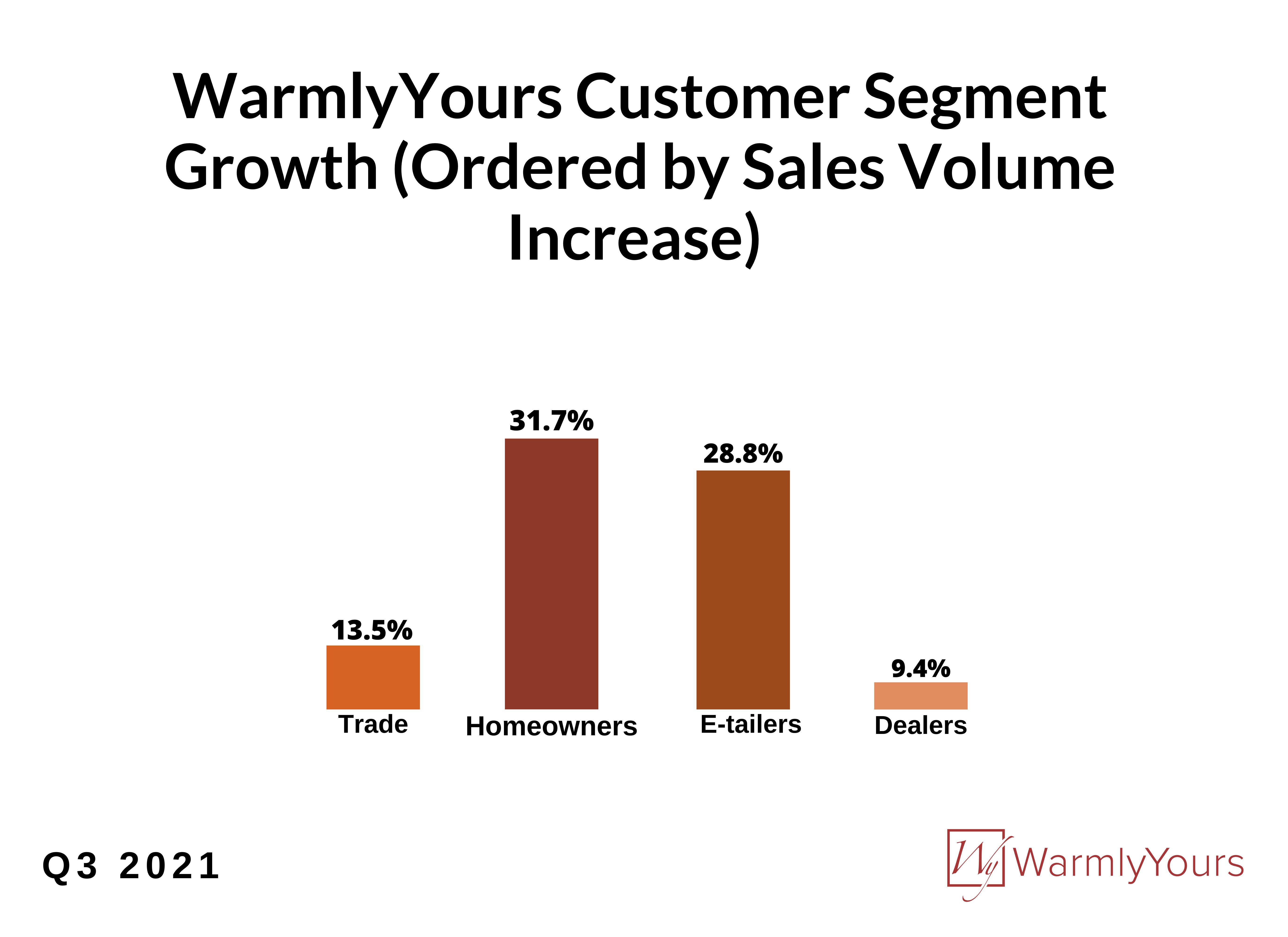 "The installation of a radiant heating system doesn't happen in a vacuum. It's a process that involves not only the installers themselves but also the product distributors and, of course, the homeowners," said Billen. "Our certification program ensures that our professional customers have access to the latest information and educational resources while also getting referrals from us for homeowners in their area looking to have a system installed. And we benefit from knowing that our products have been installed correctly and that they'll function properly for the happy homeowners for many, many years to come!"
During Q3 2021, WarmlyYours also saw significant growth for other customer channels like e-tailers (up 28.8%) and dealers (up 9.4%) when compared to the prior year period. But it was the homeowner channel that saw the swiftest rate of change at 31.7% and this appears to be largely related to increased homeowner spending on home remodeling projects in lieu of upgrading to a higher-bracket home due to a supply shortage of available inventory.
With more homeowners turning to remodeling projects, it does help explain the 57.3% uptick in TempZone Easy Mats, as the product is relatively easy to install because you don't have to "fit" it to the space. You simply adhere the mat to the subfloor (in the location indicated on your WarmlyYours SmartPlan) and then embed it in thinset or self-leveling compound before putting down the floor covering. Using these mats allows for "spot heating", which is a DIY-friendly and economical way to incorporate floor heating into a project. By only heating the spots where you most need heat, you're able to cut down on both the operational costs and the product costs without sacrificing the comfort provided by a heating system.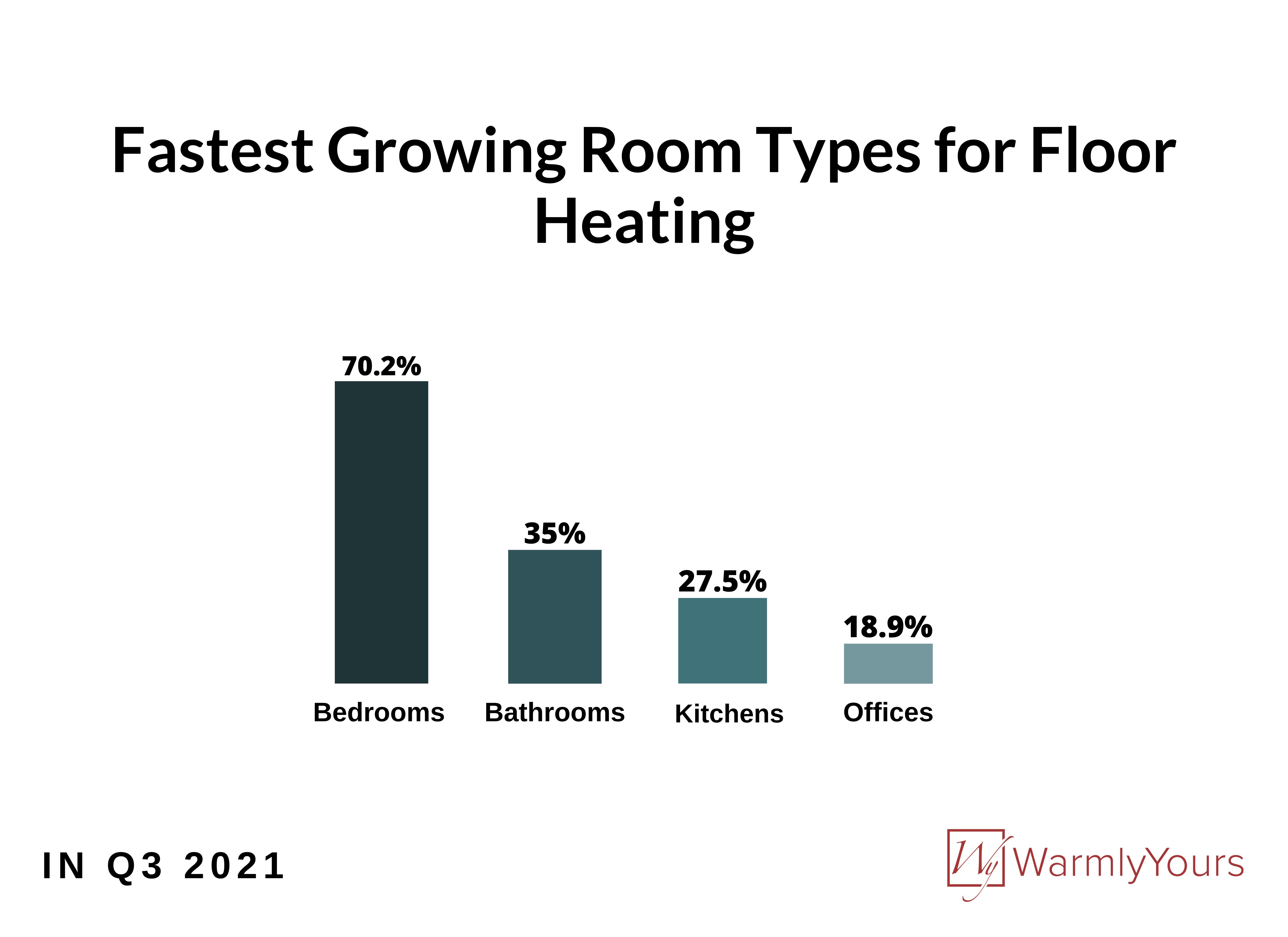 Another significant factor driving growth for homeowners is a shift in some of the room-types being installed. While bathrooms are, by far and away, the volume leader, other room-types like bedrooms (up 70.2%) and offices (up 18.9%) have begun to gain ground. These room-types often lend themselves well to DIYers as there is typically less tile and plumbing/electrical work than in bathrooms (up 35%) or kitchens (up 27.5%).
The shifts in room-types has also led to some significant changes in the types of floor coverings that WarmlyYours heating systems are being paired with. While tile is, and likely always will be, the most popular floor covering for use with electric floor heating (it made up 83.51% of total WarmlyYours floor heating projects in Q3 2021), some other floor coverings have made inroads over the last couple of years. This growth in popularity is certainly evidenced by the rapid rate of change for laminate wood (up 90.5%), vinyl/LVT/LVP (up 55%), and engineered wood (up 54.1%).
These floor coverings are often utilized in rooms where tile is rarely used, such as bedrooms and home offices. So the growth in these room-types makes sense with the increase in popularity for these floor coverings and it ties back to the growth in the Environ Flex Roll, which is the heating element most commonly used with floating laminate and engineered wood floors. Vinyl and tile (up 13.8%) are most commonly paired with TempZone heating elements and this helps to explain both the growth in TempZone sales and for kitchens and bathrooms, where these floor coverings and heating systems are used.
So while the growth rates of tile and its related heating elements and room-types may not be as "fast" as others, it's important to remember that their growth rates are being compared to robust previous sales performance and they are still the greatest drivers of activity in the industry and will continue to be for many, many years to come.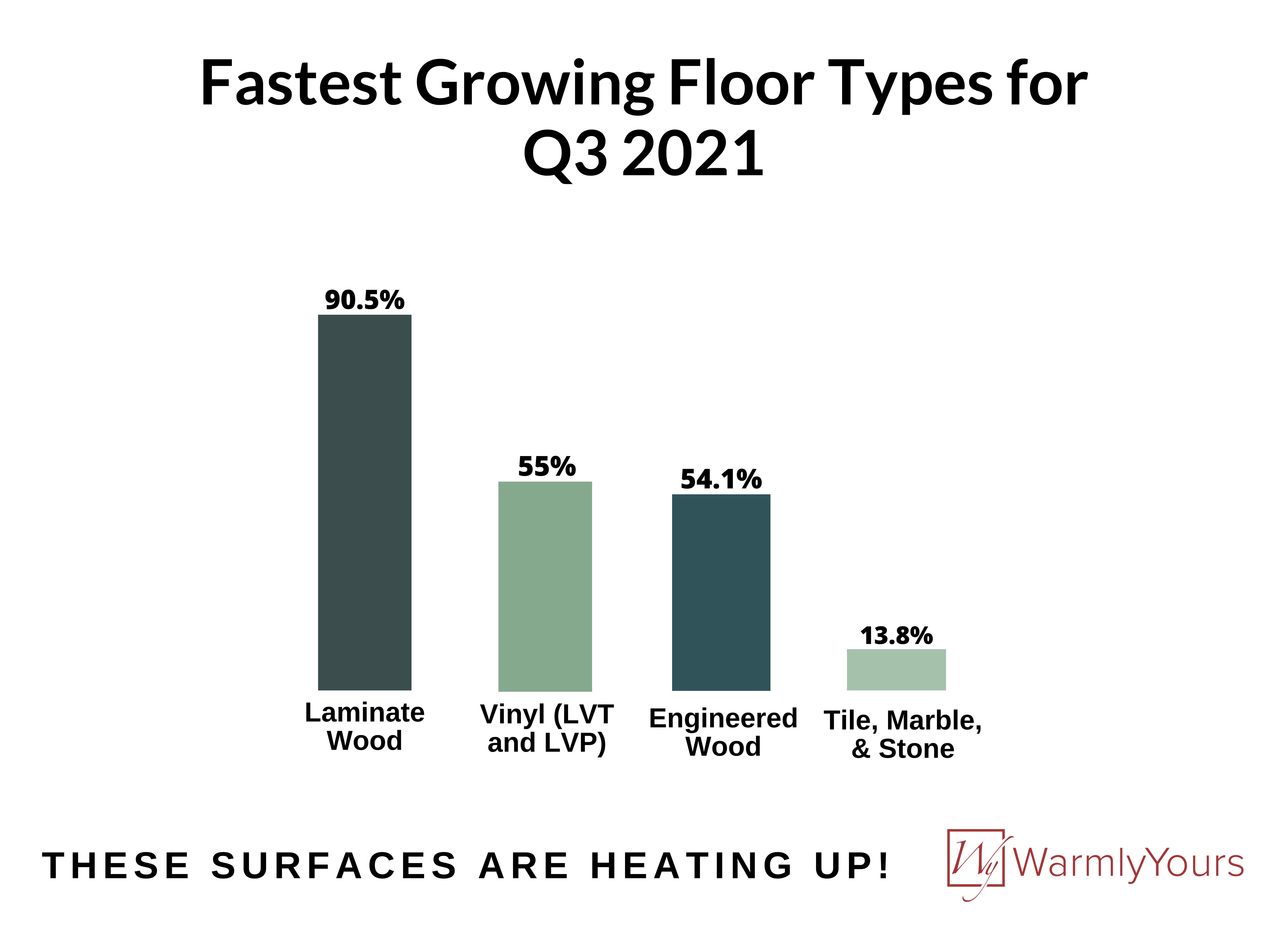 National Housing and Remodeling Markets
The national housing market continues to be plagued by low levels of available housing inventory which has pushed prices to levels that are forcing many first time home buyers out of the market.
In fact, according to the National Association of Realtors (NAR), 78% of the 183 regional markets that they measure saw double digit growth in year-over-year home prices. However, the news on this front isn't all dire.
"Home prices are continuing to move upward, but the rate at which they ascended slowed in the third quarter," said Lawrence Yun, NAR chief economist. "I expect more homes to hit the market as early as next year, and that additional inventory, combined with higher mortgage rates, should markedly reduce the speed of price increases."
According to NAR, 3 metro markets saw price increases year-over-year of over 30%, including Austin-Round Rock, TX (up 33.5%), Naples-Immokalee-Marco Island, FL (up 32%), and Boise City-Nampa, ID (up 31.5%).
"While buyer bidding wars lessened in the third quarter compared to early 2021, consumers still faced stiff competition for homes located in the top ten markets," said Yun. "Most properties were only on the market for a few days before being listed as under contract."
Unfortunately, one of the primary cures for a housing supply crunch (building new housing units) hit a bit of a snag by the end of Q3 with the U.S. Census Bureau reporting that housing starts fell 1.6% below expectations in September 2021. However, the National Association of Home Builders reported that while single family home starts were essentially flat month-to-month, they were up 20.5% in year-over-year sales. So while increases are unlikely for the next few months (due to winter weather in large swathes of the country) there is hope that the overall trend of new home construction will continue to grow and help alleviate some of the worst aspects of the supply crunch.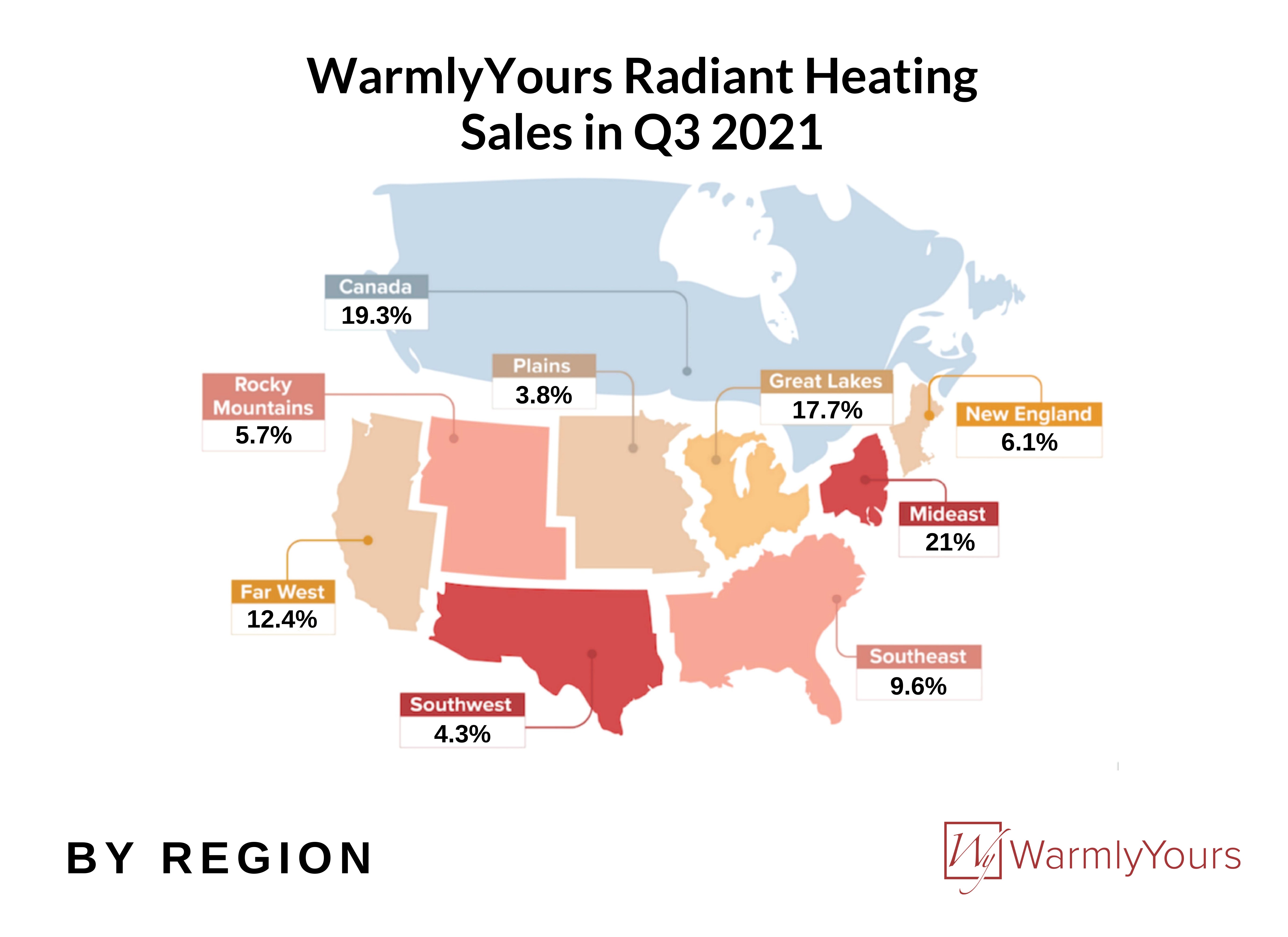 Projections for the remodeling industry do appear to be rosier than for the housing market as the Leading Indicator of Remodeling Activity (LIRA), a quarterly assessment from the Joint Center for Housing Studies of Harvard University, annual growth in homeowner renovation and repair spending will accelerate well into next year. The LIRA currently expects to see a rate of change of 8.6% by the second quarter of 2022.
"Home remodeling will likely grow at a faster pace given the ongoing strength of home sales, house price appreciation, and new residential construction activity," said Chris Herbert, Managing Director of the Joint Center for Housing Studies. "A significant rise in permits for home improvements also indicates that owners are continuing to invest in bigger discretionary and replacement projects."
In addition to an increase in home remodeling permits, there are other indicators of increased remodeling activity.
"Larger gains in retail sales of building materials suggest the remodeling market continues to be lifted by DIY activity as well," said Abbe Will, Associate Project Director in the Remodeling Futures Program at the Center. "By the middle of next year, annual remodeling expenditures to owner-occupied homes are expected to surpass $380 billion."
With many current homeowners unable to "upgrade" due to high prices, we fully expect some of that energy to be sublimated into remodeling activity as we've seen over the last couple of years. At WarmlyYours, we fully expect to see continued growth in radiant heating sales, particularly in floor heating, over the next couple of quarters.
Sources
---
Tell us About your Project
Our team of Radiant Experts is ready to help! Just tell us a little about yourself and your project to get started.
---
Did you find this post helpful?
Let us know by giving it some applause.
---
---