The third quarter of 2022 saw radiant heating buck expectations by posting significant growth despite a number of challenges that have ranged from inflation to the rapidly cooling housing market.
Electric snow melting systems, like those used for installing heated driveways and patios, have been an extremely strong performer in terms of radiant heating sales. This was particularly obvious in Q3 2022 when consolidated snow melting sales increased 45.4% over the prior year period.
This was all set against a national housing market that has been throttled by high interest rates, high prices, and low supply levels, which have combined to push many potential first time buyers out of the market.
In this report, we'll take a closer look at the performance of radiant heating product sales, with a specific focus on snow melting systems, and analyze the impact that the national housing and remodeling markets are expected to have on future sales.


WarmlyYours Product Sales in Q3 2022
Radiant heating sales were strong as a whole in the third quarter of this year. In fact, consolidated sales for WarmlyYours were up 7.9% in Q3 2022 over the prior year period. U.S. sales were the volume growth leader at 6.3% but Canada has the highest growth rate at 15.6%.
In terms of product lines, snow melting was the biggest Q3 volume leader (up 45.4%) but that was followed by towel warmers (up 21.8%) and LED mirrors (up 33.4%).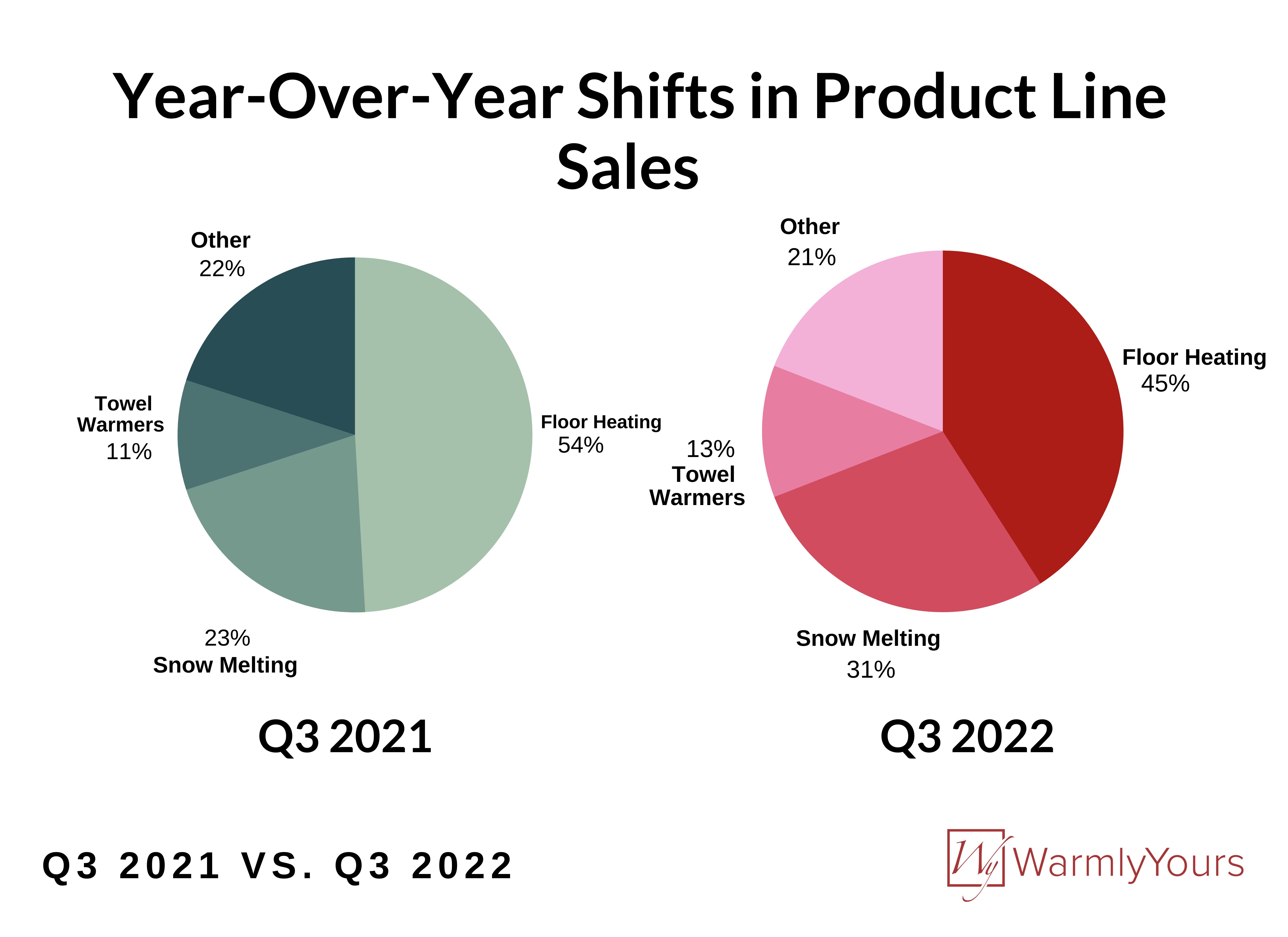 This has had a profound impact on the proportions of WarmlyYours product sales. Floor heating went from 54% of all sales in the third quarter of last year to 45% in the same period this year. Towel warmers contributed some of this change, going from 11% to 13% of all sales. However, it was snow melting that supplanted the most significant amount of these sales by going from just 23% of total sales to 31%, year over year.
Snow melting sales growth was most rapid in Canada in the third quarter where they posted an uptick of 86.8% but the largest volume increase came from the US where sales were up 39%. We did see an interesting shift in metro markets during this timeframe as well. Spokane was the fastest growing urban market with 74% growth. This was followed by New York (up 51.9%), Chicago (up 51.2%), and Denver (up 36.7%).
Generally speaking, snow melting growth is related to winter severity in the most recent winter. However, the winter between the end of 2021 and the start of 2022 was actually relatively mild. According to the National Oceanic and Atmospheric Administration (NOAA), that winter was the 12th "driest" (meaning very little precipitation in the form of either rain or snow) in the last 127 years. Additionally, for the US as a whole, the temperature has been 2.5 degrees warmer this year than the average. So if the weather has been relatively mild, then why the significant uptick in sales?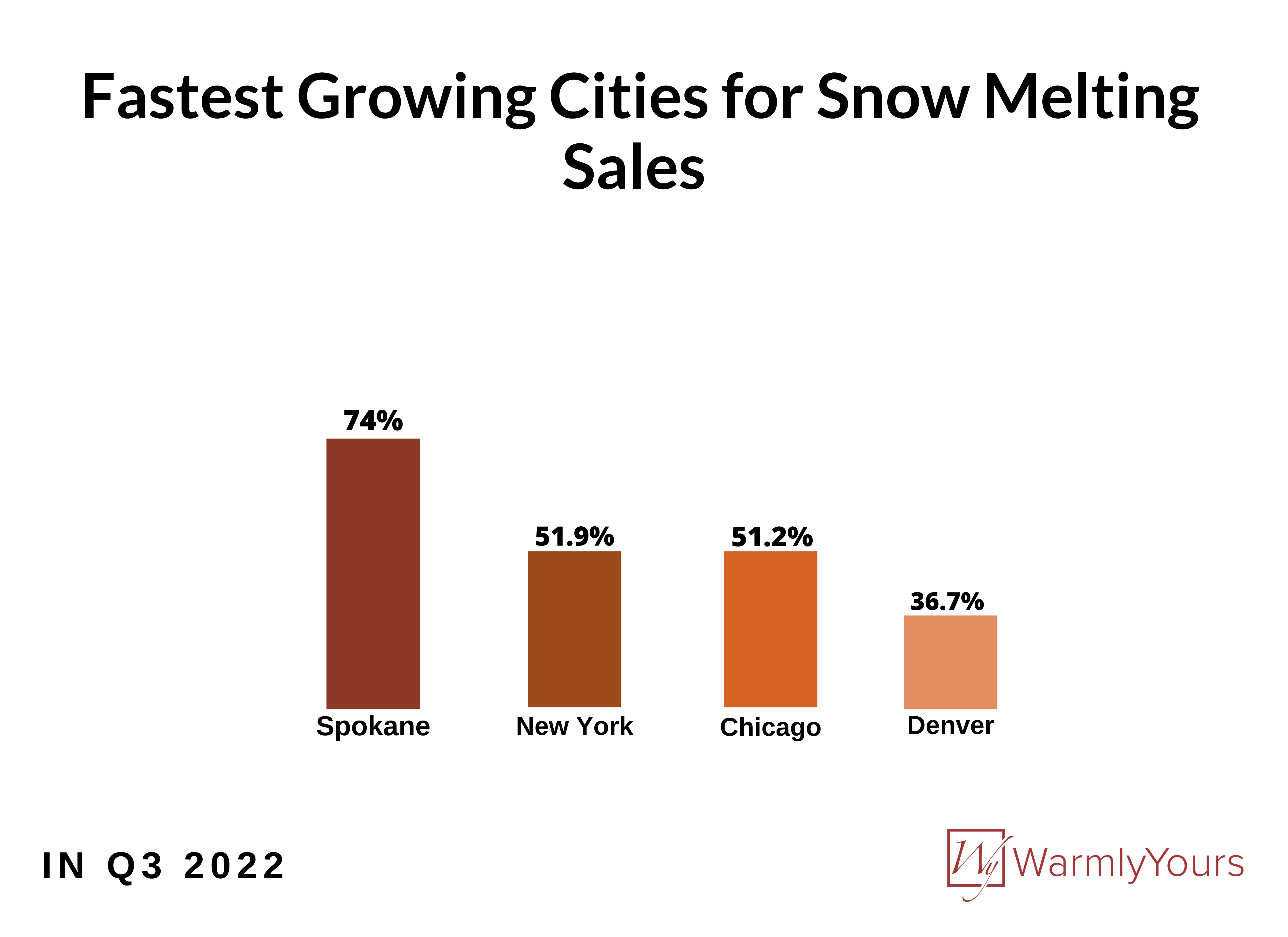 The simple answer is that the market has grown. WarmlyYours saw a 14.4% increase in new customers purchasing snow melting systems between 2021 and 2022. Snow melting as a product type has faced the same challenge that floor heating did decades ago—it's just something that not everyone knows about at the most crucial stages of consideration. For floor heating, that was when people were considering replacing their floors. For snow melting it's when they're considering replacing (or building) their driveway (or any outdoor surface like a patio or walkway).
Over the years, flooring professionals who specialized in tile were exposed to floor heating systems and as they installed more and more of them, they became more and more comfortable with these products, which often led to them even suggesting them to homeowner clients. A very similar pattern has emerged with snow melting.
In addition to new inroads with professionals, snow melting has also benefited from exposure via social media. In terms of radiant heating products, snow melting is by far the most visually engaging (as you can see snow melting, usually in time lapse videos). This has resulted in millions and millions of views for WarmlyYours's snow melting content alone.
This has helped drive a sizable increase in snow melting sales for homeowners (up 41.5%) for this year over last year along with growth for e-tailers (up 79.1%). E-tailer sales are typically made up of a combination of trade professional customers (many of whom have business accounts with various e-tailers such as Home Depot and do a significant amount of their project sourcing online) and DIY homeowners.
Despite the growth for e-tailers and homeowners, the biggest driving factor for snow melting sales was, by far and away, the trade professional segment. Not only did this group grow by 54% between Q3 2021 and Q3 2022, but they also contributed 55% of all snow melting sales during that time period. And, more tellingly, from the 45.4% quarterly growth in consolidated snow melting sales, the trade segment contributed a whopping 66.7% of that increase.
This trend extends beyond just snow melting sales and into all WarmlyYours sales. The trade professional customer segment, which was up 5.8% in year-to-date sales and 8% in Q3 2022 sales, contributed 42% of all WarmlyYours sales in Q3 2022. Almost equally impressive was that for the 7.9% growth that WarmlyYours had in Q3 2022 for total sales, 21.2% of that growth is directly attributable to the trade professional customer segment. 

Julia Billen, owner and president of WarmlyYours, believes that the magnitude of this increase for trade professionals goes beyond increased consumer awareness (though she acknowledges it certainly plays an integral role). According to Billen, the growth so far this year in trade sales for snow melting is largely due to the investments that WarmlyYours has made to help, as she puts it, "train and retain" professional customers.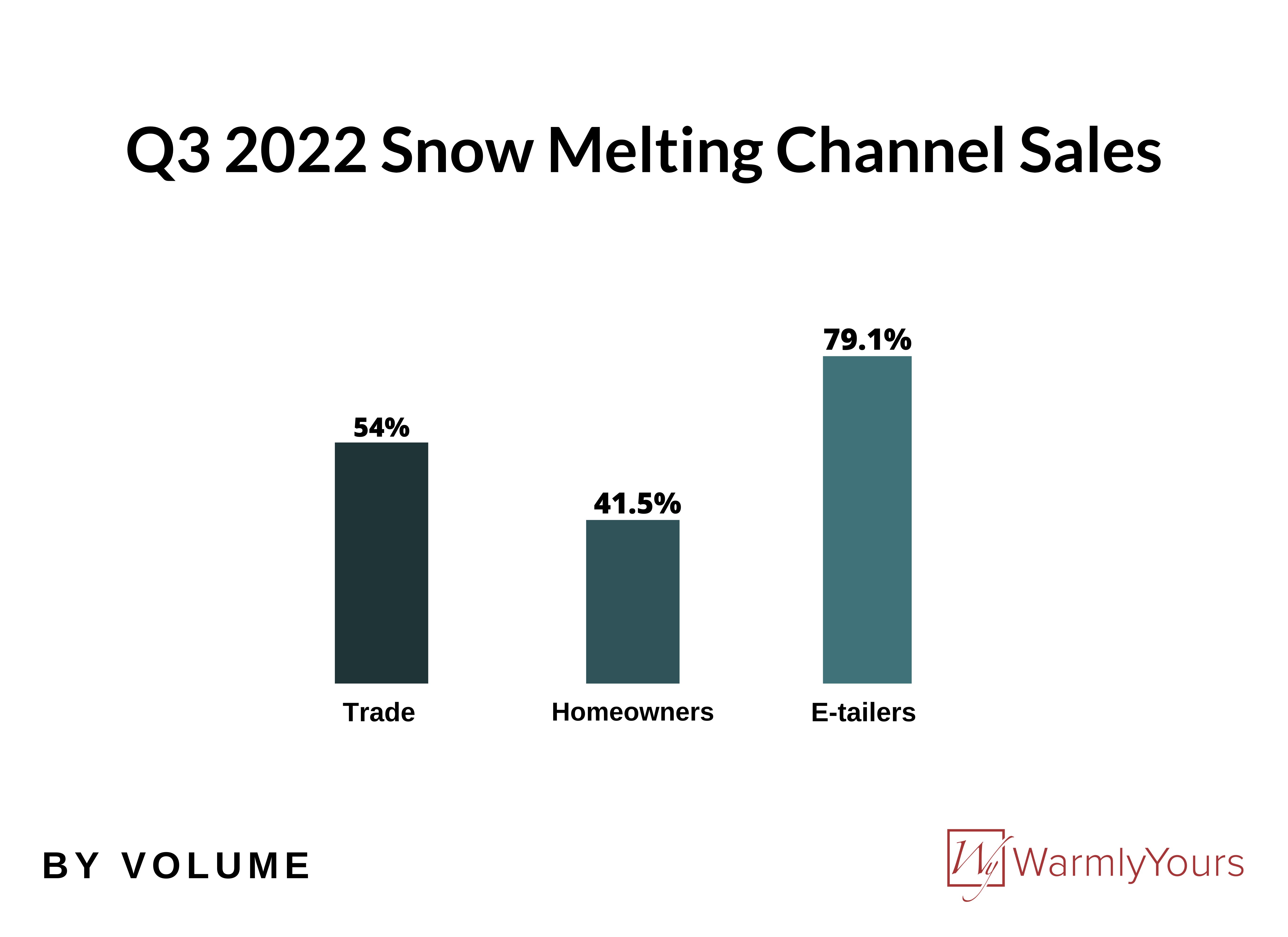 "One of the things that we really pride ourselves on as a company is our knowledge base," said Billen. "It took us more than 20 years to build it so you can rest assured that we're not going to let it go to waste. The more we teach, the more we benefit in the long run. A properly trained installer is going to result in dozens and dozens of happy homeowners throughout their career. I can't really call that anything but a win-win."
Over the past couple of years, WarmlyYours has launched an Installer Certification program for trade professionals along with a "SmartServices" division of the business that helps assist customers with every stage of a radiant heating installation (all the way from measuring the space to actually installing the heating elements). The Installer Certification program not only helps train trade professionals on the ins and outs of radiant heating installation (including snow melting) but it also helps connect them with interested homeowners in their area looking for installation help.
The SmartServices effort has seen significant growth since its inception with a 50% increase in SmartFit (our professional measuring service) orders so far this year compared to last year and a 79% increase in SmartGuide (our remote or onsite installation supervision service) orders. Both SmartFit and SmartGuide services are invaluable for providing hands-on (or remotely supervised via a smart device) instruction concerning best practices at some of the most crucial stages of any radiant heating installation.
For WarmlyYours, the leading products for snow melting sales have been our cables, followed closely by our mat products. Snow melting cables are a more economical and flexible option than mats but they are more labor intensive. The top products for both sales volume and sales growth were the 277V cable (up 197.8%), the 240V cable (up 71%), the 208 cable (up 70%), and the 120V cable (up 39.6%). For mats, which are easier to install than cables but also a costlier option, the 120V mat was the top performer at 28.9% growth and the 240V mat followed closely at 23.6%.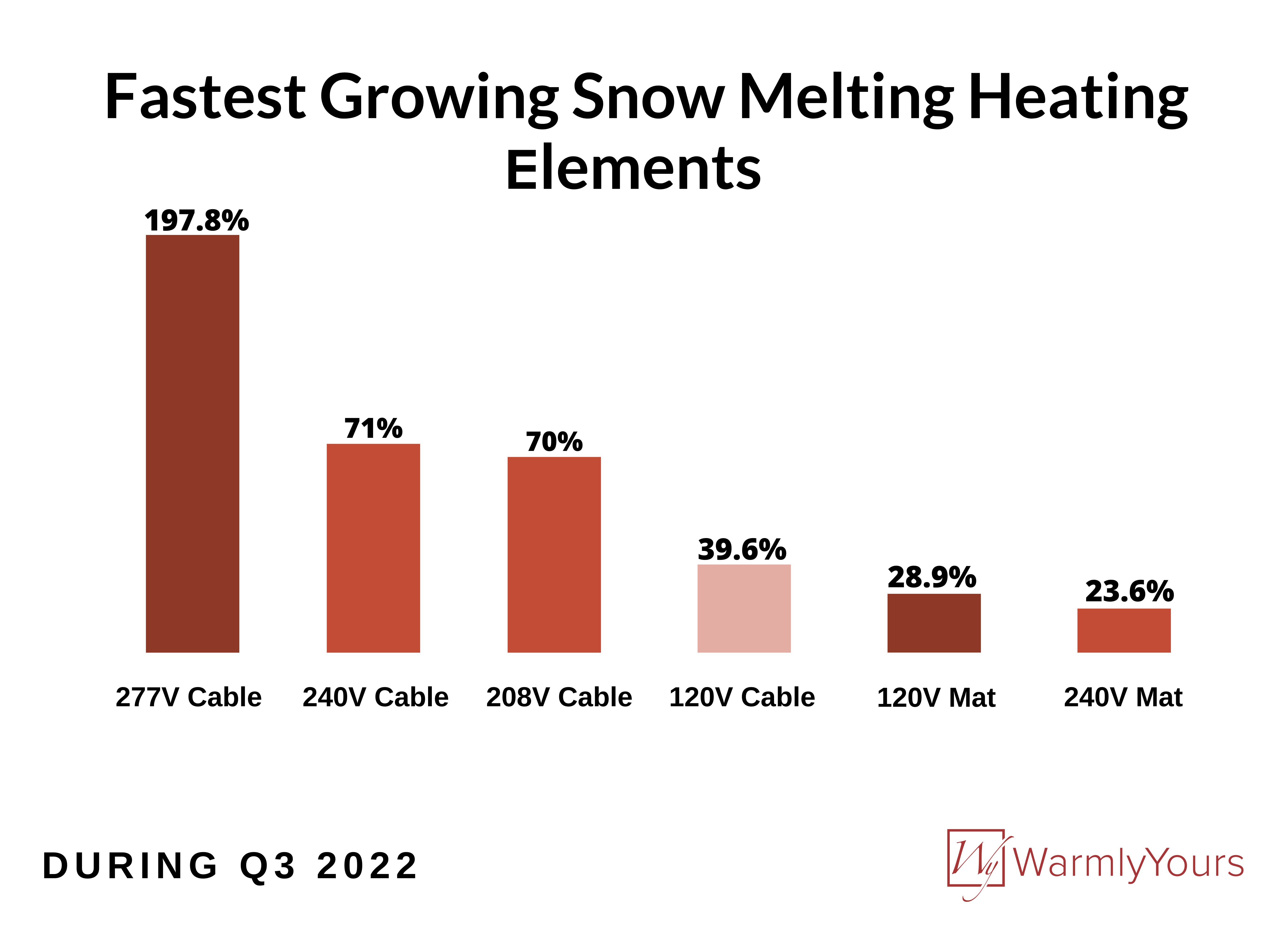 What is perhaps most interesting about these growth patterns is that cable has grown so significantly in comparison to mats. There are a couple of explanations for that. For one, cables are available in a wider variety of voltages (277V and 208V, often used for commercial applications, are not available options for mats). Secondly, WarmlyYours did just launch a new snow melting accessory: an embeddable attachment grid.
This grid is sold in 3' by 50' rolls and is used to provide a framework for safely securing snow melting cables. This has a couple of benefits because you're able to ensure that your heating elements are at the right depth and are properly spaced in relation to each other. If the elements are too close to each other or the surface, there's the risk of overheating. If they're too far from each other or too deep, then there's the risk of poor performance.
The grid product was onboarded to meet a consumer need that the market didn't have a solution for. In fact, many installers were relying on a variety of ad hoc frameworks including ones that could damage the heating cables like chicken wire that can sometimes have a sharp burr leftover from the manufacturing process.
Coupled with the growth in 208V and 277V snow melting cables, there's another piece of evidence to suggest that snow melting growth for WarmlyYours has been at least partially influenced by growth in the commercial sector: an uptick in ramps and entries for snow melting applications. These surface types are typically associated with commercial environments and are often paired with snow melting to help make them safer for customers and employees.
While driveways (up 36.9%) and walkways (up 27.7%), which are always some of the most popular snow melting applications, were the volume leaders in terms of Q3 2022 sales, entries (up 22.1%) and ramps (up 16.6%) made up nearly 10% of all snow melting projects, which shows a pretty substantial increase from last year where they made up less than 5% of all snow melting projects.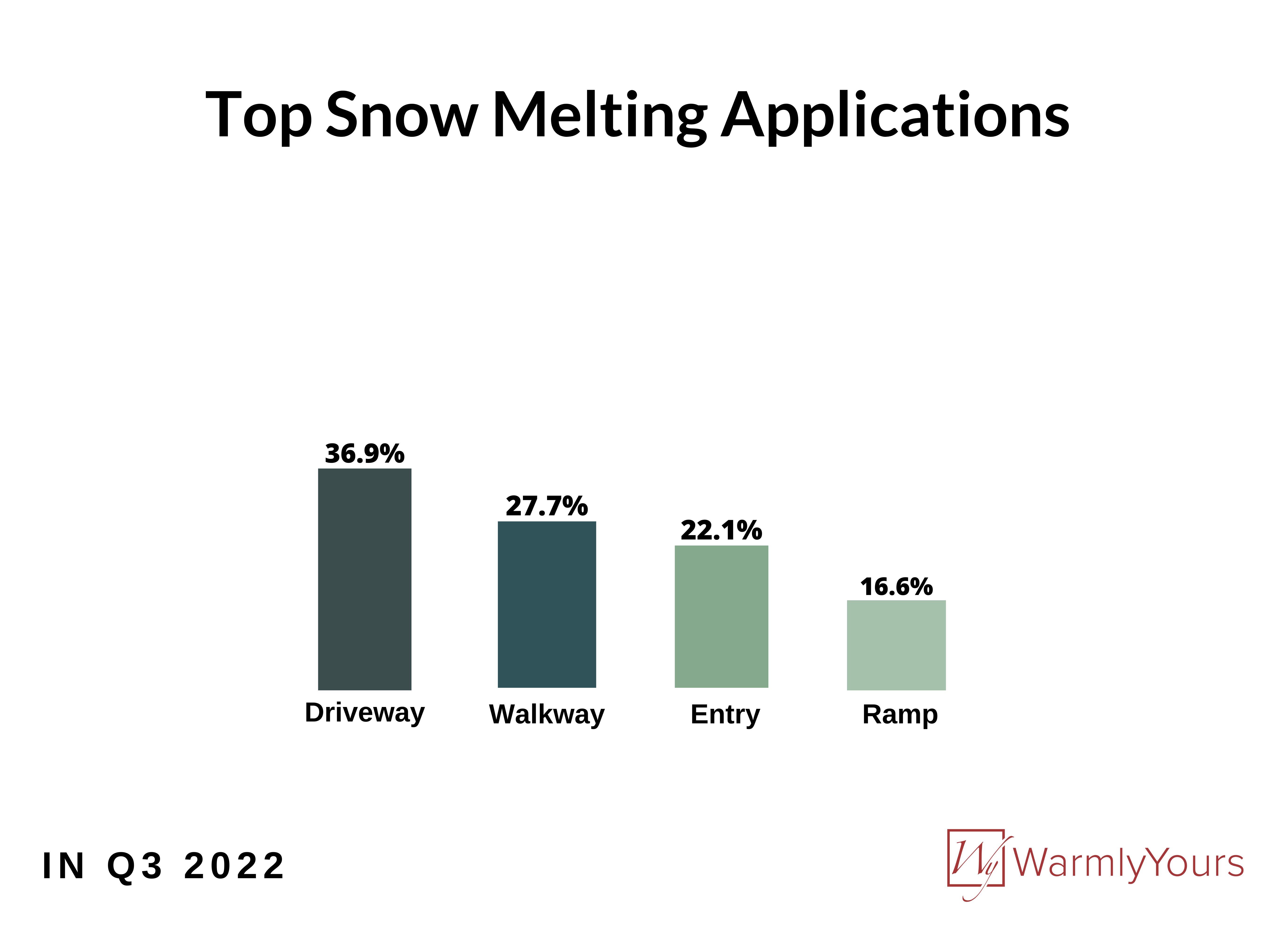 National Housing and Remodeling Markets in Q3 2022
Snow melting sales are not as closely tied to homesales as are the sales of floor heating systems, however, it's still a useful metric for context.
In the third quarter of 2022, the housing market has continued to be plagued by the same issues that have been problematic for the last couple of years. Primarily, there continues to be a supply crunch on available inventory that has increased pricing. For many buyers, particularly first time home buyers, this has pushed them out of the market.
According to the National Association of Realtors (NAR),the national average price for a median single-family existing-home rose 8.6% year over year.
"Much lower buying capacity has slowed home price growth and the trend will continue until mortgage rates stop rising," said NAR Chief Economist Lawrence Yun. "The median income needed to buy a typical home has risen to $88,300 – that's almost $40,000 more than it was prior to the start of the pandemic, back in 2019."
Since the close of Q3, home sales have continued to suffer from high prices with a 5.9% decline in existing home sales, according to NAR.
"More potential homebuyers were squeezed out from qualifying for a mortgage in October as mortgage rates climbed higher," noted Yun. "The impact is greater in expensive areas of the country and in markets that witnessed significant home price gains in recent years."
According to the Leading Indicator of Remodeling Activity (LIRA), a quarterly assessment from the Joint Center for Housing Studies of Harvard University, year-over-year expenditures for remodeling and renovations will face a sharp decrease throughout the next several quarters, shrinking from a 16.1% rate of change (current) to 6.5% by Q3 2023.
"Housing and remodeling markets are undoubtedly slowing from the exceptionally high and unsustainable growth rates that followed in the wake of the pandemic-induced recession," said Carlos Martín, Project Director of the Remodeling Futures Program at the Center. "Spending for home improvements will continue to face headwinds from declining home sales, rising interest rates, and the increasing costs of contractor labor and building materials."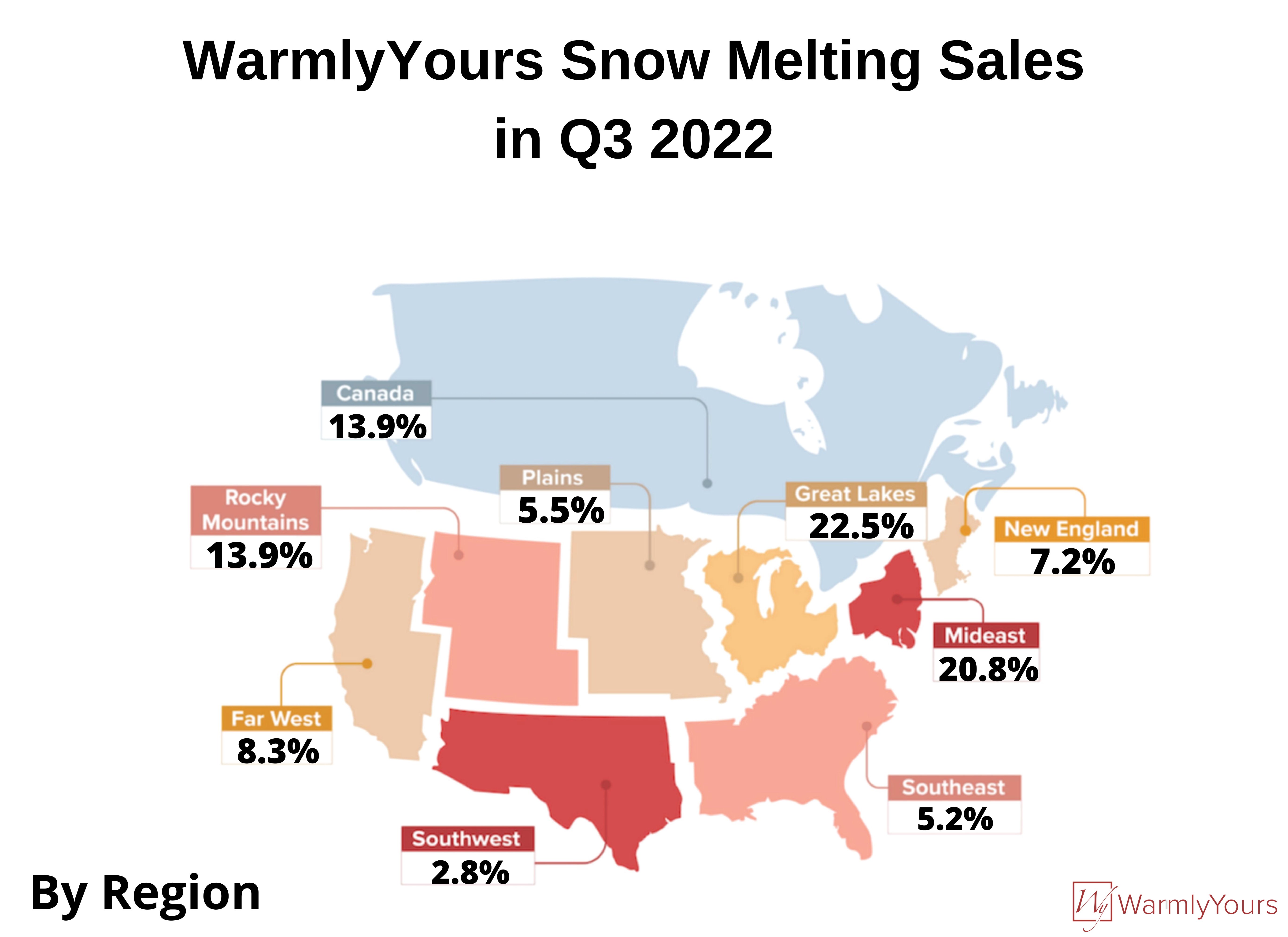 However, not all indicators are negative, said Abbe Will, Associate Project Director of the Remodeling Futures Program.
"Although remodeling market gains are expected to cool significantly next year, homeowners still have record levels of home equity to support financing of renovations," said Will. "Energy-efficiency retrofits incentivized by the Inflation Reduction Act of 2022, as well as disaster repairs and mitigation projects following Hurricane Ian will further support expansion of the home remodeling market to almost $450 billion in 2023."
For WarmlyYours, we're expecting to see snow melting sales shift headwinds but maintain solid growth levels as new markets open to snow melting. Our current projections are that we'll see the most significant growth in the Great Lakes and the New England regions of the U.S. along with all of Canada.
WarmlyYours also recently onboarded a new snow melting control, the ZoneBraker, which allows for zoned control of a snow melting system. This is particularly useful for larger projects where available amperage may be limited. Because of this new product, we do expect to see driveway projects (and other larger projects like some walkways) to increase their sales in 2023.




Sources:
---
Tell us About your Project
Our team of Radiant Experts is ready to help! Just tell us a little about yourself and your project to get started.
---
Did you find this post helpful?
Let us know by giving it some applause.
---
---