Whether you're a licensed professional or an experienced DIYer, working with a product that's easy to install is invaluable. That's the No. 1 secret of WarmlyYours Radiant Heating's TempZone™ Flex Rolls. The idea of installing radiant floor heating by weaving a free-form cable back and forth across a room can be daunting. Flex Rolls feature the heating cable secured to green mesh and already woven in a perfectly spaced serpentine pattern. This allows the installer to simply roll out the heating element and cut and turn the mesh when needed. For rooms without pillars or other obstacles that would require free forming, this is about as easy as installation can get.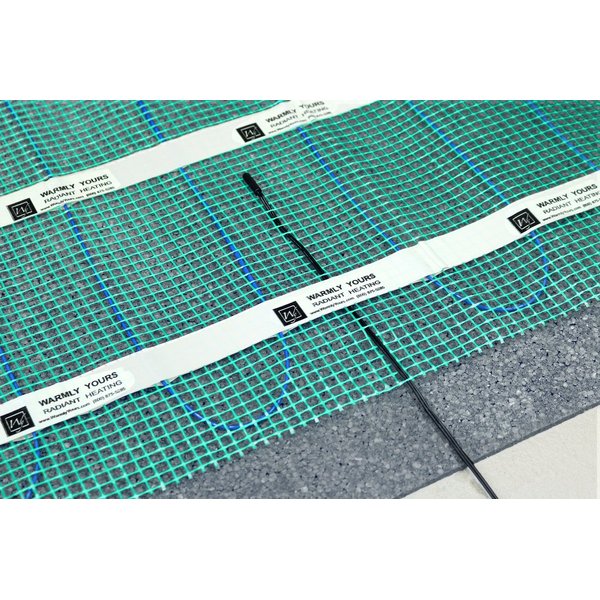 With the heating cable spaced 3 inches apart, TempZone™ Flex Rolls boast an industry-leading 15 watts per square foot. This ensures that porcelain/marble tile, heated stone and hardwood flooring will get the warmth they need — whether the floor heat is being used as a supplementary or primary heating source.
Installation Tips
To install TempZone™ Flex Rolls, you'll want to follow the eight steps below.
Get a quote.
Measure the area you need heated by a radiant floor heating system, making sure not to include the space under cabinets or other permanent fixtures. Submit these dimensions using WarmlyYours's Instant Quote tool or by contacting a sales associate at 800-875-5285. This will tell you what items you need to complete your floor-heating project.
Test the underfloor heating element.
Once you've purchased your items, test the heating element with a digital ohmmeter to confirm that it is in good working condition. The results should be within 15 percent of the value marked on the UL label.
Clean the subfloor.
You don't have to literally wash the subfloor, but you do need to make sure it is clear of any debris like staples or loose nails.
Lay out the heating element.
Per your custom installation plan (provided by WarmlyYours), roll out the Flex Roll with the cable facing downward. When you get to the other end of the room, cut through the mesh (not the cable), turn the heating element the other direction and keep rolling.

If the room features an angled wall or obstruction (like a pillar), you will need to free-form the cable, which means removing some of the cable from the green mesh and securing it by hand in a specific design to the subfloor. Directives on how to do this are noted in your custom installation plan.
Place the sensor.
If your thermostat integrates with a floor sensor, this is the time you'll need to place it. Place the sensor wire in between the heating cables, making sure that they do not overlap. Secure the sensor with hot glue or tape.
Test the heating element again.
Use a digital ohmmeter and Circuit Check to test the heating element again. This will ensure that the cable didn't get nicked or damaged during installation.
Install the thermostat.
Hire a licensed electrician to do the thermostat wiring for your floor heating control. Pro Tip: A smart thermostat, like the nSpire Touch WiFi, can allow for remote control of your radiant heat system.
Install the floor.
Finally, install the flooring of your choice. Make sure to leave enough time for the thinset to cure after finishing the floor before powering on the floor-heating system.
How Much Do Flex Rolls Cost?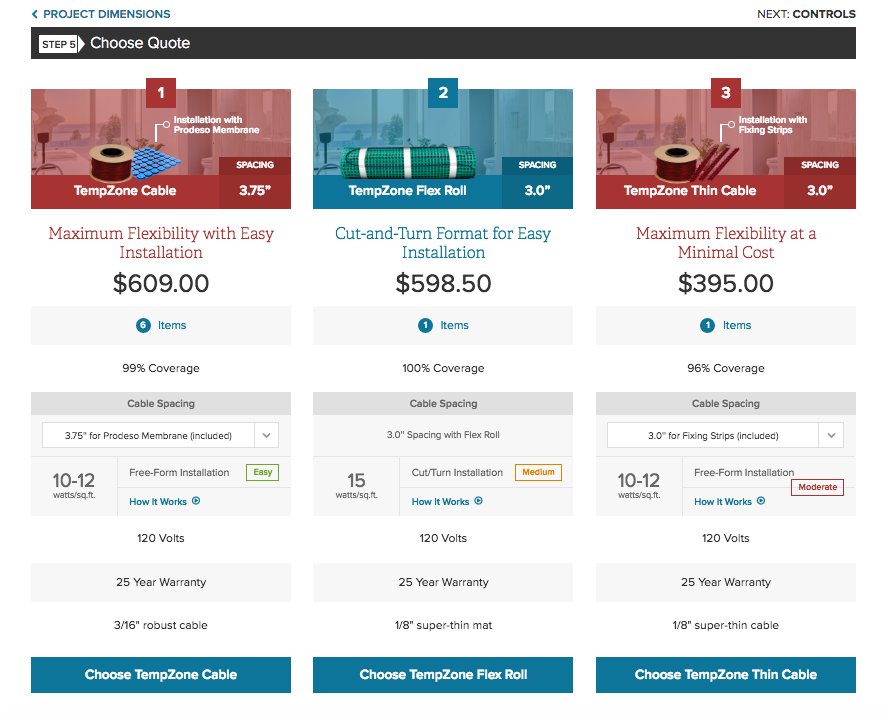 Now that you know how easy Flex Rolls are to install, you're probably wondering how much do heated floors cost. In general, TempZone Flex Rolls cost about $10-12 per square foot, but a quick look at the Instant Quote tool will determine the exact cost. Plus, if you're wondering "Is it expensive to run underfloor heating?", you can see how much our heating systems cost to operate by using WarmlyYours's Operating Cost Calculator.
To give you an example, let's take a look at a standard 50-square-foot full bathroom. Excluding permanent fixtures like cabinetry, a shower/tub and a toilet, about 35 square feet would need to be heated. A TempZone™ Flex Roll would cost just under $400. To operate the system for eight hours a day, it would cost $0.22 on average, which comes out to $6.60 a month and $80.30 a year.
To find out how much it would cost to heat a room in your home, visit www.warmlyyours.com. 
---
Tell us About your Project
Our team of Radiant Experts is ready to help! Just tell us a little about yourself and your project to get started.
---
Did you find this post helpful?
Let us know by giving it some applause.
---
---