Although the housing market is slowly rebounding, many people currently do not want to go through the trouble of selling and finding another home. Instead, more homeowners are now choosing to remodel and improve their homes.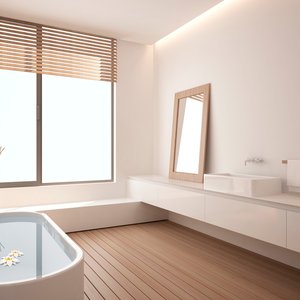 The National Association of Home Builders released a recent survey which shows common remodeling projects have increased, compared to a similar survey done in 2010. In conjunction with National Home Remodeling Month, the survey describes the various changes the remodeling market has undergone over the past few years.
Remodelers have reported that today the most popular jobs are kitchen and bathroom projects. Since we spend about 2 years in the bathroom and 3 years in the kitchen over our entire lifetime, it makes sense that these rooms would be the most popular projects!
With that much time spent in the kitchen and bathroom it is important to keep them up to date and fully functional. Since homeowners are staying in their current homes longer, an increasing number of them are upgrading both rooms and making major repairs to improve the quality of their home.
Since 2009, bathrooms and kitchens have switched places in popularity, with bathroom remodels now being the most popular remodeling project. Over the past two years, both kitchen and bathroom remodeling projects increased 17 percent. Bathroom remodels were cited as a common job by 78 percent of remodelers and kitchen remodels by 69 percent.
"As the priorities of homeowners shift, remodelers have to adjust to the needs of their clients," says NAHB Remodelers Chairman George "Geep" Moore Jr., GMB, CAPS, GMR and owner/president of Moore-Built Construction & Restoration Inc. in Elm Grove, La. "And while the motivation behind a homeowner's decision to remodel may have changed, their desire for quality, professional results have not. Professional remodelers remain committed to the highest industry standards."
The top reasons that homeowners hire remodelers are to either make repairs and/or replacements of existing components or to make upgrades needed in their home. More than 60 percent of remodelers reported increased demand for repairs and replacements of old components in the past two years, and more than half of remodelers said that the desire for upgraded amenities increased.
Moore also explains that, "Homeowners are re-purposing spaces and making more efficient use of their home's square footage. Whether it be young families or couples aging in place within their homes, people want their house to adapt to their changing needs over time."
It's inevitable. Repairs and upgrades are necessary as we choose to stay in our homes longer. And with heavily trafficked rooms such as the bathroom or kitchen, the need for improvement will steadily increase and remodeling projects will continue to reflect that growing need.
---
Tell us About your Project
Our team of Radiant Experts is ready to help! Just tell us a little about yourself and your project to get started.
---
Did you find this post helpful?
Let us know by giving it some applause.
---
---