Located on one of the world's largest natural harbors, New York City (often called the Big Apple or NYC) consists of five boroughs, each of which is a separate county of New York State, Brooklyn, Queens, Manhattan, the Bronx, and Staten Island. The city is also well known by its iconic skyscrapers like the Empire State and Chrysler buildings along with its Broadway theatre district. New York has a way of casting a spell over its inhabitants — and even visitors — thanks to its tall buildings, historic charm, cultural landscape, and capability to make dreams come true. In the Big Apple, anything can happen.
And that includes cold, snowy winters. Frosty weather and below freezing temperatures throughout the wintertime are common in New York City. Typically, people in NYC don't experience temperatures above freezing during the entire winter season. And according to currentresults.com the average monthly snow fall is approx. 5 - 9 inches between December and February. That's just one of many reasons why a WarmlyYours snow melting system is the perfect solution to keep your driveway, walkway or most any outdoor surface clear of snow and safe for your family and friends. 
Driveway Heating Makes a Big Difference in the Big Apple
When these NYC homeowners were replacing their driveway, they decided to install a driveway heating system for their 15 x 50-foot driveway. The tire tracks option made sense for the long driveway and would be both cost effective, by cutting down on installation and operating costs, and still provide great functionality. See plan below.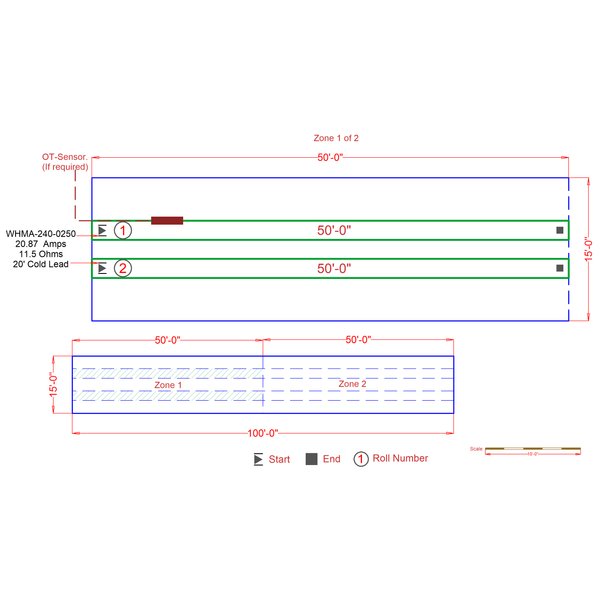 The 400 sq. ft. tire tracks snow melting cost $3560.00 or $8.90 per sq. ft. Now that the system had been selected, it was time to add the control. There are numerous control options to pair with any snow melting system.
Select the Control That's Right for Your Project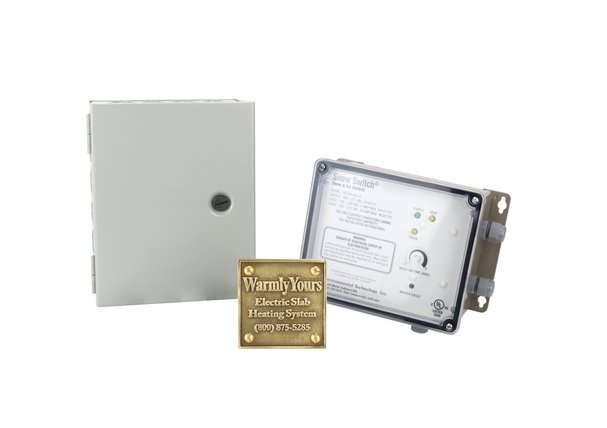 From manual and economy to advanced and premium, there are a variety of snow melting controls that let you choose what will best meet your needs. The WarmlyYours manual snow melt control is a simple, affordable option featuring a 12-hour, adjustable timer and a NEMA 1 enclosure with hinged cover. It is UL Listed and suitable for use with relay panels. 
These NYC homeowners chose the premium snow melt control as it was highly recommended for asphalt applications. This control also provides for easy installation and operation and is CSA Certified for use in both the U.S and Canada. To see all the snow melting control options click here. 
Easy Install with a Free Quote + Smart Plan
Now is the ideal time to install snow melting, so if you'd like to see what's available and/or get a quote, just visit www.warmlyyours.com and check out our Instant Quote Tool. You can quickly get started by entering a few project details. We also suggest you get a free installation plan to ensure your snow melting project goes smoothly from start to finish. 
It's easy as 1-2-3 to get a custom installation plan for your project, 1) you can submit a floor plan online, 2) contact a WarmlyYours sales representative at sales@warmlyyours.com or 3) simply call 800-875-5285.  
WarmlyYours snow melting systems are backed by our unbeatable 10-year warranty. If you have any questions during installation, it's not a problem. You have 24/7 access to our installation experts so that you can call them with any questions at 800-875-5285. Why wait? By installing snow melting now, next winter you'll be ready for whatever comes your way.

Have you already installed a snow melting system under your driveway, walkway, patio or other outside area? Tell us about it by sharing your story on the WarmlyYours Facebook page or tweeting us at @WarmlyYours.

---
Tell us About your Project
Our team of Radiant Experts is ready to help! Just tell us a little about yourself and your project to get started.
---
Did you find this post helpful?
Let us know by giving it some applause.
---
---